First Crow Wing
Hubbard County, MN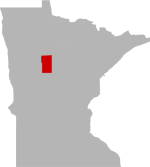 SHARE THIS PAGE
First Crow Wing is located in
Hubbard County, Minnesota
. This lake is 522 acres in size. It is approximately 15 feet deep at its deepest point. When fishing, anglers can expect to catch a variety of fish including Black Bullhead, Bluegill, Brown Bullhead, Largemouth Bass, Northern Pike, Rock Bass, Walleye, Yellow Bullhead, Yellow Perch, Pumpkinseed,.
No ramp
Black Bullhead
Black Crappie
Bluegill
Brown Bullhead
Largemouth Bass
Northern Pike
Rock Bass
Walleye
Yellow Bullhead
Yellow Perch
Bowfin
Carp
Cisco (Tullibee)
Hybrid Sunfish
Pumpkinseed
Shorthead Redhorse
White Sucker
NOTE: This list may not be all inclusive of all speices present in First Crow Wing.
HISTORY AND STATUS OF FISHERY
First Crow Wing Lake is located in southern Hubbard County, seven miles east of the town of Hubbard. First Crow Wing is a shallow lake with a surface area of 522 acres and a maximum depth of 15 feet. Much of the shoreline on First Crow Wing is DNR wildlife management area and is undeveloped. Private homes and cabins are limited to the southern shore of the lake. First Crow Wing has abundant stands of both emergent and submergent aquatic vegetation such as wild rice, hardstem bulrush, and yellow water lilies. Large beds of wild rice are located on the north shoreline and are an important food source for waterfowl. A DNR access with a concrete ramp is located south of the lake on the Crow Wing River. An undeveloped access for carry-in craft is located on the northwest shore of the lake on a DNR Wildlife Management Area.

The Minnesota Department of Natural Resources (DNR) has classified Minnesota's lakes into 43 different types based on physical and chemical characteristics. First Crow Wing is in lake class 39. Class 39 lakes are shallow lakes, with a high littoral zone (less than 15 feet in depth).

Northern Pike and Panfish are a popular choice for anglers year-around on First Crow Wing. Abundant Northern Pike spawning habitat of shallow submerged aquatic vegetation results in excellent reproduction and recruitment of Northern Pike in First Crow Wing. Northern Pike were sampled in very high numbers, well above the range typical for this lake class. Anglers will find lots of small, "hammer handle" Northern Pike in First Crow Wing. Sampled Northern Pike had an average length and weight of 21.6 inches and 2.5 pounds, with pike measured up to 34.7 inches.

Present and past surveys have shown First Crow Wing to support good Panfish populations composed of Bluegill, Pumpkinseed, and Black Crappie. Anglers will find good numbers of Bluegill and Pumpkinseed in the 6 to 8 inch size range and Black Crappie in the 9 to 12 inch size range. Largemouth Bass were sampled in low to moderate numbers when compared to other lakes in the Crow Wing chain. A quality Largemouth Bass population is present, with good numbers of larger bass (> 15.0 inches) sampled. Largemouth Bass up to 20.0 inches were sampled. First Crow Wing has good water quality, submerged and emergent vegetation that provides excellent habitat for Panfish and Largemouth Bass.

Walleye abundance (2.6 Walleye/gill net) was within the range typical for this lake class, but below the management goal of 4.0 Walleye/gill net. Despite stocking efforts, Walleye abundance has not reached the management goal in recent surveys. First Crow Wing is stocked with Walleye fingerlings during odd numbered years. The Yellow Perch population tends to run small in size, with few fish of an acceptable size for angling.

Other species sampled included high numbers of White Sucker, and moderate numbers of Yellow Bullhead, Shorthead Redhorse, Tullibee (Cisco), and Bowfin (Dogfish). Black Bullhead, Brown Bullhead, and Rock Bass were sampled in low numbers. Common Carp were not sampled in 2014, but have been sampled in low numbers in past surveys.

Anglers should be aware that faucet snails, and aquatic invasive species (AIS) are present in First Crow Wing. To avoid spreading AIS, lake users are required to remove all aquatic plants or animals from their watercraft and drain all water from their boat before leaving the access.



Recreational activities such as recreational boating, angling, waterfowl hunting, and diving may spread aquatic invasive species. Some aquatic invasive species can attach to boats, while others can become tangled on propellers, anchor lines, or boat trailers. Many species can survive in bilge water, ballast tanks, and motors or may hide in dirt or sand that clings to nets, buckets, anchors, and waders. Fortunately, completing simple steps can prevent the transport of aquatic invasive species.
LEARN MORE
NOTICE: Lake-Link Inc assumes no responsibility or liability for any errors or omissions of the information for First Crow Wing. Although we strive to provide the most accurate information as we can the information contained in this page is provided on an "as is" basis with no guarantees of completeness, accuracy, usefulness or timeliness.