Independence
Hennepin County, MN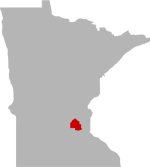 SHARE THIS PAGE
Independence is located in
Hennepin County, Minnesota
. This lake is 832 acres in size. It is approximately 58 feet deep at its deepest point. When fishing, anglers can expect to catch a variety of fish including Black Bullhead, Bluegill, Brown Bullhead, Green Sunfish, Largemouth Bass, Muskie, Northern Pike, Walleye, White Crappie, Yellow Bullhead, Yellow Perch, Pumpkinseed,.
Boat Ramp
Black Bullhead
Black Crappie
Bluegill
Brown Bullhead
Green Sunfish
Largemouth Bass
Muskie
Northern Pike
Walleye
White Crappie
Yellow Bullhead
Yellow Perch
Blackchin Shiner
Bluntnose Minnow
Bowfin
Carp
Fathead Minnow
Golden Shiner
Hybrid Sunfish
Johnny Darter
Pumpkinseed
Smallmouth Buffalo
Spotfin Shiner
Spottail Shiner
White Sucker
NOTE: This list may not be all inclusive of all speices present in Independence.
HISTORY AND STATUS OF FISHERY
Lake Independence is an 844-acre Class 24 lake located in western Hennepin County in the city of Maple Plain. Baker Park Reserve (Three Rivers Park District) borders the southeast portion of the lake and provides a two-lane concrete boat access (subject to park hours and parking fee), as well as shore fishing, a swimming beach and recreation area.

Lake Independence is primarily managed for its Walleye, Muskellunge, and Yellow Perch fisheries. At the time of this report, management planning includes stocking Walleye at a rate of 2 lb/littoral acre (850 lb) in odd-numbered years and 425 Leech Lake broodstock-strain Muskellunge (1 fish/ littoral acre) in even-numbered years. In 2016, the Standard Survey consisted of springtime night electrofishing of 6 sites on May 17, and 9 gill net sets and 11 trap net sets between July 20 and July 28.

Water quality in Lake Independence has been declining in recent years. Three Rivers Park District has been monitoring water quality and nutrient loading within the lake. Watershed development and the numerous hobby farms within the watershed are thought to be the primary sources of nutrient input. During the July 2016 sampling, dissolved oxygen levels were below 2 ppm at 22 feet.

Walleye abundance (5.6 fish/gill net) is high relative to other Class 24 lakes in the state, and also one of the better recent local values. Average length and weight were 17.7 inches and 2.23 pounds, with the longest measuring 26.2 inches. Sixty-two percent of the sample were 15 inches or longer, 40% were 20 inches or longer, and 4% were 25 inches or longer. The Walleye population is supported by the strong 2011 year class that comprised 54% of the catch. 2013 was next-strongest year class, forming 28% of the sample. Walleye averaged 14 inches by age 3 and 20 inches by age 5. Numeric population was 2,704 fish, at the low end the range from surveys since 1989. During that period, Walleye populations have been estimated at 2,474-12,817 fish, with low and high values from the 2010 and 1999 surveys, respectively.

Black crappie abundance is high compared to other Class 24 lakes; the fish were caught at a rate of 35.9/gill net. Mean length and weight of Black Crappie was 6.5 inches and 0.15 pounds. Five percent were 8 inches or longer and the longest measured 9.3 inches. The 2014 year class dominated the sample, comprising 95% of total catch. Black Crappie averaged 6.3 inches by age 3, and 8.8 inches by age 6.

Bluegill abundance is high (66.3/trap net) and fish are of modest size (mean weight, 0.14 lb) compared with other Class 24 lakes in the state. Mean length of Bluegill in trap nets was 5.5 inches. Twenty-eight percent were 6 inches or longer and the longest measured 8.7 inches.

Northern Pike abundance has historically been low in Lake Independence, averaging 1.5/gill net over the previous 5 assessments (2001-2013). In 2016, 5.2 fish per gill net were sampled, an above average catch rate for the Lake Class. The fish were of quality size. Ninety-eight percent were 21 inches or longer, and 60% were 28 inches or longer. Ages 2 through 8 were represented. The 2014 and 2011 year classes were most abundant, comprising 67% of the catch. Northern Pike reached 23.4 inches by age 2 and 31.4 inches by age 6.

Yellow Perch were highly abundant in 2016. Caught at a rate of 101.56/net, mean length and weight were 6.6 inches and 0.13 pounds. Only 1% were 8 inches or longer (PSD = 1) and the longest measured 8.3 inches. All fish were age 2 or age 3; the 2014 year class (age 2) dominated the catch, comprising 80% of all perch sampled. Yellow Perch are growing fast in Independence, attaining an average of 6.3 inches by age 2.

In 2016, Largemouth Bass were caught at a rate of 62.2 fish per hour of on-time (electrofishing). The fish averaged 8.6 inches and 0.39 pounds and the largest fish was 16.1 inches. Fish ages 2 - 5 and age 11 were present in the sample. Bass are growing at an average rate, reaching 9.1 inches by age 3 and 10.5 inches by age 5.

A Targeted Survey, consisting of 10 large-frame trap nets was conducted at ice-out to sample the Walleye and Muskellunge populations. Two hundred-eighteen Walleye were captured, averaging 18.8 inches and 2.7 pounds. By sampling fish during their spawning time, larger, sexually mature individuals are targeted and smaller, immature fish are absent from the sample. This is evident in the 2016 sampling, as 87% of Walleye sampled exceeded 15 inches, 29% exceeded 20 inches, and 10% exceeded 25 inches. The 2011 year class, age 5 Walleye were most abundant in the sample, comprising 51% of the catch. The youngest Walleye appearing in the catch were age 3, indicating this as the age of sexual maturation. Walleye ages 3 through 11 were captured. Only 10 Muskellunge were caught during this sample period; however, Independence is known to offer a high quality Muskellunge fishery. Angler reports indicate consistent success in catching large individuals. Muskellunge sampled in 2016 trap nets ranged in size from 36.3 inches to 51.6 inches, with an average length and weight of 44.4 inches and 23.96 pounds.

Other species present in lower abundance during the 2016 survey include Black Bullhead, Bowfin, Common Carp, hybrid sunfish, Pumpkinseed, and Yellow Bullhead.

Zebra Mussel
Eurasian Watermilfoil

Recreational activities such as recreational boating, angling, waterfowl hunting, and diving may spread aquatic invasive species. Some aquatic invasive species can attach to boats, while others can become tangled on propellers, anchor lines, or boat trailers. Many species can survive in bilge water, ballast tanks, and motors or may hide in dirt or sand that clings to nets, buckets, anchors, and waders. Fortunately, completing simple steps can prevent the transport of aquatic invasive species.
LEARN MORE
NOTICE: Lake-Link Inc assumes no responsibility or liability for any errors or omissions of the information for Independence. Although we strive to provide the most accurate information as we can the information contained in this page is provided on an "as is" basis with no guarantees of completeness, accuracy, usefulness or timeliness.