Hyland
Hennepin County, MN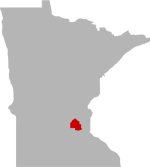 SHARE THIS PAGE
Hyland is located in
Hennepin County, Minnesota
. This lake is 84 acres in size. It is approximately 12 feet deep at its deepest point. When fishing, anglers can expect to catch a variety of fish including Black Bullhead, Bluegill, Green Sunfish, Largemouth Bass, Walleye, Yellow Perch,.
Boat Ramp
Black Bullhead
Black Crappie
Bluegill
Green Sunfish
Largemouth Bass
Walleye
Yellow Perch
Golden Shiner
Hybrid Sunfish
White Sucker
NOTE: This list may not be all inclusive of all speices present in Hyland.
HISTORY AND STATUS OF FISHERY
Hyland is a shallow, productive 84-acre lake located in Bloomington, in Hennepin County. The entire lake is within the Hyland Lake Park Reserve, operated by Three Rivers Park District. There is a fishing pier and boat launch (a fee exists for boat trailer parking), though gas-motorized boats are not allowed to operate on the lake. There are also multiple locations to fish from shore.

Water quality in Hyland Lake has improved over the years, in part because of Three Rivers Park District's efforts to control curly-leaf pondweed. Since 2011, declines in total phosphorus and chlorophyll-a have been documented. Additionally, Secchi disk measurements indicate water clarity has increased over the past few years. However, the lake's shallow, fertile characteristics still make it prone to occasional small-scale fish die-offs related to thermal or oxygen stress.

This lake is primarily managed for Largemouth Bass and Bluegill, yet it also contains some Black Crappie and Walleye. Past management has included: hybrid (tiger) Muskellunge stocking from 1988-1999 and a Largemouth Bass no-harvest slot of 12-16 inches from 1981-1993. Because of the lake's thermal and oxygen limitations (which included a partial winterkill in 1989-90), these efforts did not establish viable Muskellunge populations or better-quality Largemouth Bass fishing. A standard population assessment consisting of gill nets and trap nets was conducted in 2013 to characterize the game fish community.

Bluegill was the most abundant species in the assessment. At 35.5 per trap net, abundance was high and ranked near the 75th percentile value compared with other similar lakes. Hyland Lake has had consistently abundant Bluegill populations, but with variable size structures. In 2013, the size structure was weighted toward larger fish, where 42% were between 7.0 and 7.5 inches. Bluegill ranged from 3.4-8.1 inches, averaging 6.7 inches and weighing 0.2 lbs. Bluegill in Hyland Lake are long-lived; 26% were older than 10 years and the oldest was age 15. Growth was similar to the statewide average, where Bluegill were 6.9 inches by age 5.

Black Crappie were low in trap-net abundance (0.63/net) and moderately low in gill-net abundance (3.3/net). Crappie ranged from 4.0 to 9.4 inches, averaging 5.7 inches and 0.2 lbs. Historically, Black Crappie abundances have been moderately low in Hyland Lake. Over the previous 5 assessments, crappie catch has ranged from 1.0 to 5.5 per gill net, averaging 3.7/net. Given the small sample size of Black Crappie in this assessment, ages were only determined for a few fish. Similar to Bluegill, several crappie were long-lived. Two reached age 12; however the larger of these two was only 8.8 inches.

Since 2004, Hyland Lake has regularly been stocked with Walleye fingerlings and/or yearlings on even-numbered years. Despite this, Walleye abundance is low. In the previous assessment (2008), 5 Walleye (1.3 per gill net) were sampled. In the 2013 assessment, 11 Walleye (2.8 per gill net) were sampled. In this most current 2013 assessment, all Walleye were exclusively from the two most recent stockings: fingerlings in 2010 (age 3 fish) and yearlings in 2012 (age 2). These represented 75% and 25% of the total, respectively. No fish stocked in 2004, 2006, or 2008 were sampled. Walleye ranged from 10.7 to 16.3 inches, averaging 13.8 inches. Mean weight was 0.8 lbs, moderately low when compared to other similar lakes.

No Northern Pike were sampled in the 2013 assessment. Other fishes sampled in low abundance were Black Bullhead, Green Sunfish, hybrid sunfish, White Sucker, Yellow Perch, and Largemouth Bass. Passive sampling gear, such as the trap and gill nets used here, are not effective methods for collecting Largemouth Bass, so the 2013 assessment values likely under-represents bass abundance. Electrofishing is the typical method for
Largemouth Bass assessments but was not conducted.

Beginning in the winter of 2012-13, Three Rivers Park District has a permit to pump water from Hyland Lake for snow-making operations. This could affect water levels and ice thicknesses. Be aware and heed any signs and information related to Hyland Lake winter access/travel.

NOTICE: Lake-Link Inc assumes no responsibility or liability for any errors or omissions of the information for Hyland. Although we strive to provide the most accurate information as we can the information contained in this page is provided on an "as is" basis with no guarantees of completeness, accuracy, usefulness or timeliness.