Eagle
Hennepin County, MN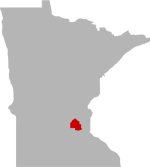 SHARE THIS PAGE
Eagle is located in
Hennepin County, Minnesota
. This lake is 296 acres in size. It is approximately 34 feet deep at its deepest point. When fishing, anglers can expect to catch a variety of fish including Black Bullhead, Bluegill, Brown Bullhead, Green Sunfish, Largemouth Bass, Muskie, Northern Pike, Walleye, Yellow Bullhead, Yellow Perch, Pumpkinseed,.
Boat Ramp
Black Bullhead
Black Crappie
Bluegill
Brown Bullhead
Green Sunfish
Largemouth Bass
Muskie
Northern Pike
Walleye
Yellow Bullhead
Yellow Perch
Banded Killifish
Blacknose Shiner
Bluntnose Minnow
Bowfin
Brook Silverside
Carp
Central Mudminnow
Golden Shiner
Hybrid Sunfish
Johnny Darter
Pumpkinseed
Spottail Shiner
Tadpole Madtom
White Sucker
NOTE: This list may not be all inclusive of all speices present in Eagle.
HISTORY AND STATUS OF FISHERY
Eagle Lake is a 291-acre lake located in north central Hennepin County, in the city of Maple Grove. There is a DNR-owned public access on the northeast corner of the lake. Eagle Lake is actively managed for Muskellunge, Walleye, and Largemouth Bass. Present long-range goals look to: 1) establish and maintain quality Muskellunge and Walleye fisheries through stocking (400 Muskie fingerlings stocked in even-numbered years and 400 pounds of Walleye fingerlings in odd-numbered years). Eagle Lake also supports catchable populations of Northern Pike, Bluegill, Pumpkinseed, and Black Crappie. A standard survey (9 trap nets/6 gill nets) was conducted on Eagle Lake during the week of 7/5/2016 to monitor water characteristics and fish populations. Spring nighttime electrofishing was also completed during 2016 to sample Largemouth Bass. Eagle Lake has a maximum depth of 34 feet. During summer sampling, dissolved oxygen dropped to 0 parts per million at depths greater than 14 feet.

Walleye in Eagle Lake were sampled with gill nets at a catch rate of 4/net, which accomplishes long-range management goals. Walleye numbers have fluctuated from 0.5 to 7.8/net in the last 25 years, although it appears the current stocking regime is producing desired results. Of the 24 Walleye caught, fish averaged 11.6" with a maximum length of 24.9". Size structure shows a balanced population with good numbers of small fish and fewer numbers of larger individuals. Body condition of sampled Walleye was normal. All Walleye year classes correspond with stocked years, suggesting little to no natural reproduction is occurring. Walleye are reaching 13" by age 3, indicating moderately fast growth rates. Catch rates, size structure, and condition are meeting or exceeding management goals and should provide good angling opportunity into the future.

Largemouth Bass were sampled in 2016 with spring nighttime electrofishing (28.5/hour) which was a substantial increase from the 2004 catch rate (17.9/hour). Average size also increased in 2016, with an average length of 11.4" and maximum length of 18.9". Age analysis suggests consistent recruitment among years with fish from every year class since 2007 sampled. While the population of Largemouth Bass in Eagle Lake may currently be lacking the largest individuals (20"+), good body condition indicates fish are healthy and have the potential to reach larger sizes. Largemouth Bass abundance, size structure, and body condition are currently at or above historical levels and should provide good angling opportunity.

No Muskellunge were sampled in the summer fisheries survey; such under-sampling is typical with standard Lake Survey nets/techniques. Targeted sampling is intended for the next survey (scheduled for 2021 + 1 yr). Recent results of the Metro Muskie Tournament reflect presence of fish over 45 inches.

Northern Pike numbers in Eagle Lake have varied (range since 1993 of 2-13 per gill net), periodically with big fluctuations. The 2016 survey captured Northern Pike at a rate of 12.0/net, nearing the all-time high and a large increase from 2011 (3.7/net). Northern Pike averaged 22.8" with a maximum size of 33", with 57% of fish sampled greater than 21". High numbers of Northern Pike may create problems for other top predators such as Muskellunge and Walleye, as the Northern Pike directly compete with these species for resources. Current numbers and sizes of Northern Pike, coupled with the proposed changes to the statewide Northern Pike regulations, should provide plenty of angling opportunity now and into the future.

Several panfish species (Bluegill, Pumpkinseed, and Black Crappie) were all sampled at high numbers compared to similar lakes across the state. Trap net catches for Bluegill averaged 27.2/net, with Pumpkinseed averaging 4.1/net, while gill net catches of Black Crappie averaged 14.7 fish/net. High densities, combined with competition factors, likely affected growth potential and overall size of these species. Bluegill sampled in trap nets averaged 5.9 inches with the largest measured at 7.8 inches, Pumpkinseed averaged 6 inches with the largest at 7.4 inches. Gill nets captured Black Crappie averaging 7.3 inches, with the largest individual sampled at 8.7 inches. The high number of predators in the system may also be impacting the panfish population.

Other fish species sampled in low abundance were Black Bullhead, Green Sunfish, Yellow Bullhead, Yellow Perch, and Shorthead Redhorse (a species not typically found in lentic environments).



Recreational activities such as recreational boating, angling, waterfowl hunting, and diving may spread aquatic invasive species. Some aquatic invasive species can attach to boats, while others can become tangled on propellers, anchor lines, or boat trailers. Many species can survive in bilge water, ballast tanks, and motors or may hide in dirt or sand that clings to nets, buckets, anchors, and waders. Fortunately, completing simple steps can prevent the transport of aquatic invasive species.
LEARN MORE
NOTICE: Lake-Link Inc assumes no responsibility or liability for any errors or omissions of the information for Eagle. Although we strive to provide the most accurate information as we can the information contained in this page is provided on an "as is" basis with no guarantees of completeness, accuracy, usefulness or timeliness.