Ida
Douglas County, MN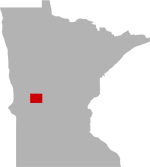 SHARE THIS PAGE
Ida is located in
Douglas County, Minnesota
. This lake is 4,427 acres in size. It is approximately 106 feet deep at its deepest point. When fishing, anglers can expect to catch a variety of fish including Black Bullhead, Bluegill, Brown Bullhead, Green Sunfish, Largemouth Bass, Muskie, Northern Pike, Rock Bass, Smallmouth Bass, Walleye, Yellow Bullhead, Yellow Perch, Pumpkinseed and.
Boat Ramp
Black Bullhead
Black Crappie
Bluegill
Brown Bullhead
Green Sunfish
Largemouth Bass
Logperch
Muskie
Northern Pike
Rock Bass
Smallmouth Bass
Walleye
Yellow Bullhead
Yellow Perch
Banded Killifish
Bigmouth Buffalo
Bluntnose Minnow
Bowfin
Carp
Cisco (Tullibee)
Common Shiner
Fathead Minnow
Golden Shiner
Hybrid Sunfish
Johnny Darter
Mimic Shiner
Pumpkinseed
White Sucker
NOTE: This list may not be all inclusive of all speices present in Ida.
HISTORY AND STATUS OF FISHERY
Lake Ida is a large (4,427 acres), moderately fertile basin located northwest of Alexandria. Maximum depth exceeds 100 feet. Mean depth is approximately 28 feet. Lake Ida lies within the Long Prairie River watershed and is connected to Lake Miltona to the north and Lake Charley to the south via non- navigable channels. Residential development surrounding the lake is considered moderate to heavy. Water quality and clarity are good. Average water clarity measurements typically exceed 10 feet during summer months. This lake is a popular destination for both anglers and recreational boaters. Recreational pressure can be high, especially on weekend days during summer months. Lake Ida supports a complex fish community due to good water quality and exceptional habitat diversity such as shallow bays, rock bars, abundant mid-lake structure, and vast areas of emergent and submergent vegetation.

Lake Ida is now designated as an infested waterbody due to the presence of zebra mussels, which were first confirmed in 2013. Regulations restricting bait harvest and transport of water apply to this basin. For more information regarding aquatic invasive species in Minnesota see the following: http://www.dnr.state.mn.us/invasives/aquatic/index.html

Primary fish management is directed at Walleyes. Annual fry and periodic fingerling stockings are programmed in efforts to supplement natural reproduction. The Lake Ida Association also stocks Walleye fingerlings by permit. High Walleye abundance is difficult to sustain in large lakes through supplemental stocking. Successful natural reproduction is key to sustaining quality Walleye fisheries in these waters. Current Walleye abundance is considered high. In fact, the 2015 catch rate was the highest it has been since the mid-1990s. Mean length and weight of 2015 captures was 16.4 inches and 1.8 pounds. Recent fall electrofishing surveys and current age structure data suggest moderate to strong year classes have been produced in recent years. Walleye abundance and fishing success are projected to remain strong in coming years as these younger, smaller fish grow into the sport fishery.

Lake Ida supports both Largemouth and Smallmouth Bass populations. Largemouth Bass are abundant and anglers can expect good fishing success. Spring electrofishing catches averaged 11.5 inches. The largest Largemouth Bass captured measured 18.9 inches. Smallmouth Bass numbers have increased in recent years. This population typically exhibits lower abundance but larger average size when compared to the largemouth population. Mean length of Smallmouth Bass captured during the 2015 survey was 16.9 inches. The largest measured 20.5 inches.

Northern Pike abundance increased in response to above-average precipitation and high water through the mid- and late-1990s. Currently, catch rates are higher than what is expected for this type of lake. Pike exceeding 30.0 inches are present but smaller, slow growing "hammer-handle" pike dominate the population. An occasional Muskellunge has been captured during lake surveys. This trophy gamefish is not stocked into Lake Ida, thus abundance is extremely low. Presence of this species in Lake Ida is likely a result of downstream emigration from Lake Miltona.

Panfish anglers will encounter an abundant population of Bluegill. Fishing quality for this species is considered fair to good. Mean length of Bluegills captured in 2015 was 5.7 inches. Angler catches of larger sunfish are common during summer months. Black Crappie are also abundant. In fact, record-high crappie abundance was documented in 2015. Mean and maximum lengths of Black Crappie captured in 2015 were 8.9 and 13.7 inches. Rock Bass sustain an abundant population and contribute to fishing, but relatively few are harvested. Yellow Perch abundance is low and harvestable-size perch are rare. Lake Ida also supports opportunities to catch and harvest Tullibee, also referred to as Cisco, and is one of only two lakes in the Glenwood Management Area where sport gill netting for this species is allowed.

Three lake access sites are available for public use. The north access has limited parking space. This access can also be relatively shallow during low water periods. Launching of large boats at this site can be challenging. Boaters should also be cautious of shallow rock bars off of the following points: Pilgrim and Stony (the two points that separate the north and south portions of this basin) and Betsy Ross (the point entering the northwest bay). These areas are posted with caution signs. There is also a posted fish spawning area, located at the entrance of a bay near Betsy Ross Resort on the northwest shoreline. Fishing is prohibited within the posted area during the spring spawning season.

Fishing pressure can be seasonally heavy, particularly for Black Crappie and Walleye, while other gamefish populations are under-utilized. To help maintain fish community balance and quality fishing experiences, anglers are encouraged to practice selective harvest strategies. Selective harvest encourages release of larger fish and increased harvest of more abundant smaller or under-exploited fishes. Harvest of smaller pike from Lake Ida is highly encouraged to help keep this population in check. Lower numbers of hammer-handle Northern Pike should also improve survival of young Walleye.

Walleye anglers should exercise restraint while fishing in deep water. Walleyes occupy depths at or in excess of 60 feet in fall, winter, and spring months. Walleyes caught at depths in excess of 30 feet, or one atmosphere, are subject to water pressure changes that result in over-inflation of their swim bladder which can force their stomach to protrude outside the mouth. The extended gas bladder prevents captured fish from leaving the water surface and moving into deeper water for some time. Delayed mortality of these fish is often high. It is wasteful and counterproductive to management efforts to practice catch and release of Walleyes from deep water.

Other species captured during the 2015 survey included Bullheads (Brown and Yellow), Bowfin (Dogfish), Common Carp, Hybrid Sunfish, Pumpkinseed Sunfish, and White Sucker. The next lake survey is tentatively scheduled for 2019.


Recreational activities such as recreational boating, angling, waterfowl hunting, and diving may spread aquatic invasive species. Some aquatic invasive species can attach to boats, while others can become tangled on propellers, anchor lines, or boat trailers. Many species can survive in bilge water, ballast tanks, and motors or may hide in dirt or sand that clings to nets, buckets, anchors, and waders. Fortunately, completing simple steps can prevent the transport of aquatic invasive species.
LEARN MORE
NOTICE: Lake-Link Inc assumes no responsibility or liability for any errors or omissions of the information for Ida. Although we strive to provide the most accurate information as we can the information contained in this page is provided on an "as is" basis with no guarantees of completeness, accuracy, usefulness or timeliness.