Freeborn
Douglas County, MN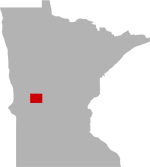 SHARE THIS PAGE
Freeborn is located in
Douglas County, Minnesota
. This lake is 248 acres in size. It is approximately 18 feet deep at its deepest point. When fishing, anglers can expect to catch a variety of fish including Black Bullhead, Bluegill, Brown Bullhead, Largemouth Bass, Northern Pike, Walleye, Yellow Bullhead, Yellow Perch, Pumpkinseed and.
Boat Ramp
Black Bullhead
Black Crappie
Bluegill
Brown Bullhead
Largemouth Bass
Northern Pike
Walleye
Yellow Bullhead
Yellow Perch
Carp
Hybrid Sunfish
Iowa Darter
Pumpkinseed
White Sucker
NOTE: This list may not be all inclusive of all speices present in Freeborn.
HISTORY AND STATUS OF FISHERY
Freeborn Lake is a 248-acre basin located several miles north of Farwell, Minnesota. Similar to other shallow (average depth of 12.0 feet) lakes, Freeborn Lake is highly productive, supports emergent aquatic plant communities, and can have seasonally-impaired water quality (i.e., algal blooms). Despite occasional algal blooms in the summer months, annual water quality surpasses expectations for similar lakes in west-central Minnesota. For example, water clarity at the time of the survey (3.5 feet) exceeded the anticipated range for similar lakes. Freeborn Lake is not infested with zebra mussels or Eurasian watermilfoil (common aquatic invasive species). Anglers are reminded to drain boats and equipment prior to moving between bodies of water and to adhere to other aquatic invasive species laws in an effort to keep invasive species out of Freeborn Lake.

Freeborn Lake supports a fish community that is typical of many west-central Minnesota Lakes. Fair to good fisheries exist for Walleye, Northern Pike, Largemouth Bass, Bluegill, and Black Crappie.

Walleye proved to be moderately abundant. Gillnet catches averaged 6.7 fish/gill net. Average size was excellent at 17.9 inches and 2.3 pounds. Roughly 65% of all Walleyes caught exceeded 15.0 inches in length. Walleye growth was rapid in Freeborn Lake and is likely related to the high productivity of the system.

Northern Pike catches were also elevated, but most pike are small, averaging 19.0 inches in length. Over 75% of captured Northern Pike were between 14.0 and 21.0 inches in length. The largest pike measured was 31.5 inches in total length.

The Largemouth Bass population expanded with recruitment of two strong year classes in 2011 and 2012. Electrofishing catches exceeded 157.0 bass/hour in 2014. While most of the catch was comprised of young fish, age distribution of the population sample extended to age 15. Average size was low at 11.5 inches, but several bass captures exceeded 19.0 inches.

Bluegill population abundance has continued to increase through the 2000s. Reproductive success and recruitment in 2010 was exceptional. Age-3 captures comprised 58% of total trapnet captures. Age distribution of 2014 captures was unusual. Only five age classes (ages 2-6) were represented in the population sample. Over 60% of captures exceeded 6.0 inches, but the lack of old fish in the population diminished fishing quality potential. Only six of 198 Bluegill captures in trapnets were 8.0 inches or larger.

The Black Crappie catch rate of 4.2 fish/trapnet exceeded that of prior surveys, but all captures were from a single year class established in 2012. Fishing can be very inconsistent in response to such annual recruitment irregularity. Fortunately, those young crappies have grown fast. Two-year-old captures averaged 8.4 inches in length at time of capture in 2014. These fish may approach 10.0 inches in length in 2015, but given apparent recruitment inconsistencies, the population will only support a boom and bust fishery.

A record-low density of Yellow Perch was documented in 2014 in probable response to expanding populations of Largemouth Bass, Northern Pike, and Walleye. Yellow Perch provide an important prey source in many west-central Minnesota lakes. It will prove difficult to sustain existing predator densities, growth, and fishing quality with a paucity of preferred-prey. Walleye stocking success can be projected to decline in response to predation. Angler harvest of these predatory fish species, particularly small- to moderate-sized Northern Pike and Largemouth Bass, is strongly encouraged. Removal of small Northern Pike would allow Yellow Perch populations to recover and will provide more prey for other species (e.g., Walleye).

Public access to Freeborn Lake is located on the west shoreline off of County Road 96.

NOTICE: Lake-Link Inc assumes no responsibility or liability for any errors or omissions of the information for Freeborn. Although we strive to provide the most accurate information as we can the information contained in this page is provided on an "as is" basis with no guarantees of completeness, accuracy, usefulness or timeliness.