Chippewa
Douglas County, MN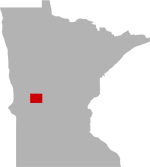 SHARE THIS PAGE
Chippewa is located in
Douglas County, Minnesota
. This lake is 1,175 acres in size. It is approximately 95 feet deep at its deepest point. When fishing, anglers can expect to catch a variety of fish including Black Bullhead, Bluegill, Brown Bullhead, Green Sunfish, Largemouth Bass, Northern Pike, Rock Bass, Smallmouth Bass, Walleye, Yellow Bullhead, Yellow Perch, Pumpkinseed,.
No ramp
Black Bullhead
Black Crappie
Bluegill
Brown Bullhead
Green Sunfish
Largemouth Bass
Northern Pike
Rock Bass
Smallmouth Bass
Walleye
Yellow Bullhead
Yellow Perch
Bigmouth Buffalo
Bowfin
Carp
Central Stoneroller
Cisco (Tullibee)
Freshwater Drum
Hybrid Sunfish
Pumpkinseed
Spottail Shiner
White Sucker
NOTE: This list may not be all inclusive of all speices present in Chippewa.
HISTORY AND STATUS OF FISHERY
Big Chippewa Lake is a 1,175 acre natural basin located northeast of Brandon in Douglas County. Water quality is very good. Water clarity averaged 11.0 feet throughout the summer months of 2013. Islands, points, shallow rock bars, and shallow bays form rich habitat complexity and thus, diverse fishing opportunities. Due to good fishing and high quality resource attributes, recreational uses can be heavy, particularly on weekends and holidays.

Big Chippewa Lake supports a naturally-recruiting walleye population. Walleye fry are also stocked on a biennial frequency to supplement natural reproduction and sustain a more consistent fishery. Walleye catches averaged 11.6 walleyes/gillnet in 2013. This catch rate exceeded expectations for comparable lakes in Minnesota. Size structure of the walleye catch proved good due to the broad age distribution of the catch. Average size of the walleye catch was 15.4 inches and 1.3 pounds. The largest walleye captured during the survey measured 25.0 inches. Fishing success should remain good into the future with documentation of strong year classes established in 2012 and 2013.

Northern pike are less abundant. Sizes at capture ranged from 6.9 to 30.6 inches. Fishing quality, in terms of average size of pike making up the population sample, is relatively good. Five percent of pike caught in gillnets exceeded 28.0 inches in length. Big Chippewa supports a robust largemouth bass fishery. Bass are abundant. Most captures were young, but large bass are present. The largest bass caught measured 19.5 inches.

Panfishes such as bluegill sunfish and black crappie are moderately abundant. Slow growth of bluegills undermines potential fishing quality. Age distribution of bluegill catches extended to age 7, but few 8.0 inch and larger bluegills were recorded in the catch. Average size of bluegills caught was 6.3 inches. Crappie abundance, size structure of the population, and fishing success can be inconsistent due to annual reproductive variability. The 2013 crappie population sample was comprised of three age groups. The oldest captures were only three-years-old, so average size was only 7.4 inches. Crappies grow much faster than bluegills. A few of the age-3 fish were already 10.0 inches in length. Other panfishes recorded in the 2013 catch included rock bass and pumpkinseed sunfish.

The next fish community survey is planned for 2017. In the interim, anglers are encouraged to harvest surplus numbers of 6.0-inch and smaller bluegills, 12.0-inch and smaller bass, and all sizes of rock bass. Such targetted harvest should reduce abundance and stimulate greater growth.

A single public access to this large basin is located on the east end of the lake. The access site is low and under-sized. Manuvering boat trailers can be challenging on busy weekends.

Notes:
Similar to most deeper lakes in west-central Minnesota, Big Chippewa becomes thermally stratified (non-mixed water) during the summer. At time of the August survey, dissolved oxygen levels were too low below 23.0 feet to support game species.

Aquatic invasive species (zebra mussels) have been documented in nearby basins in Douglas County. Please check that all equipment is free of invasive species prior to leaving any access. Consult the current fishing regulations handbook for rules and regulations pertaining to the cleaning of equipment.


Recreational activities such as recreational boating, angling, waterfowl hunting, and diving may spread aquatic invasive species. Some aquatic invasive species can attach to boats, while others can become tangled on propellers, anchor lines, or boat trailers. Many species can survive in bilge water, ballast tanks, and motors or may hide in dirt or sand that clings to nets, buckets, anchors, and waders. Fortunately, completing simple steps can prevent the transport of aquatic invasive species.
LEARN MORE
NOTICE: Lake-Link Inc assumes no responsibility or liability for any errors or omissions of the information for Chippewa. Although we strive to provide the most accurate information as we can the information contained in this page is provided on an "as is" basis with no guarantees of completeness, accuracy, usefulness or timeliness.