Brophy
Douglas County, MN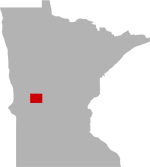 SHARE THIS PAGE
Brophy is located in
Douglas County, Minnesota
. This lake is 293 acres in size. It is approximately 44 feet deep at its deepest point. When fishing, anglers can expect to catch a variety of fish including Black Bullhead, Bluegill, Brown Bullhead, Green Sunfish, Largemouth Bass, Northern Pike, Rock Bass, Walleye, Yellow Bullhead, Yellow Perch, Pumpkinseed and.
Boat Ramp
Black Bullhead
Black Crappie
Bluegill
Brown Bullhead
Green Sunfish
Largemouth Bass
Northern Pike
Rock Bass
Walleye
Yellow Bullhead
Yellow Perch
Bluntnose Minnow
Bowfin
Brook Silverside
Carp
Cisco (Tullibee)
Golden Shiner
Hybrid Sunfish
Pumpkinseed
White Sucker
NOTE: This list may not be all inclusive of all speices present in Brophy.
HISTORY AND STATUS OF FISHERY
Lake Brophy is a 289-acre lake located five miles west of Alexandria. A DNR public access is located on the northwest shoreline. Lake Brophy's outlet is located in the northeast area of the lake. The outlet channel affords anglers with small boats navigable access to a chain of smaller lakes. Those connected basins include North Union, Stoney, and Lottie lakes and eventually, Lake Cowdry. Quiet fishing experiences on lightly developed, natural environment lakes can be found here, especially during the week.

Water clarity measures average 10 feet during summer months. With extensive shallows, bluffs along the south shore and an island offering protection from wind and waves, and good water transparency, Lake Brophy supports a healthy mix of submerged, floating-leaf and emergent plant communities. Habitat conditions are optimal for sunfishes such as Largemouth Bass, Bluegill and Black Crappie, and ambush feeders such as Northern Pike. Walleye are stocked, but recruitment of stocked fish has been modest. Walleye catch rates may not be great, but average size of captures tends to be greater.

The most recent standardized fisheries survey was completed in late July, 2016. The netting portion of the survey was preceded by an electrofishing survey conducted on June 2, to estimate Largemouth Bass abundance and population size structure. Largemouth bass captures during the 2016 spring electrofishing survey were greatly reduced from that of prior assessments. Some of this reduction can be attributed to a change in survey methodology. The electrofishing boat traversed the entire perimeter of the shoreline rather than sampling select areas supporting high quality habitat. Catch success was also influenced by atypically high water transparency and avoidance of the boat by bass at time of the survey. It would appear that some net reduction in population density has also occurred in response to poor nesting success and recruitment of young bass into the population from approximately 2005 through 2009. Bass captures ranged from 2.1 to 16.9 inches in length.

The netting component of the standardized survey described a substantial increase in Northern Pike population density. Most pike captures were young fish, but length distribution of captures extended to 35.2 inches. Average length of pike captures was 20.6 inches.

Similar to abundance estimates gained from Largemouth Bass, Bluegill catches were lower than recorded over the past three surveys. Age distribution of Bluegill catches extended to age 10, but annual recruitment proved to be relatively modest. No strong year classes were evident. Length of Bluegill captures ranged from 3.1 to 8.4 inches. Most of the larger Bluegills were caught in gill net sets set well off shore rather than trap nets.

Black Crappie catches were also limited in near shore trap net sets. The catch was represented by cohorts of three age classes. Most captures were five- and six-year-old crappies that exceeded 10.0 inches in length.

Sixteen Walleyes were captured in gill net sets. These captures averaged 2.3 lbs and 18.1 inches in length. The largest Walleye recorded during the survey measured 27.6 inches.

Other gamefishes captured during the survey included Pumpkinseed Sunfish, sunfish hybrids, and Rock Bass.

Lake Brophy is designated as infested with Zebra Mussels so extreme care must be taken when removing watercraft from the lake. Make sure all water is drained and all vegetation or mud is removed, especially from anchors.

Lake Brophy adjoins Douglas County's newest park facility. Lake Brophy County Park is located atop hills on the lake's north side. Park plans include development of a swimming beach on Lake Brophy's northwest shore. The park and lake are bisected by the Central Lakes Trail, a 14-foot wide bituminous recreational trail that runs 55 miles from Dalton to Osakis where it joins the Lake Wobegon Regional Trail.


Recreational activities such as recreational boating, angling, waterfowl hunting, and diving may spread aquatic invasive species. Some aquatic invasive species can attach to boats, while others can become tangled on propellers, anchor lines, or boat trailers. Many species can survive in bilge water, ballast tanks, and motors or may hide in dirt or sand that clings to nets, buckets, anchors, and waders. Fortunately, completing simple steps can prevent the transport of aquatic invasive species.
LEARN MORE
NOTICE: Lake-Link Inc assumes no responsibility or liability for any errors or omissions of the information for Brophy. Although we strive to provide the most accurate information as we can the information contained in this page is provided on an "as is" basis with no guarantees of completeness, accuracy, usefulness or timeliness.