Aaron
Douglas County, MN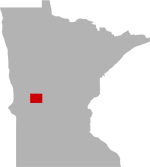 SHARE THIS PAGE
Aaron is located in
Douglas County, Minnesota
. This lake is 610 acres in size. It is approximately 16 feet deep at its deepest point. When fishing, anglers can expect to catch a variety of fish including Black Bullhead, Bluegill, Brown Bullhead, Largemouth Bass, Northern Pike, Rock Bass, Smallmouth Bass, Walleye, Yellow Bullhead, Yellow Perch, Pumpkinseed,.
Boat Ramp
Black Bullhead
Black Crappie
Bluegill
Brown Bullhead
Largemouth Bass
Northern Pike
Rock Bass
Smallmouth Bass
Walleye
Yellow Bullhead
Yellow Perch
Banded Killifish
Blacknose Shiner
Bluntnose Minnow
Carp
Central Mudminnow
Fathead Minnow
Golden Shiner
Hybrid Sunfish
Iowa Darter
Johnny Darter
Mimic Shiner
Pumpkinseed
Spottail Shiner
White Sucker
NOTE: This list may not be all inclusive of all speices present in Aaron.
HISTORY AND STATUS OF FISHERY
Lake Aaron is a 545-acre lake located less than a mile west of Millerville in northern Douglas County. The lake is shallow with a maximum depth of 16 feet. The basin's moderate to high fertility can cause reductions in water clarity due to algae growth, particularly after heavy winds. Water transparency averages about 7 feet during the summer. Residential development is light and the shoreline provides good fish and wildlife habitat, with extensive stands of hardstem bulrush and woody cover. The public access and an active family resort are located on the south side of the lake.

A standard fisheries survey was completed in June of 2016 to evaluate abundance and size distribution of gamefish populations. Bluegills and Pumpkinseed Sunfish proved to be abundant. Bluegill catches ranged from 3.4 to 8.7 inches in length and averaged 6.7 inches. Bluegill growth is slow, but fishing quality offered by this population is presently good due to elevated numbers of seven- and nine-year-old fish making up the population. Seventeen percent of Bluegills captured in trap nets were 8.0 inches and larger. Pumpkinseed Sunfish catches averaged 6.2 inches in length.

Largemouth Bass abundance and fishing quality have declined over time with less young fish recruiting into the fishery and loss of many very old fish that stemmed from increased and relative consistent recruitment in the late-1990s and early-2000s. Largemouth Bass captures averaged 13.1 inches. The largest bass caught measured 16.7 inches. Two Smallmouth Bass were captured during the 2016 survey. These fish averaged 12.4 inch in length.

Northern Pike catches also declined from excessive population abundance measures recorded in earlier surveys. Pike captures in gill nets averaged 18.1 inches. Four captures exceeded 28.0 inches. The largest capture measured 32.9 inches.

Aaron Lake supports a limited Walleye fishery sustained through supplemental fingerling stockings. Twenty-five Walleyes were captured during the 2016 survey. Average size of captures was 15.5 inches and 1.7 pounds. Six captures exceeded 20.0 inches in length. The largest capture was a memorable-size fish measuring 25.0 inches.

Black Crappie proved to be moderately abundant. Most were captured in gill nets rather than trap nets suggesting crappies had moved offshore and into a little deeper and cooler water at time of the late-June survey. Crappie captures averaged 9.2 inches. Age determinations from scales indicated most captures were four- and five-year-old fish. Age assignments of crappie captures extended to age seven. That one old fish measured 12.0 inches in length. The crappie population should provide fairly good fishing in 2017 and 2018 as those 4- and 5- year-olds grow past 10.0 inches.

Anglers are encouraged to harvest from the surplus of 14.0- to 21.0-inch Northern Pike to keep population density in check, improve predator/prey balance, and increase survival of stocked Walleye fingerlings.

NOTICE: Lake-Link Inc assumes no responsibility or liability for any errors or omissions of the information for Aaron. Although we strive to provide the most accurate information as we can the information contained in this page is provided on an "as is" basis with no guarantees of completeness, accuracy, usefulness or timeliness.