Double
Cottonwood County, MN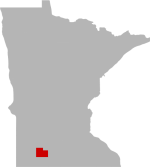 SHARE THIS PAGE
Double is located in
Cottonwood County, Minnesota
. This lake is 240 acres in size. It is approximately 9 feet deep at its deepest point. When fishing, anglers can expect to catch a variety of fish including Black Bullhead, Bluegill, Channel Catfish, Green Sunfish, Largemouth Bass, Northern Pike, Walleye, White Crappie, Yellow Bullhead, Yellow Perch,.
No ramp
Black Bullhead
Black Crappie
Bluegill
Channel Catfish
Green Sunfish
Largemouth Bass
Northern Pike
Walleye
White Crappie
Yellow Bullhead
Yellow Perch
Bigmouth Buffalo
Carp
Common Shiner
Creek Chub
Fathead Minnow
Freshwater Drum
Golden Redhorse
Hybrid Sunfish
Orangespotted Sunfish
Quillback
River Redhorse
Shorthead Redhorse
Stonecat
Tadpole Madtom
White Sucker
NOTE: This list may not be all inclusive of all speices present in Double.
HISTORY AND STATUS OF FISHERY
Double is a 246 acre lake located west of Storden in Cottonwood County. The lake consists of two separate basins connected by a six foot diameter culvert. This culvert is the only public boat access available to enter the South basin. There is a MNDNR owned public access on the North basin and the Red Rock Sportsman's Club maintains a handicapped accessible fishing pier on the South basin. Despite both basins having winter aeration systems, occasional partial winterkills still occur, but haven't affected the diverse fish community. Sixteen fish species were sampled in a population assessment conducted during the week of June 8, 2015 using 2 gill nets and 5 trap nets in the north basin. This complex system is managed primarily for Walleye and secondarily for crappie, Yellow Perch, and Northern Pike.

The Walleye gill net catch rate of 20.0 per set was the second highest on record in eight surveys dating back to 1986. Historical gill net catches have ranged from 2 to 22 per net with a long term average of about 10 per net. There were four year classes present and they were dominated by two year old fish from the 2013 fry stocking. Total lengths of Walleye sampled ranged from 9 to 22 inches with an average length of 13.7 inches. Walleye have always been popular in Double Lake and should continue to provide excellent angling in the future.

Double has a reputation for excellent crappie angling over the years. This may change for a few years since our assessment captured record low numbers of Black Crappie at 0.8 per trap net. There were 4.0 to 5.2 inch crappie captured in gill nets, and 9.0 to 9.6 inch fish captured in trap nets. Hopefully these two year classes can reestablish the crappie population without additional stocking.

The Yellow Perch gill net catch rate of 25.0 per set is the highest catch on record for 8 surveys since 1986. Total lengths of perch in gill nets ranged from 5.9 inches to 10.4 inches with an average length of 8.3 inches. These perch should provide quality angling for "keeper" size fish for the next couple years.

Only one 18.2 inch Northern Pike was captured in gill or trap nets during this assessment although the south basin was not sampled. The most recent stocking of 50 adult northern in 2012 does not appear to have improved the abundance of pike. Additional stocking of pike may be necessary to meet management goals for a "predator" to control Freshwater Drum populations.

Freshwater Drum, also known as sheepshead, were first observed in the 1999 population assessment. There is speculation that drum entered Double through the Cottonwood River and Highwater Creek after the Flandreau dam was removed in 1995. The catch rate of 6.0 per gill net was down slightly from the 2011 survey catch rate of 4.5 per set. These fish ranged from 11 to 17 inches in total length, and provide another angling opportunity. There is some negative stigma about eating Freshwater Drum but their fillets consists of white flakey meat that can be hard to differentiate between other game fish fillets.

The Black Bullhead catch rate of 10.2 per trap net, and the Common Carp catch rate of 2.2 per trap net are well below the long term average for this lake type. The relatively low abundance of these two species may be contributing to higher water transparency readings in recent years.

Bluegill sunfish first appeared in the 2015 survey, and although their numbers are still low at 1.6 per trap net they may continue to flourish with the improved water clarity. The majority of Bluegill sampled were of preferred size to anglers at 7.5 to 10 inches long.

Other species sampled in relatively low numbers during this assessment included White Sucker, Bigmouth Buffalo, Green Sunfish, Hybrid Sunfish, White Crappie, Yellow Bullhead, Channel Catfish, and Shorthead Redhorse.

To maintain a healthy fishery in Double Lake, we need to promote Best Management Practices (BMPs) within the watershed to help reduce nutrients entering the lake. High nutrients and sediments in a lake can cause algae blooms and reduce water clarity.

NOTICE: Lake-Link Inc assumes no responsibility or liability for any errors or omissions of the information for Double. Although we strive to provide the most accurate information as we can the information contained in this page is provided on an "as is" basis with no guarantees of completeness, accuracy, usefulness or timeliness.