Homer
Cook County, MN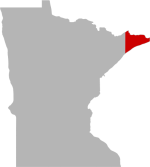 SHARE THIS PAGE
Homer is located in
Cook County, Minnesota
. This lake is 434 acres in size. It is approximately 22 feet deep at its deepest point. When fishing, anglers can expect to catch a variety of fish including Bluegill, Northern Pike, Smallmouth Bass, Walleye, Yellow Perch, Pumpkinseed and.
Boat Ramp
Bluegill
Northern Pike
Smallmouth Bass
Walleye
Yellow Perch
Blacknose Shiner
Burbot
Pumpkinseed
White Sucker
NOTE: This list may not be all inclusive of all speices present in Homer.
HISTORY AND STATUS OF FISHERY
Homer Lake is a relatively shallow, deeply bog-stained lake, currently managed for Walleye and Northern Pike. Like most lakes in this area, it supports a relatively simple fish community, with major species present (through the early 1990s) limited to Walleye, Northern Pike, White Sucker, Burbot, and Yellow Perch. Smallmouth Bass probably entered the lake from the Vern River in the early 1990s, with the first report of their presence in Homer Lake coming from an electrofishing catch reported by Fond du Lac band biologists in 1997. By 2003 an angler described them as abundant, and in 2004 they first appeared in a DNR Fisheries lake survey catch.

Current long range goals for Walleye and Northern Pike in this lake, from the 2014 lake management plan (LMP) are minimum gill net catches of 3.0 and 2.0 fish/net, respectively. Size goals were also established for each species; some Walleye over 20 inches should be present, and the mean weight for Northern Pike taken in gill nets should be at least 1.75 lb/fish. This was the first of three surveys scheduled in the 2014 LMP to determine the effect of Smallmouth Bass on the rest of the fish community in Homer Lake. Earlier surveys planned to accomplish that objective (2008 and 2012) had been canceled due to a lack of staff and funding. Surveys were also intended to monitor attainment of long range goals for Walleye and Northern Pike.

The 2016 survey yielded mixed results, but overall, it appeared Walleye were present in good numbers, with a few larger fish to be found. The 2016 Walleye gill net catch fell short of the long range goal, and was the lowest seen to date in this lake; however, higher numbers of Walleye were taken in trap nets, suggesting Walleye abundance may have been higher than indicated by the gill net catch. The 2016 trap net catch was well above the normal range for this type of lake, and was the highest seen to date in Homer Lake. Walleye taken in 2016 ranged in length from 6.8 to 26.9 inches, although most were in the 12-18-inch range. Eleven year classes, all naturally produced, contributed to the catch, with the strongest apparently produced in 2012. Walleye growth had been slow; on average, fish reached a length of 11.7 inches at the end of their fourth year, compared to an area average of 13.4 inches.

Northern Pike numbers were low for this lake, as was the average size of Northern Pike taken in this survey. Goals for the species were not met in 2016. The gill net catch was the lowest ever seen in Homer Lake, while the mean weight for Northern Pike was the second lowest. Both were well below normal for this type of lake. Trap net catches were no better. Northern Pike taken in 2016 (in all gears) ranged in length from 10.7 to 20.4 inches, with most in the 15-18-inch range. No Northern Pike older than four years were sampled; most of the catch consisted of two- and three-year-old fish. Growth of Northern Pike at those early ages had been slow. Fish reached a mean length of 11.8 inches at the end of their second year, compared to an area average of 14.6 inches.

Smallmouth Bass were still present in Homer Lake in 2016. Catches in gill and trap nets were low, but not necessarily indicative of the true abundance of bass in this lake. Too few Smallmouth Bass were taken to provide any indication of their size or age distribution, or of their growth rates.

Forage available to Walleye and Northern pike was limited. Yellow Perch numbers appeared to have been low in 2016, although not unusually low for this lake. White Sucker were present in higher numbers, but most would have been too large to have been taken by even the largest Northern Pike or Walleye sampled in this survey. White Sucker probably compete with Walleye for the invertebrate forage they rely on when perch numbers are low. Sampling using small-mesh trap nets as part of this survey was canceled due to limited staff and funding available in 2016, but past sampling of this lake using small-mesh trap nets (2004) has found only very small numbers of a few minnow species available to make up for the lack of Yellow Perch.

Effects of the Smallmouth Bass introduction cannot be determined from this single survey. Surveys planned in 2019 and 2022 must be completed before we have enough information to compare with pre-introduction survey results.

NOTICE: Lake-Link Inc assumes no responsibility or liability for any errors or omissions of the information for Homer. Although we strive to provide the most accurate information as we can the information contained in this page is provided on an "as is" basis with no guarantees of completeness, accuracy, usefulness or timeliness.