Gust
Cook County, MN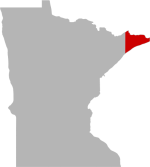 SHARE THIS PAGE
Gust is located in
Cook County, Minnesota
. This lake is 143 acres in size. It is approximately 6 feet deep at its deepest point. When fishing, anglers can expect to catch a variety of fish including Bluegill, Largemouth Bass, Northern Pike, Smallmouth Bass, Walleye, Yellow Perch, Pumpkinseed and.
No ramp
Bluegill
Largemouth Bass
Northern Pike
Smallmouth Bass
Walleye
Yellow Perch
Blacknose Shiner
Northern Redbelly Dace
Pumpkinseed
White Sucker
NOTE: This list may not be all inclusive of all speices present in Gust.
HISTORY AND STATUS OF FISHERY
Gust is a small, shallow lake with a few cabins on its shore, and limited public access. It has not been subject to much active fisheries management. Sometime between 1996 and 2006 Smallmouth Bass found their way (or were introduced) into the lake; by 2006, when they first appeared in a lake survey, their numbers seemed to have been high. This was the second of two surveys scheduled in the 2007 lake management plan (LMP) to determine what effects Smallmouth Bass have had on the fish community in this lake.

Walleye were fairly abundant in Gust Lake in 2016, and, while few large fish were present, many were available in the 14 to 20-inch size range. The 2016 Walleye gill net catch was similar to catches seen in several surveys done prior to the entry of Smallmouth Bass. The Walleye gill net catch, and the mean weight for Walleye taken in gill nets, were both about average for a lake of this type. Long range goals for Walleye from the 2007 LMP were met in 2016; the gill net catch exceeded 5.0 fish/net, and some Walleye larger than 20 inches were sampled. Although trap nets are usually not considered a targeting gear for Walleye, the trap net catch in 2016 was very high for a lake of this type, suggesting Walleye may have been more abundant than the gill net catch might have indicated. Walleye taken (in all gears) in 2016 ranged in length from 8.9 to 22.2 inches, with most in the 14-20-inch range. Many year classes, all naturally produced, contributed to the 2016 catch, which included fish as old as 16 years. The 2015 and 2013 year classes appeared to have been relatively strong. Growth of young Walleye had been about average for the area; three-year-old fish reached an average length of 12.3 inches by the end of their third year, compared to an area average of 12.0 inches. Growth of older fish had not been as good, but was still close to average for this area. Seven-year-old fish reached an average length of 17.6 inches by the end of their seventh year.

Gill net and trap net catches are not reliable indicators of Smallmouth Bass abundance. In 2016 both catches in Gust Lake were above average for this type of lake, while the 2016 gill net catch was the lowest seen in the three surveys done since Smallmouth Bass appeared in the lake. Smallmouth Bass collected in 2016 (in all gears) ranged in length from 6.3 to 20.0 inches. Four year classes contributed to the 2016 catch, with none standing out as particularly strong.

Surveys in 2006, 2011, and 2016 provided some weak indications of possible changes in the large-fish fish community in Gust Lake. Northern Pike gill net catches in all three surveys were low compared to most pre-bass surveys, with just a single fish each taken in 2011 and 2016. White Sucker gill net catches were also low for this lake historically, and for a lake of this type. On the other hand, there appeared to have been little change in Walleye and Yellow Perch numbers.

Changes in the nearshore fish community were harder to identify, since we have little pre-bass data available. Seining done at three sites in 1960, and sampling in 1996 using 0.25-in-mesh trap nets, collected about the same number of species, and the same species, as nearshore fish sampling done using seines, backpack electofishers, or 0.25-in-mesh trap nets in 2006, 2011, and 2016. The limited data available suggests there's been no change in diversity of the nearshore fish community since Smallmouth Bass became established, and that no species seem to have been lost.


NOTICE: Lake-Link Inc assumes no responsibility or liability for any errors or omissions of the information for Gust. Although we strive to provide the most accurate information as we can the information contained in this page is provided on an "as is" basis with no guarantees of completeness, accuracy, usefulness or timeliness.