East Bearskin
Cook County, MN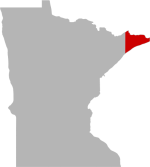 SHARE THIS PAGE
East Bearskin is located in
Cook County, Minnesota
. This lake is 593 acres in size. It is approximately 66 feet deep at its deepest point. When fishing, anglers can expect to catch a variety of fish including Bluegill, Green Sunfish, Lake Trout, Largemouth Bass, Northern Pike, Smallmouth Bass, Walleye, Yellow Perch, Pumpkinseed and.
Boat Ramp
Black Crappie
Bluegill
Green Sunfish
Lake Trout
Largemouth Bass
Northern Pike
Smallmouth Bass
Walleye
Yellow Perch
Hybrid Sunfish
Pumpkinseed
White Sucker
NOTE: This list may not be all inclusive of all speices present in East Bearskin.
HISTORY AND STATUS OF FISHERY
East Bearskin Lake is located approximately 20 miles north of the city of Grand Marais. The lake is partially within the BWCA, and motorized use is restricted to outboard motors of 25 hp or less. A concrete public access is located within the USFS campground on the west end of the lake. The lake remains a very popular entry point for canoeists during the summer months. East Bearskin Lake is an Ecological Class 3 lake, which is characterized as large and deep, with very low littoral coverage, and very clear, soft water.

The 2016 survey of East Bearskin Lake was the first of three scheduled in the 2014 lake management plan to determine whether a reproducing Lake Trout population has become established, and determine whether goals for the Walleye population can be met with supplemental stocking. The current long-range goal for Lake Trout is to maintain a population capable of sustaining modest fishing pressure, with a minimum gill net catch of 0.6 fish/net. The long-range goal for Walleye population is to maintain a population with a minimum gill net catch of 3.0 fish/net. Catch goals for these species are based on combined shallow and deep gill net catches. The 2016 survey of East Bearskin Lake coincided with a summer creel survey conducted on this lake, and three others in the vicinity.

Lake Trout were re-introduced into East Bearskin Lake in 1993, and have been stocked as yearlings in odd-numbered years since 1997. Combined gill net catches for Lake Trout peaked in 2001, but have declined in each survey since. The 2016 survey was the second consecutive survey in which just a single Lake Trout was collected. This fish was apparently produced naturally as it bore no fin clips. All yearling Lake Trout stocked into East Bearskin Lake since 1993 have been fin clipped; prior to this survey only one non-clipped fish had ever been collected. These results indicate natural reproduction is too low to sustain a fishery at this time. The lack of any Lake Trout from the 2013 and 2015 stockings in the 2016 catch also indicates survival of stocked fish has been poor in recent years. Thermal habitat did not appear to be a limiting factor for Lake Trout in 2016. A temperature-oxygen profile completed in mid-July found cold, well-oxygenated water from 35-65 ft deep. Although conditions probably deteriorated further as the summer progressed, a sufficient volume of suitable habitat should have persisted until fall turnover. No Lake Trout were reportedly caught by East Bearskin Lake anglers during the 2016 summer creel, although just 1.5 percent of anglers interviewed reported targeting this species in the lake.

Walleye fry stocking of East Bearskin Lake was resumed in 2005 in an attempt to meet long-term goals set for the lake. The 2016 combined gill net catch of Walleye (1.25 fish/net) failed to meet the catch goal for the population, although it was within the range of catches seen in this lake since 1988. Several fish over the 20-inch mark were sampled in 2016, thereby meeting the size goal for the lake. The mean weight of gill-net-sampled Walleye in 2016 one of the higher values recorded for this lake, but was about average compared to similar lakes in the area. Fair numbers of Walleye were also sampled in trap nets in 2016. Seven year classes of Walleye (ages 2-8) contributed to the 2016 combined catch. Four of the year classes had been supplemented by fry stocking, while the remaining year classes were naturally produced, including a moderately strong 2012 year class. Walleye growth had been about average; the mean length for fish at the end of their fourth year was 14.7 inches, compared to an area average of 14.2 inches.

Smallmouth Bass gill net catches in East Bearskin Lake have been low in most surveys, although this gear is not considered very effective for this species. Results from the 2016 creel survey indicated Smallmouth Bass remain fairly abundant in the lake, and are present in a wide variety of sizes.

East Bearskin Lake continued to support a modest Northern Pike fishery in 2016. The combined gill net catch in 2016 was the lowest observed for this species (0.08 fish/net) since 1976, although fair numbers were sampled in standard trap nets. The 2016 combined sample consisted entirely of young Northern Pike (one to three years olde), with three-year-old fish being most abundant. Growth of Northern Pike had been relatively fast; fish averaged 20.9 inches at the end of their third year, compared to the area average of 18.6 inches.

Yellow Perch are likely the primary forage species for Walleye and Northern Pike in East Bearskin Lake. Fair numbers of Yellow Perch were sampled in 2016, although most were too small to provide much angling opportunity. Low numbers of Pumpkinseed Sunfish, Green Sunfish, and White Sucker were also sampled in 2016. Largemouth Bass have been sampled occasionally in past surveys of East Bearskin Lake, and although none were found in the 2016 survey the species was reported in the summer creel. Their abundance in this lake also appears low.

As of 2016, no aquatic invasive species had been reported or identified in East Bearskin Lake. Anglers and boaters are reminded to review the recommended actions for cleaning watercraft and gear before and after accessing any waterbody, and to adhere to all Minnesota aquatic invasive species laws to protect Minnesota lakes and rivers from additional infestations.

NOTICE: Lake-Link Inc assumes no responsibility or liability for any errors or omissions of the information for East Bearskin. Although we strive to provide the most accurate information as we can the information contained in this page is provided on an "as is" basis with no guarantees of completeness, accuracy, usefulness or timeliness.