Bearskin
Cook County, MN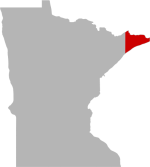 SHARE THIS PAGE
Bearskin is located in
Cook County, Minnesota
. This lake is 509 acres in size. It is approximately 78 feet deep at its deepest point. When fishing, anglers can expect to catch a variety of fish including Bluegill, Coho Salmon, Green Sunfish, Lake Trout, Largemouth Bass, Northern Pike, Smallmouth Bass, Walleye, Yellow Perch,.
Boat Ramp
Bluegill
Coho Salmon
Green Sunfish
Lake Trout
Largemouth Bass
Northern Pike
Smallmouth Bass
Walleye
Yellow Perch
Golden Shiner
Hybrid Sunfish
Rainbow Smelt
White Sucker
NOTE: This list may not be all inclusive of all speices present in Bearskin.
HISTORY AND STATUS OF FISHERY
West Bearskin is a deep, cold-water Lake Trout lake that has been managed primarily for Lake Trout since at least 1928. It was stocked regularly with Lake Trout (fry or fingerlings) from 1928 through 1970. No stocking was done from 1971 through 1980, but it was again stocked regularly, with Lake Trout yearlings, from 1981 through 2009. All Lake Trout stocked after 1970 were fin clipped so stocked fish could more easily be identified. Lake Trout stocking was discontinued after 2009 due to poor survival of stocked fish and high levels of natural reproduction. This was to have been the second of three surveys scheduled in the 2009 lake management plan to determine whether a resumption of Lake Trout stocking would be needed, and whether special or experimental regulations on the Lake Trout fishery might be necessary. The first (in 2012) could not be completed due to a shortage of staff and funding.

Lake Trout were present in average numbers and above average sizes in 2016. The Lake Trout catch (1.33 fish/net in deep and shallow sets combined) fell within the normal range for a lake of this type (0.85-4.25 fish/net), but fell short of the long range goal for this lake (1.50 fish/net) established in the 2009 plan. Although the catch goal was not met in 2016, the size goal for Lake Trout (a mean weight of at least 1.5 lb/fish) was exceeded. None of the Lake Trout taken in 2016 bore fin clips identifying them as stocked fish. Although no strong year classes were identified, nine year classes contributed to the catch, indicating natural reproduction had been occurring fairly consistently. Lake Trout as old as 17 years were collected, and most of the catch consisted of fish older than eight years, and likely to have been mature adults. The presence of so many older fish suggested that low recruitment, rather than excessive harvest, was the reason for the low Lake Trout catch seen in 2016. Lake Trout growth appeared to have been somewhat slower than average. Fish reached an average length of 14.9 inches by the end of their sixth year, compared to an area mean of 16.2 inches.

West Bearskin Lake appeared to support good numbers of large Smallmouth Bass in 2016. The gill net catch (deep and shallow combined; 1.22 fish/net) fell within the normal range (0.25-2.19 fish/net) for a lake of this type. Most of the Smallmouth Bass collected in 2016 were over 14 inches in length, and the presence of some fish over 16 inches met the 2009 plan's goal for the species. The catch consisted mostly of fish over eight years of age (up to 16 years), indicating harvest by anglers had probably been light. Reproductive success appeared to have been limited in recent years, with no strong year classes identified. Growth appeared to have been slow; fish reached a mean length of just 7.8 inches at the end of their fifth year, compared to an area average of 10.7 inches.

Northern Pike numbers appear to have increased in West Bearskin Lake, and some larger fish were present in 2016. Northern Pike had been rarely seen in this lake in the past, but a few were observed in a 2014 summer creel survey, and the gill net catch in 2016 (0.67 fish/net, deep and shallow sets combined) was the highest ever seen in this lake. Several year classes, all naturally produced, contributed to the 2016 catch, although none had been exceptionally strong. The largest fish collected was aged at 20 years, and several fish five or more years old were collected. Northern Pike growth appeared to have been somewhat slower than average, at least at younger ages. By the end of their third year fish reached a mean length of 17.7 inches, compared to an area average of 19.9 inches. Low numbers of Yellow Perch in this lake may have contributed to the slow early growth of Northern Pike observed among fish sampled in 2016.

Bluegill became established in West Bearskin Lake fairly recently. They were present in only modest numbers and small sizes in 2016, but offered some angling opportunity for those seeking panfish in this panfish-poor area. The 2016 trap net catch was similar to catches seen in 2002 and 2009, but the average size of fish taken in those nets appeared to have declined. The catch consisted mainly of 4-6-inch fish from a strong 2012 year class. Their growth had been slow.

The single Walleye taken in 2016 was the first seen in a survey of this lake since 1969. Walleye can reach West Bearskin Lake from Hungry Jack Lake, where they are present in fair numbers. Yellow Perch numbers have typically been low in this lake; the 2016 catch (1.33 fish/net, deep and shallow combined) was the highest seen to date. White Sucker numbers have also been low historically. Although none were sampled in any gear in 2016, a few were probably present nonetheless.

Rainbow Smelt apparently remained abundant in West Bearskin Lake in 2016, and fish taken were also fairly large, compared to those typically seen in other area lakes. The Rainbow Smelt catch in small-mesh gill nets was well above the normal range (10.75-62.33 fish/net) for that gear when used in the Grand Marais area, and the mean weight for smelt sampled was well abvove average. Smelt provide excellent forage for Lake Trout, Walleye, and Northern Pike, but they have also been implicated in Lake Trout and Walleye recruitment failures. Rainbow Smelt have been present in West Bearskin Lake since about 1963. Anglers looking for a meal of smelt could probably catch enough for a meal in this lake, particularly in the winter.


NOTICE: Lake-Link Inc assumes no responsibility or liability for any errors or omissions of the information for Bearskin. Although we strive to provide the most accurate information as we can the information contained in this page is provided on an "as is" basis with no guarantees of completeness, accuracy, usefulness or timeliness.