West Rush Reviews
Chisago County, MN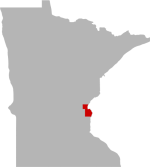 SHARE THIS PAGE
There are currently 2 reviews for West Rush.
Tell others what you think of this lake by writing your own personal reveiw:
SUBMIT YOUR LAKE REVIEW
February 29, 2012
"First season ice fishing on this lake and I've had much success. I've been out there 3 times now on this lake. Been consistently catching nice slab crappies in the 9 - 13 inch range. I can't wait to be out on the open water and try my luck on this lake during the spring/summer season."
July 12, 2010
"Interesting lake. It is my favorite place for Northens. It seems that if the west lake is a little to slow for me, I can cruse to the east lake and things are a lot better. And visa-versa. Crappie fishing is also Pretty productive around the sunken island. I have caught Largemouth Bass and Walleyes as well."