Chisago
Chisago County, MN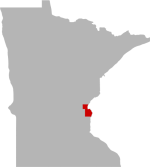 SHARE THIS PAGE
Chisago is located in
Chisago County, Minnesota
. This lake is 944 acres in size. It is approximately 34 feet deep at its deepest point. When fishing, anglers can expect to catch a variety of fish including Black Bullhead, Bluegill, Brown Bullhead, Green Sunfish, Largemouth Bass, Northern Pike, Walleye, Yellow Bullhead, Yellow Perch, Pumpkinseed and.
No ramp
Black Bullhead
Black Crappie
Bluegill
Brown Bullhead
Green Sunfish
Largemouth Bass
Northern Pike
Walleye
Yellow Bullhead
Yellow Perch
Banded Killifish
Bowfin
Carp
Common Shiner
Golden Shiner
Hybrid Sunfish
Pumpkinseed
White Sucker
NOTE: This list may not be all inclusive of all speices present in Chisago.
HISTORY AND STATUS OF FISHERY
Chisago Lake is a moderately fertile 873 acre lake located in southern Chisago County bordering Chisago City. The lake is broadly connected to South Lindstrom Lake by a natural channel. The two lakes are somewhat physically different with South Lindstrom having a smaller percentage of littoral (water less than 15 feet deep) acreage (42%) than Chisago (80%). The channel allows fish to migrate freely between the two lakes. Because past surveys and assessments dating back to 1956 indicate similar fish composition and abundance, the two lakes are considered one for management purposes. Currently, the primary management species are Walleye and Largemouth Bass.

The Chisago chain of lakes, which also includes South Lindstrom, North Lindstrom, North Center, and South Center, has a history of extreme water level fluctuations. These fluctuations, up to 7 vertical feet, are believed to be due to a net loss of water to groundwater in the system, making the lakes dependent on long term cycles in precipitation. Water levels increased in 2014 and were almost 4 feet higher than the low water levels recorded in 2009 and 2010. The water levels in 2009 were the lowest they had been in 40 years.

Chisago-South Lindstrom Lake was selected for a special Largemouth Bass regulation due to a 1995 survey that found a high abundance of small bass in both basins. A 12-inch maximum size limit for Largemouth Bass was implemented in March 1997 and was based on the premise that angler harvest was limiting the size structure of the Largemouth Bass population. The long-range goal of the special regulation was to maintain a Largemouth Bass population with a modal length between 13 and 15 inches and an electrofishing catch rate greater than 110 per hour. Post regulation surveys have indicated that the overall population size structure of Largemouth Bass has improved. Nighttime spring electrofishing was conducted on May 28, 2014 to assess the current Largemouth Bass population. A catch rate of 192 fish per hour, was slightly less than the previous assessment in 2010, but was still the second highest catch rate observed in Chisago Lake. The modal length group of Largemouth Bass observed in the electrofishing assessment was 13 inches, and lengths ranged from 7.5 to 17.5 inches. Currently, the Largemouth Bass population is meeting the objectives of the special regulation.

Walleye catch rates were down from the 2010 assessment to 2.9 per set with a mean weight of 3.3 pounds, but catch rates were still high when compared to similar lakes in Minnesota. Walleye lengths ranged from 14.1 to 25.7 inches with a mean length of 20.8 inches. Otolith data sorted the twenty-nine aged Walleye into six year classes, with most of the fish corresponding to years with fall fingerling stockings. The 2007 year class (stocked) accounted for 41% of the catch.

The Northern Pike gill net catch, at 9.0 per set, was high when compared to similar lakes and up from 7.9 in 2010 and 3.3 in 2005. Mean weight was similar and remained high at 3.5 pounds. Northern Pike lengths ranged from 17.1 to 33.9 inches with a mean length of 25.1 inches. The oldest Northern Pike sampled was age-9 and 7 year-classes were represented with the 2009 year class making up 38% of the sample.

Trap nets sampled Bluegill at 27.6 fish per set, which was slightly above average when compared to similar lakes. The mean weight, 0.21 pounds, was also slightly above average. Bluegill lengths ranged from 3.3 to 8.0 inches with a 6.2 inch mean length. Bluegill 7 inches and greater represented more than 38% of the catch from both gear types, a good ratio for the Chisago Lakes Area. However, not many Bluegill exceeded 8 inches. Pumpkinseed abundance is also high and Pumpkinseed over 8 inches were more numerous than Bluegill over 8 inches.

Black Crappie gill net catch rates declined for the fourth consecutive survey to 10.6 per net, but still remained high when compared to similar lakes. Mean weight, based on the trap net catch, was at a new high of 0.31 pounds, but mean weights in both gill and trap nets remained below average. Sampled Black Crappie lengths ranged from 4.0 to 12.2 inches and had a mean length of 7.1 inches, however only a few fish over 9 inches were observed.

Yellow Perch numbers declined from a long time high of almost 14 per gill net in 2010 to 3.2 per gill net during this assessment, which is below average when compared to similar lakes. Golden Shiner catch rates increased to an all-time high of 9.5 per gill net, and likely provide another important forage for the lakes predator populations.

Quality fishing opportunities exist for most species in Chisago Lake. At times fishing pressure on Chisago Lake can be high and anglers are encouraged to practice selective harvest to help maintain and improve the quality of Chisago Lake's fishery. Selective harvest encourages the release of larger fish while allowing the harvest of more abundant smaller fish. Releasing medium to large fish will help restore and maintain fish community balance, as well as increase opportunities to catch large fish in the future. The current Largemouth Bass regulation is a great example of this. This regulation protects larger fish, which has created excellent catch-and-release angling opportunities for Largemouth Bass larger than 12 inches, while still allowing for harvest of smaller fish.

Non-native invasive species of vegetation are present in Chisago Lake. Eurasian Watermilfoil was first documented in Chisago Lake in the fall of 2009 and Curlyleaf Pondweed has been present since at least 1969. Anglers and boaters should take necessary precautions to prevent the further spread of invasive species.

Some shorelines of Chisago Lake are highly developed, which can put stress on the lake's aquatic habitat and ecosystem integrity. Environmentally friendly development practices, such as shoreline buffer strips of natural vegetation, are encouraged to help maintain and improve the water quality of Chisago Lake. Water level fluctuations in the Chisago chain of lakes can leave exposed sediments and if left alone, these areas will naturally vegetate and stabilize the shorelines on their own. Also, if trees and branches have fallen in the water, consider leaving them where they are to provide important habitat for fish and wildlife that is often missing in highly developed lakes.


Recreational activities such as recreational boating, angling, waterfowl hunting, and diving may spread aquatic invasive species. Some aquatic invasive species can attach to boats, while others can become tangled on propellers, anchor lines, or boat trailers. Many species can survive in bilge water, ballast tanks, and motors or may hide in dirt or sand that clings to nets, buckets, anchors, and waders. Fortunately, completing simple steps can prevent the transport of aquatic invasive species.
LEARN MORE
NOTICE: Lake-Link Inc assumes no responsibility or liability for any errors or omissions of the information for Chisago. Although we strive to provide the most accurate information as we can the information contained in this page is provided on an "as is" basis with no guarantees of completeness, accuracy, usefulness or timeliness.