Webb
Cass County, MN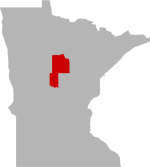 SHARE THIS PAGE
Webb is located in
Cass County, Minnesota
. This lake is 744 acres in size. It is approximately 84 feet deep at its deepest point. When fishing, anglers can expect to catch a variety of fish including Black Bullhead, Bluegill, Largemouth Bass, Northern Pike, Rock Bass, Walleye, Yellow Bullhead, Yellow Perch, Pumpkinseed,.
BLACK BULLHEAD
BLACK CRAPPIE
BLUEGILL
LARGEMOUTH BASS
LOGPERCH
NORTHERN PIKE
ROCK BASS
WALLEYE
YELLOW BULLHEAD
YELLOW PERCH
AREA SERVICES
HISTORY AND STATUS OF FISHERY
Webb Lake (DOW# 11-0494; Lake Class 27) is a 744-acre lake located near Hackensack, MN.
A DNR owned public access is located on the south shore. Webb Lake has 7.56 miles of shoreline and a maximum depth of 84 feet. The DNR has classified Minnesota's lakes into 43 different classes based on physical, chemical and other characteristics. Webb Lake is in Lake Class 27; lakes in this class are large, deep, and regularly shaped.

Northern Pike are abundant in Webb Lake and catch rates are average compared to other Walker Fisheries Management Lake Class 27 lakes, however size structure was smaller compared to past surveys. Northern Pike up to 30 inches were sampled. Walleye numbers in Webb Lake are not as abundant as compared to other Walker Fisheries Management Lake Class 27 lakes. Walleye lengths ranged from 11 to 28 inches, with the majority Walleyes sampled between 16-20 inches long. Largemouth Bass are abundant in Webb Lake with bass up to 20 inches. Bluegill and Black Crappie can also provide additional fishing opportunities to anglers. Bluegills up to 8 inches and Black Crappie over 11 inches were sampled.

Other fish species that anglers can expect to encounter include, Hybrid Sunfish, Pumpkinseed Sunfish, Rock Bass, White Sucker, and Yellow Bullhead, and Yellow Perch.

People can have significant impacts on lakes and the fish populations they support. Harvest, lakeshore development, removal of shoreline vegetation, and introductions of invasive species can all adversely affect fish populations. To date, rusty crayfish are the only aquatic invasive species (AIS) that have been identified in Webb Lake. AIS are moved from infested to non-infested waters by anglers, boaters, and lake shore owners and can adversely impact lakes and fish populations. To avoid spreading AIS, lake users are required to remove all aquatic plants or animals from their watercraft and drain all water from their boat before leaving the access. If you suspect an infestation of an invasive species in this lake, save a specimen and report it to a local natural resource office. Additional information on all of these topics can be found on the DNR website (www.dnr.state.mn.us) or by contacting the Walker Area Fisheries office.

Source: ILDNR