Howard
Cass County, MN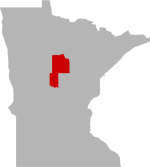 SHARE THIS PAGE
Howard is located in
Cass County, Minnesota
. This lake is 386 acres in size. It is approximately 60 feet deep at its deepest point. When fishing, anglers can expect to catch a variety of fish including Black Bullhead, Bluegill, Brown Bullhead, Largemouth Bass, Muskie, Northern Pike, Rock Bass, Walleye, Yellow Bullhead, Yellow Perch, Pumpkinseed and.
No ramp
Black Bullhead
Black Crappie
Bluegill
Brown Bullhead
Largemouth Bass
Muskie
Northern Pike
Rock Bass
Walleye
Yellow Bullhead
Yellow Perch
Cisco (Tullibee)
Golden Shiner
Hybrid Sunfish
Pumpkinseed
White Sucker
NOTE: This list may not be all inclusive of all speices present in Howard.
HISTORY AND STATUS OF FISHERY
Howard Lake is a 365-acre lake with a maximum depth of 60 feet. The lake is located seven miles northeast of Akeley, Minnesota. The Minnesota Department of Natural Resources has classified Minnesota's lakes into 43 different lake classes based on physical and chemical characteristics. Howard Lake is in lake class 25. Waters in this class are typically deep, clear, hardwater lakes with irregular shorelines. Other area lakes in the same lake class include: Blackwater, Long (near Longville), and Inguadona. Approximately 25% of the lake is 15 feet or less in depth. There is no developed public access on Howard Lake. Howard Lake provides fishing for northern pike, walleye, bluegill, black crappie, and largemouth bass. The lake is managed primarily for northern pike, largemouth bass, and black crappie. The 2001 survey of Howard Lake showed an abundant population of northern pike. The average size northern pike sampled during the survey was about 19 inches, however several fish over 30 inches were captured. Many different year classes of northern pike were found, indicating good natural reproduction in Howard Lake. Few yellow perch were found during the survey, however it is likely that the northern pike are relying upon tullibee (cisco) as an important food source. Walleye were not abundant during the 2001 survey, however those captured were large, ranging from 20 to 29 inches. A limited amount of walleye natural reproduction occurs in this lake. Bluegill were abundant. Most were small, though fish up to 8 inches were found during the 2001 survey. Pumpkinseed sunfish were also found in Howard Lake, and fish up to 7 inches were sampled. Howard Lake had a good population of largemouth bass, and DNR personnel sampled bass from 5 to 15 inches long. Black crappie were present, and fish up to 11 inches were sampled. Other fish that make up the fish community of Howard Lake include bullheads, rock bass and white sucker. Shoreline areas - on the land and into the shallow water - provide essential habitat for fish and wildlife that live in or near Minnesota's lakes. Overdeveloped shorelines can't support the fish, wildlife, and clean water that are associated with natural undeveloped lakes. The combined effects of all lakeshore owners "fixing up" their property can destroy a lake's valuable natural shorelines. Shoreline habitat consists of aquatic plants, woody plants and natural lake bottom soils. Plants in the water and at the water's edge provide habitat, prevent erosion and absorb excess nutrients. Shrubs, trees, and woody debris such as fallen trees or limbs provide good habitat both above and below the water and should be left in place. Natural lake bottom materials like silt or gravel are more ecologically productive than pure sand trucked in for a swimming beach. A tidy lawn and a sandy beach make great spots for sunbathing and swimming but do little to provide habitat for fish and wildlife. By leaving a buffer strip of natural vegetation along the shoreline, property owners can reduce erosion, help maintain water quality, and provide habitat and travel corridors for wildlife. Lakeshore owners need to manage their shoreline in a natural condition if fish and wildlife populations on Minnesota lakes are to remain healthy and abundant. More specific information on protecting or restoring shorelines and watersheds is available through MN DNR Fisheries offices. Anglers can help maintain or improve the quality of fishing by practicing selective harvest. Selective harvest allows for the harvest of smaller fish for table fare, but encourages release of medium- to large-size fish. Releasing these fish can help maintain balance in the fish community in Howard Lake and provide anglers with opportunities to catch more and larger fish in the future.
NOTICE: Lake-Link Inc assumes no responsibility or liability for any errors or omissions of the information for Howard. Although we strive to provide the most accurate information as we can the information contained in this page is provided on an "as is" basis with no guarantees of completeness, accuracy, usefulness or timeliness.