Eagle
Carver County, MN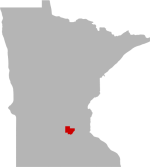 SHARE THIS PAGE
Eagle is located in
Carver County, Minnesota
. This lake is 183 acres in size. It is approximately 14 feet deep at its deepest point. When fishing, anglers can expect to catch a variety of fish including Black Bullhead, Bluegill, Brown Bullhead, Green Sunfish, Largemouth Bass, Northern Pike, Walleye, White Crappie, Yellow Perch, Pumpkinseed and.
Boat Ramp
Black Bullhead
Black Crappie
Bluegill
Brown Bullhead
Green Sunfish
Largemouth Bass
Northern Pike
Walleye
White Crappie
Yellow Perch
Carp
Fathead Minnow
Golden Shiner
Hybrid Sunfish
Pumpkinseed
White Sucker
NOTE: This list may not be all inclusive of all speices present in Eagle.
HISTORY AND STATUS OF FISHERY
Eagle Lake is a 233-acre, class 43 Lake located in western Carver County near the city of Young America. Eagle Lake is shallow (maximum depth: 14 feet) and highly eutrophic. Eagle Lake is similar to the other nearby lakes and is best characterized as a boom-bust lake. Angler attention is primarily focused towards the cyclic black crappie population, particularly during the winter months. Winter angling effort can be very high when the black crappie population is high, and very low when the black crappie population is down. In recent years black crappie size has remained small and angler effort has been low. Walleye and tiger muskellunge are stocked into Eagle Lake, although they receive proportionately less attention. Prolific algal blooms and high water temperatures can hamper summer angling. Summer water clarity averages 1 foot, and dissolved oxygen levels at depths greater than 9 feet were insufficient to support fish at the time of this survey. Two public accesses are found on the south and east shorelines.

Trapnets and gillnets were used to sample the fish population of Eagle Lake during the third week of July 2008. Twelve species were sampled with black crappie and bluegill dominating trapnet catches and black crappie dominating gillnet catches. The black crappie trapnet (45.29 fish/net) and gillnet (209.75 fish/net) catches were the highest recorded since 1996 and exceeded the 75th percentile two-fold. Black crappies were small, averaging 6.99 inches and 0.19 pounds. Only twelve percent of sampled black crappie exceeded 8 inches while 1 percent exceeded 10 inches. The largest black crappie sampled measured 12.24 inches. Black crappie mean weight was just below and above the 25th percentile for trapnets and gillnets respectively. Condition indices indicate black crappie were in fair condition, however condition declined significantly with length indicating a resource bottleneck affected larger individuals. This relationship was evident during sampling, as smaller fish appeared to be in normal condition while larger fish appeared emaciated. Black crappie recruitment in Eagle Lake appears to be inconsistent, a common phenomena in black crappie populations. Five age classes (3-7) were represented in the black crappie catch, however an astonishing 97 percent (883) originated from the 2005 year-class. Angling for black crappie has the potential to be excellent in 2-3 years if this large year class is able to overcome the resource bottleneck that affected larger fish at the time of this survey. Black crappie growth was similar to other area class 43 lakes.

Bluegill trapnet catch (45.86 fish/net) was half that found in 2002, but was still more than double the 75th percentile. Sampled bluegill averaged 5.6 inches, and 26 percent exceeded 6 inches. The largest bluegill sampled was 7.5 inches. Bluegill mean weight (0.2 pounds) was below the 25th percentile. Condition indices indicate bluegills were in fair condition. Similar to black crappie, bluegill condition decreased significantly with length indicating a resource bottleneck affected larger individuals. Five age classes (2-6) were represented in the bluegill catch. Bluegill growth was slower than other class 43 lakes in the area.

Previous assessments have sampled walleye in average to excellent abundance in Eagle Lake. In 1996, the walleye catch exceed the 75th percentile at 26.5 fish/net. This high catch was the result of excellent survival of stocked fry in 1994. These fish averaged 11.1 inches at the time of the 1996 assessment. This large year-class also contributed to the 2002 catch. However, in 2008 the walleye catch was 1.75 fish/net. Six walleyes from the 2001 year-class and 1 walleye from the 1994 year-class were sampled. This indicates inconsistent survival of annually stocked walleye fry. The large crappie population found in Eagle Lake is likely contributing to the inconsistent walleye fry survival. However, when fry stocking is successful an excellent fishery can be created as evidenced by the 1996 assessment. Sampled walleye grew fast, and growth was higher than other similar lakes.

Eight tiger muskellunge were sampled with an average length and weight of 37.4 inches and 13.51 pounds. Tiger muskellunge grew fast and were in good condition. Tiger muskellunge are stocked every three years.


Recreational activities such as recreational boating, angling, waterfowl hunting, and diving may spread aquatic invasive species. Some aquatic invasive species can attach to boats, while others can become tangled on propellers, anchor lines, or boat trailers. Many species can survive in bilge water, ballast tanks, and motors or may hide in dirt or sand that clings to nets, buckets, anchors, and waders. Fortunately, completing simple steps can prevent the transport of aquatic invasive species.
LEARN MORE
NOTICE: Lake-Link Inc assumes no responsibility or liability for any errors or omissions of the information for Eagle. Although we strive to provide the most accurate information as we can the information contained in this page is provided on an "as is" basis with no guarantees of completeness, accuracy, usefulness or timeliness.