Ida
Blue Earth County, MN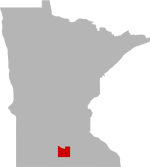 SHARE THIS PAGE
Ida is located in
Blue Earth County, Minnesota
. This lake is 129 acres in size. It is approximately 8 feet deep at its deepest point. When fishing, anglers can expect to catch a variety of fish including Black Bullhead, Bluegill, Largemouth Bass, Northern Pike, Yellow Bullhead, Yellow Perch and.
Black Bullhead
Black Crappie
Bluegill
Largemouth Bass
Northern Pike
Yellow Bullhead
Yellow Perch
Golden Shiner
NOTE: This list may not be all inclusive of all speices present in Ida.
HISTORY AND STATUS OF FISHERY
Ida Lake is a small (120 acre) lake located in Blue Earth County northeast of Amboy. It has a maximum depth of 8.0 feet and mean depth of 5.0 feet. A DNR-owned public access is located on the eastern side of the lake off Township Road 40. Recently, Ida Lake has been attempted to be managed to provide habitat stable enough to support game fish populations (i.e., specifically walleye, yellow perch, and northern pike) with secondary opportunities for black crappie, largemouth bass, and bluegill. However, Ida Lake's small size and shallow water column make it prone to winterkill despite the use of an aeration system, thus much of the stocking plans are contingent upon such events.

A population assessment was conducted on August 19, 2013 to monitor the fish community. Ida Lake was reclaimed using a fish toxicant in 1996 and a successful fishery was developed. Subsequently, the Ida Lake fishery was set back by partial winterkill events in 2001 and 2010. During these partial winterkill events Ida Lake experienced a selective kill of game fish, leaving the lake with undesirable black bullhead. Prior to the 2010 partial winterkill, a variety of fish were present including large numbers of small bluegills and black crappies. The 2013 assessment, however, showed a population dominated by black bullhead and yellow perch. Black bullhead catch rates (265.0 fish/gill net and 217.0 fish/trap net) were above average for similar lakes in Minnesota. Black bullhead 5.0 to 6.5 inches in length were very abundant in 2013; unfortunately, the black bullhead present were likely too small to be acceptable to most anglers. Yellow perch were also abundant during 2013 with catch rates of 156.0 fish/gill net and 7.0 fish/trap net. Yellow perch catch in nets during 2013 were above what was considered a normal range for similar lakes in Minnesota, and the yellow perch lengths had an average length of 8.5 inches indicating yellow perch of an acceptable size to anglers. Other species sampled in very low numbers during 2013 included northern pike, black crappie, and golden shiners.

Ida Lake has been aerated in the past; however, the aeration system has been ineffective in preventing selective partial winterkill; therefore, the aeration system has not been operated in recent years. Black bullheads have demonstrated an ability to survive winters that have historically reduced predator populations in Ida Lake, especially walleye and largemouth bass. Following such winterkills, the bullhead population has dominated the fishery because predators that could control the bullheads numbers were no longer present. In addition, the bullheads that remained following winterkills were often too large for re-stocked predators (e.g., walleye) to consume for several years post-stocking. This dynamic of bullhead rendered the ability to control bullheads with stocked fish difficult given the frequent winterkill events.

Due to the shallow nature of Ida Lake and the history of partial fish kills that primarily influences sensitive predator fish such as walleye, the most appropriate management approach should include stocking of low oxygen tolerant species such as northern pike and yellow perch. Northern pike and yellow perch are the least susceptible game fish to low oxygen. Northern pike are a top-level predator and when present in high abundance could aid in reducing bullhead numbers. However, yellow perch provide an ideal forage for northern pike and also can create a stand-alone fishery with 10 inch or larger fish available to anglers. A northern pike and yellow perch managed fishery would be more tolerant of winterkill, more stable to manage, and provide good spring through winter angler opportunity.

Following extensive winterkill events that remove altogether or reduce the black bullhead population Ida Lake should be used as a walleye rearing pond for the following two years. Walleye fry should be stocked during spring into Ida Lake and then removed by netting in the fall for two consecutive years. The high walleye production stocking rates could help to control black bullhead following extensive winterkill events if the bullhead numbers decreased significantly during the winterkill and some walleye would elude fall netting efforts and provide a secondary opportunity to anglers. After two years, walleye stocking should discontinue while northern pike and yellow perch are then stocked into Ida Lake to develop a more sustainable fishery with low dissolved oxygen tolerant fish species. Ideally, the use of aeration in Ida Lake should be discouraged even if some remnant walleye exist in the lake.

Water levels in Ida Lake have been elevated in recent years due to extensive drainage system installations in the watershed. Higher than normal water levels have caused severe shoreline erosion where deep rooted shoreline vegetation is absent. Eroded banks 8 to 10 feet high were common on the shore of Ida Lake during 2013. Shoreline stewardship and restoration efforts to maintain more appropriate water levels should be a priority. Shoreline property owners play an important role in the overall health of an aquatic ecosystem, including the fish population. Natural shorelines, including vegetation, woody debris, and bottom substrates, provide valuable habitat for fish and wildlife, help maintain water quality, and reduce bank erosion. By leaving natural shorelines unaltered or restoring them to natural conditions, shoreline property owners can contribute to maintain or improve a healthy ecosystem in the lake and protect the resource for future generations.

-Prepared by: Matt Mork (Fisheries Specialist) and Craig Soupir (Area Fisheries Supervisor).
NOTICE: Lake-Link Inc assumes no responsibility or liability for any errors or omissions of the information for Ida. Although we strive to provide the most accurate information as we can the information contained in this page is provided on an "as is" basis with no guarantees of completeness, accuracy, usefulness or timeliness.