Ballantyne
Blue Earth County, MN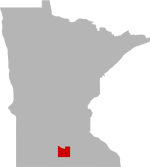 SHARE THIS PAGE
Ballantyne is located in
Blue Earth County, Minnesota
. This lake is 371 acres in size. It is approximately 58 feet deep at its deepest point. When fishing, anglers can expect to catch a variety of fish including Black Bullhead, Bluegill, Brown Bullhead, Green Sunfish, Largemouth Bass, Northern Pike, Walleye, White Crappie, Yellow Bullhead, Yellow Perch, Pumpkinseed,.
Boat Ramp
Black Bullhead
Black Crappie
Bluegill
Brown Bullhead
Green Sunfish
Largemouth Bass
Northern Pike
Walleye
White Crappie
Yellow Bullhead
Yellow Perch
Bigmouth Buffalo
Bluntnose Minnow
Bowfin
Carp
Freshwater Drum
Golden Shiner
Pumpkinseed
Sand Shiner
Smallmouth Buffalo
Spottail Shiner
NOTE: This list may not be all inclusive of all speices present in Ballantyne.
HISTORY AND STATUS OF FISHERY
Introduction
Ballantyne Lake is a 350 acre lake located in Blue Earth County near the town of Madison Lake. A DNR-owned public access is located on the south shore at the end of 615th Lane. Ballantyne Lake has maximum depth of 58 feet, which can be found in one of the two relatively deep holes in the lake. Most of the lake is comprised of shallower water, with about 81% of the surface acres being littoral area. Ballantyne Lake is classified in Lake Class 38, based on limnological variables. Other area lakes in this same lake class include Horseshoe Lake (Le Sueur County), Bass Lake (Faribault County), and Hunt Lake (Rice County). Ballantyne Lake is managed primarily for walleye and northern pike and secondarily for bluegill, black crappie, and largemouth bass. Walleye fry have been stocked according to a base stocking plan of 302,000 fish every other year (rate of 1,000 fish/littoral acre). Walleye fingerlings are stocked based on surplus availability. Ballantyne Lake was surveyed the week of June 30, 2014 as part of a regular monitoring program conducted by the Minnesota DNR. This survey consisted of deploying six gill nets and nine trap nets intended to assess the fish population. Water quality parameters were also recorded. This survey was conducted in conjunction with an Index of Biotic Integrity (IBI) survey, which is a watershed assessment tool that is being developed in coordination with MN Pollution Control Agency. The IBI survey consisted of two near shore sampling methods; beach seining and backpack electrofishing. A repeat IBI survey was conducted the week of September 9, 2014, using the two near shore sampling methods only.

Walleye
Walleye abundance was very low during the 2014 survey. Only one walleye was sampled in the gill nets (0.2 fish/net). With the exception of a few years (1974, 1982, and 2003), walleye catch rates in gill nets have been below 1.0 fish/net in every survey conducted on Ballantyne Lake. The single walleye sampled in the gill nets was large, measuring 23.9 inches. The otolith was aged and determined to be 13 years old, which is considerably old for a walleye in southern Minnesota. Trap nets yielded two walleye (0.2 fish/net), both of which were also large, measuring 23.8 and 21.7 inches. In the spring of 2014, walleye fry were stocked (N = 303,240) as part of the base stocking plan for Ballantyne Lake. In the fall of 2014, walleye fingerlings were stocked (N = 11,783) as part of the surplus stocking plan. Walleye fry are planned to be stocked again in 2016.

Yellow Perch
Throughout the survey history on Ballantyne Lake, adult yellow perch abundance has been relatively low. The survey conducted in 2014 was no exception, with gill nets yielding 1.7 fish/net. Yellow perch ranged in length from 5.7 to 6.3 inches and averaged 6.1 inches. Although the adult yellow perch abundance is low in Ballantyne Lake, the IBI surveys conducted in June and September, 2014 produced high numbers of juvenile yellow perch. The beach seines used in the IBI surveys produced 4,105 young yellow perch in June and 1,110 young yellow perch in September. These fish were not measured or aged, but were likely all age-0 and age-1 fish. These young yellow perch play a vital role in the fish community, serving as important prey fish.

Bluegill
After extremely high catch rates in 1974 and 1982 (94.8 and 176.0 fish/trap net, respectively), bluegill abundance in Ballantyne Lake has remained relatively stable since 1984. In 2014, trap nets yielded 13.9 fish/trap net. Bluegill lengths ranged from 4.1 to 7.9 inches and averaged 7.0 inches, indicating a relatively small size structure for bluegill. The near shore sampling conducted in September produced a total of 504 young bluegills, most of which were age-0.

Black Crappie
Black crappie abundance in Ballantyne Lake has been relatively high in the past two surveys; 22.3 fish/gill net in 2009 and 17.8 fish/gill net in 2014. Black crappie collected in gill nets ranged in length from 4.1 to 10.5 inches and averaged 7.9 inches, indicating a relatively small size structure. Black crappie were also collected in trap nets at a rate of 2.8 fish/net. The abundance of black crappie from year to year is dependent on year class strength, thus explaining the variable catch rates throughout the survey history at Ballantyne Lake. Spawning success does not appear to be limited, considering the near shore sampling conducted in June and September yielded 42 and 39 young black crappie, respectively. White crappie are also present in Ballantyne Lake. The 2014 gill net catch rate was 3.8 fish/net, which averaged 6.5 inches in length. White crappie can be distinguished from black crappie by dark vertical stripes on the side (compared to black mottling on the sides of black crappie) and by carefully counting the dorsal spines on the back (white crappie have 7-8 spines, while black crappie have 5-6 spines).

Northern Pike
Northern pike abundance has varied throughout the years in Ballantyne Lake as catch rates have varied from 0.0 fish/gill net in 1995 to 11.3 fish/gill net in 2000. The 2014 catch rate of 3.7 fish/gill net fell slightly below the long-term lake average (4.5 fish/gill net). The length of northern pike ranged from 18.7 to 30.7 inches and averaged 25.3 inches, indicating a moderate size structure for northern pike in Ballantyne Lake. Northern pike in Ballantyne Lake grow fast compared to those in most of northern Minnesota. However, growth was slightly slower than other area lakes, as the average length of northern pike was 20.9 inches at age-2, 22.5 inches at age-3, 27.9 inches at age-4, and 29.5 inches at age-5. No stocking plan is in place for northern pike in Ballantyne Lake, suggesting the population is sustained through natural recruitment.

Largemouth Bass
The sampling gears used in the 2014 surveys do not effectively capture adult largemouth bass, thus the population was not accurately assessed. However, six largemouth bass were collected in gill nets (1.0 fish/net) and one largemouth bass was collected in the trap nets (0.1 fish/net). Fish from both net types ranged from 14.8 to 19.9 inches and averaged 18.3 inches, indicating good size structure of largemouth bass. Additionally, the near shore sampling in June collected a total of 450 young largemouth bass, which suggests successful natural reproduction.

Other Species
Additional species collected the gill and trap nets in low abundance included common carp, black bullhead, yellow bullhead, bowfin, freshwater drum, bigmouth buffalo, and smallmouth buffalo. Near shore sampling produced numerous additional fish species including bluntnose minnow, Iowa darter, brook stickleback, emerald shiner, spottail shiner, spotfin shiner, and pumpkinseed.

Anglers can play an important role in maintaining or improving a fish population by practicing selective harvest. Selective harvest allows for the harvest of smaller fish for consumption, while encouraging the release of medium to large fish that may contribute to natural recruitment. This practice helps maintain balance in the fish community and provides anglers the opportunity to catch more and larger fish in the future. Additionally, smaller fish often taste better and have fewer contaminants than larger, older fish from the same water body.

Shoreline property owners also play an important role in the overall health of an aquatic ecosystem, including the fish population. Natural shorelines, including vegetation, woody debris, and bottom substrates, provide valuable habitat for fish and wildlife, help maintain water quality, and reduce bank erosion. By leaving natural shorelines unaltered or restoring them to natural conditions, shoreline property owners are doing their part to maintain or improve a healthy ecosystem in the lake and protect the resource for future generations.


Recreational activities such as recreational boating, angling, waterfowl hunting, and diving may spread aquatic invasive species. Some aquatic invasive species can attach to boats, while others can become tangled on propellers, anchor lines, or boat trailers. Many species can survive in bilge water, ballast tanks, and motors or may hide in dirt or sand that clings to nets, buckets, anchors, and waders. Fortunately, completing simple steps can prevent the transport of aquatic invasive species.
LEARN MORE
NOTICE: Lake-Link Inc assumes no responsibility or liability for any errors or omissions of the information for Ballantyne. Although we strive to provide the most accurate information as we can the information contained in this page is provided on an "as is" basis with no guarantees of completeness, accuracy, usefulness or timeliness.