Big Bass
Beltrami County, MN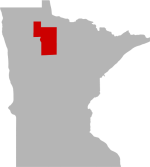 SHARE THIS PAGE
Big Bass is located in
Beltrami County, Minnesota
. This lake is 380 acres in size. It is approximately 17 feet deep at its deepest point. When fishing, anglers can expect to catch a variety of fish including Bluegill, Largemouth Bass, Northern Pike and Walleye.
Boat Ramp
Bluegill
Largemouth Bass
Northern Pike
Walleye
NOTE: This list may not be all inclusive of all speices present in Big Bass.
HISTORY AND STATUS OF FISHERY
Big Bass Lake is a 380-acre lake with a maximum depth of 17 feet. The size of the watershed that drains into the lake is 4,570 acres. The watershed is characterized by forests (54%) and water (lakes and wetlands - 27%). The lake is located six miles northeast of Bemidji in southern Beltrami County. There is a DNR public access on the south side of the lake off of Tall Pines Road. The Minnesota Department of Natural Resources has classified Minnesotas lakes into 43 different lake classes based on physical and chemical characteristics. Big Bass Lake is in lake class 35. Lakes in this lake class are typically small, irregularly shaped and with a high percentage of the lake area less than 15 feet deep. Other area lakes in the same lake class include Rabideau, Gull, Stump, Larson, Moose and Minnow Lakes. Big Bass Lake is managed for northern pike, bluegill, walleye, largemouth bass and black crappie. Big Bass Lake was sampled by the Minnesota Pollution Control Agency (MPCA) during the summer of 1995 as part of the Lake Assessment Program (LAP). The main objective of this program is to assist lake associations or municipalities in the collection and analysis of baseline water quality data in order to assess the tophic status of their lake in respect to nutrient input. The MPCA then made recommendations to maintain the water quality. There has been much development on the lake. In 1965 the first permanent home was built on the lake (MPCA LAP Big Bass Lake 1995). In the 1973 fisheries survey, 50 lake homes were counted. By 1997 this number had increased to 127. In the past there were some water level fluctuations in the lake because of blockage at the outlet to Lake Bemidji via Bass Creek. Water levels peaked in 1999. Modifications to the restricted outlet allowed water levels to recede. Presently water levels are approximately three feet lower than in 1999. Water level fluctuations of this magnitude can affect types and abundance of both emergent and submergent vegetation. Since aquatic vegetation is extremely important in providing habitat and affecting water quality, some species may still be adjusting to the changes. The 2002 bluegill abundance was the second highest recorded and was well above what you would typically find in lake class 35 lakes and what was found in Big Bass Lake in 1997. Along with this increase in abundance, there was a decrease in the size of bluegill. However, bluegill > 8 inches did not change much. If angling pressure is reducing quality, special regulations to limit harvest need to be considered. Natural reproduction is consistent with representation from the first eight year classes. Bluegill were also growing well. Fish that were four years old were 6.5 inches long. As was found in previous surveys, northern pike are abundant. In 2002, 25% of the sampled northern pike were greater than 24 inches in length. Eight different year classes were evident. New culverts at the outlet and additional modifications at other Bass Creek crossings are reducing impediments to movement of northern pike between Big Bass Lake and Lake Bemidji. This will provide access to additional high quality spawning areas in the connected wetlands between the lakes. Walleye is another species that anglers will have success catching. Walleye abundance is good, however, there has been a reduction in quality. The average length and weight in the 2002 assessment was 16 inches and 1.5 pounds as compared to 1997 averages of 18 inches and two pounds. Aging of the walleye sampled in 2002 indicates that 83% were from years when no stocking occurred. Natural reproduction and stocking are contributing walleye to the fisheries. Because of the increased development around the lake, it would be important to identify where walleye are spawning in order to protect these areas. Yellow perch is the primary forage fish for northern pike and walleye. In 2002 they were sampled at an abundance that was typical of other lake class 35 lakes. This was also the highest abundance found in any survey conducted on Big Bass Lake. Perch ranged in length from 5.0 to 9.2 inches with an average length of 6.2 inches. White sucker is also available as a forage fish especially for the larger-sized predators. They are abundant with most under ten inches long. A large sample of largemouth bass were captured ranging in length from 3 to 18 inches. Most of the bass were under eight inches long. Past high water levels could be favoring natural reproduction for bass. Anglers can help maintain or improve the quality of fishing by voluntary selective harvest. Selective harvest allows for the harvest of smaller fish for eating, but encourages release of larger sexually mature fish. Releasing larger fish will help improve the quality of fishing in the future. It will also help balance fish communities. Shoreline areas are important habitat for both fish and wildlife that live in or near our lakes. Overdeveloped shorelines degrade both the habitat and water quality that are associated with natural undeveloped lakes. The combined effects of all lakeshore owners "fixing up" their property can destroy a lakes valuable natural shorelines. A shoreline consists of many parts such as aquatic plants, woody debris and natural lake bottom soils. Shrubs, trees and woody debris such as fallen trees or limbs provide a good habitat both above and below the water and should be left in place. Natural lake bottom materials like silt or gravel is more ecologically productive than pure sand trucked in for a swimming beach. A tidy lawn and a sandy beach make great spots for sunbathing and swimming but do little to provide habitat for fish and wildlife. By leaving a buffer strip of natural vegetation along the shoreline, property owners can reduce erosion, help maintain water quality and provide habitat and travel corridors for wildlife. Only if more lakeshore owners manage their shoreline in a natural condition can fish and wildlife populations on Minnesota lakes remain healthy and abundant. More specific information on protecting
NOTICE: Lake-Link Inc assumes no responsibility or liability for any errors or omissions of the information for Big Bass. Although we strive to provide the most accurate information as we can the information contained in this page is provided on an "as is" basis with no guarantees of completeness, accuracy, usefulness or timeliness.