Eunice
Becker County, MN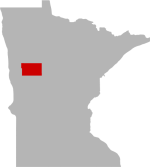 SHARE THIS PAGE
Eunice is located in
Becker County, Minnesota
. This lake is 378 acres in size. It is approximately 30 feet deep at its deepest point. When fishing, anglers can expect to catch a variety of fish including Black Bullhead, Bluegill, Brown Bullhead, Green Sunfish, Largemouth Bass, Northern Pike, Rock Bass, Walleye, Yellow Bullhead, Yellow Perch, Pumpkinseed and.
No ramp
Black Bullhead
Black Crappie
Bluegill
Brown Bullhead
Green Sunfish
Largemouth Bass
Northern Pike
Rock Bass
Walleye
Yellow Bullhead
Yellow Perch
Banded Killifish
Blackchin Shiner
Blacknose Shiner
Bluntnose Minnow
Bowfin
Brook Stickleback
Carp
Cisco (Tullibee)
Fathead Minnow
Hybrid Sunfish
Iowa Darter
Johnny Darter
Pumpkinseed
White Sucker
NOTE: This list may not be all inclusive of all speices present in Eunice.
HISTORY AND STATUS OF FISHERY
Lake Eunice is a heavily-developed, 325-acre, class 31 lake located approximately eight miles south of Audubon, MN. Despite drastic increases in shoreline development and the destruction of extensive areas of bulrush, the fish community remained resilient and similar to what it was 50 years ago, except that Bluegill and Black Crappie populations have declined. The lake remains ecologically best suited for Northern Pike, Largemouth Bass, and panfish. Cisco are present in modest numbers and Walleyes have been frequently stocked since the 1940's to provide additional fishing opportunities. Special regulations have existed for Northern Pike, Largemouth Bass, Bluegill, and Black Crappie since 2008.

Gill net catch rates for Northern Pike averaged were quite low during the first two surveys in 1954 and 1970. Since then, catch rates have remained at higher levels with the historical mean of 12.3 fish per net. In 2016, the catch rate for Northern Pike in Lake Eunice was 15.89 fish per net which was an increase from the last two surveys. Northern Pike of various sizes were stocked irregularly from 1941 through 1978, but none have been stocked since. Northern Pike sampled in 2016 exhibited a wide variety of length and age groups indicating adequate natural reproduction. Lengths ranged from 10.0 to 38.4 inches with a mean of 16.4 inches. The Northern Pike population was dominated by young fish as 91% of the aged sample were less than 4 years of age. Northern Pike grew to an average length of 19.4 inches by age four. A regulation requiring anglers to release all pike from 24 to 36 inches went into effect in 2008. The goal of this regulation is to increase the size of Northern Pike in the population. Although this is only the second survey since the regulation went into effect, the number of pike over 24 inches was not found to have increased in 2016 compared to previous surveys.

Lake Eunice's Walleye catch rates have remained relatively low and stable for fifty years. The historical mean gill net catch rate is 1.2 Walleyes per net. The 2016 catch rate was 0.8 Walleyes per net. The mean length of these Walleyes was 21.6 inches and lengths ranged from 19.6 to 28.5 inches. Heavy Walleye fingerling stocking at rates during the late 1970's and early 1980's did not appear to boost the population. A Walleye fingerling stocking frequency of every third year has been in effect since 1996 with no discernable effect on Walleye abundance. In order to compare the potential success of Walleye fry vs. fingerling stocking, fry stocking was added in 2007 with a frequency of one year in three. Again, there has been no discernable difference in the Lake Eunice Walleye population before these life stage and frequency changes.

Bluegill catch rates increased to 15.6 fish per net following the historic low of 8.7 per net in 2010, but remain well below the historic average of 49.4 fish per net. The mean length of Bluegills sampled in trap nets in 2016 was 5.9 inches, and ranged 2.6 to 8.9 inches. A targeted survey using trap nets one month prior captured larger Bluegills on average (8.0 inches) than this survey with 88% of sampled Bluegills larger than 7.0 inches. No exceptionally strong year classes were evident, but good numbers of four to nine-year-old Bluegills were found. Bluegills up to 11 years of age were sampled. Lake Eunice Bluegills have been considered abundant and slow-growing since the initial lake survey. The average Bluegill length at age four in 2016 was 3.7 inches. The potential for Lake Eunice to produce quality-sized Bluegills led to a special regulation that limited the bag limit to five Bluegills. The goal of this regulation was to increase Bluegill size. Preliminary evidence suggests that while Bluegill abundance continues to be down in 2016, this regulation is having some success at increasing the overall size of Bluegill in Lake Eunice.

Nighttime, late-spring electrofishing was conducted in Lake Eunice in 2016 for Black Crappie and Largemouth Bass. Only ten Black Crappie were sampled with a mean length of 9.6 inches; however, this represents one of the biggest samples of Black Crappie in any survey on Lake Eunice. No Black Crappies were sampled in the 2010 survey. Simply put, abundance of Black Crappies in Lake Eunice is low. These low sample sizes make it difficult to evaluate the success of the special regulation for Black Crappie that consists of a bag limit of 5 and a minimum length limit of 10 inches.

Sample sizes of Largemouth Bass were lowest in trap nets, with similar numbers from gill nets and electrofishing. Lengths of Largemouth Bass were also roughly equivalent in all three sampling gears, averaging 12.9 inches in trap nets and 11.3 inches via electrofishing. Largemouth Bass up to age 18 were sampled. The average Largemouth Bass length by age four was 10.3 inches, which was similar to growth rates in the past for this lake. A special regulation exists for Largemouth Bass on Lake Eunice that consists of a protected slot of 12-20 inches with only one over 20 inches allowed in possession. The goal of this regulation is to increase the size of bass in the population, and the survey in 2016 found that this goal was being achieved.

Gill net catches of Yellow Perch declined to a historic low of 0.3 per net in 2004, increasingly slightly to 1.4 perch per net in 2016. The lake's historic mean is 11.5 perch per net. The mean length of sampled Yellow Perch was an impressive 10.1 inches.

Cisco catch rates dropped to 0.2 fish per net following the historic high of 1.9 per net in the previous 2010 survey. The lake's historic mean is 0.7 per net. None were sampled during the initial two studies (1954 and 1970), but they have been found in every assessment since then.

Lake Eunice appears ecologically best suited for Northern Pike and panfish. Although definite changes have occurred in the fish community during the past 50 years, Largemouth Bass, Bluegill, and Northern Pike remain most abundant and able to rebound from both internal and external influences. Walleye stocking, using several stocking regimes, has maintained a stable, but relatively low, Walleye population in Lake Eunice.


Recreational activities such as recreational boating, angling, waterfowl hunting, and diving may spread aquatic invasive species. Some aquatic invasive species can attach to boats, while others can become tangled on propellers, anchor lines, or boat trailers. Many species can survive in bilge water, ballast tanks, and motors or may hide in dirt or sand that clings to nets, buckets, anchors, and waders. Fortunately, completing simple steps can prevent the transport of aquatic invasive species.
LEARN MORE
NOTICE: Lake-Link Inc assumes no responsibility or liability for any errors or omissions of the information for Eunice. Although we strive to provide the most accurate information as we can the information contained in this page is provided on an "as is" basis with no guarantees of completeness, accuracy, usefulness or timeliness.