Cotton Reviews
Becker County, MN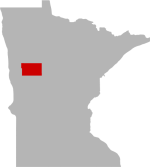 SHARE THIS PAGE
There are currently 1 reviews for Cotton.
Tell others what you think of this lake by writing your own personal reveiw:
SUBMIT YOUR LAKE REVIEW
July 30, 2013
"nice large crappies , # not large numbers but size above average. nice bass as well. Walleye hard to get good # for me, but Tony Dean of TV fishing show has fished this lake , good fishing and enjoy the beauty of nature!"