Bad Medicine
Becker County, MN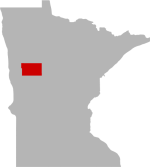 SHARE THIS PAGE
Bad Medicine is located in
Becker County, Minnesota
. This lake is 803 acres in size. It is approximately 84 feet deep at its deepest point. When fishing, anglers can expect to catch a variety of fish including Bluegill, Brown Bullhead, Largemouth Bass, Northern Pike, Rainbow Trout, Rock Bass, Smallmouth Bass, Walleye, Yellow Perch, Pumpkinseed,.
Boat Ramp
Black Crappie
Bluegill
Brown Bullhead
Largemouth Bass
Northern Pike
Rainbow Trout
Rock Bass
Smallmouth Bass
Walleye
Yellow Perch
Burbot
Cisco (Tullibee)
Hybrid Sunfish
Iowa Darter
Mimic Shiner
Mottled Sculpin
Pumpkinseed
Spottail Shiner
White Sucker
NOTE: This list may not be all inclusive of all speices present in Bad Medicine.
HISTORY AND STATUS OF FISHERY
Bad Medicine is a four mile long, narrow, 800-acre, 84 foot deep, clear water lake located in northeastern Becker County and within the White Earth Indian Reservation. The lake has steep slopes near shore and 36% littoral area. The surrounding watershed (1,185 acres) is almost entirely covered by mixed hardwood and conifer forest. Although the lake lies within the Mississippi River drainage, it has no outlet and is primarily groundwater fed. Historical water clarity records from the Minnesota Pollution Control Agency (MPCA) show a mean secchi disk reading just over 23 ft for Bad Medicine. This oligotrophic lake has a trophic state index in the lower thirties. Dissolved oxygen levels and cool-water areas within and below the thermocline are sufficient to support a two-story fishery. A state-owned public access is located on the north shore off MN 113. This scenic lake has experienced increasing shoreline development and 162 homes or cabins were counted around the shoreline in 2006, compared to 126 in 1996 and 16 in 1950. A few of those present in the late 1990's were flooded by high water and abandoned or removed.

This lake has experienced dramatic changes in its fish habitat and fish community in the last 35 years. Regarded as a bass/panfish lake in the 1950's and 1960's, the lake is now managed primarily for rainbow trout and walleye, although smallmouth bass have made a strong comeback in recent years.

Changes to the lake have come about primarily as a result of two natural events along with fish stocking and shoreline development. First, in the late 1960's, the lake's aquatic vegetation was virtually eliminated by a population explosion of native crayfish. Without nesting and cover habitat, bass and sunfish populations were not able to sustain their abundances. Rainbow trout were introduced in 1977 in an attempt to control crayfish. During the 1990's, increased precipitation led to rising water levels in this groundwater influenced lake. Rising water not only flooded some lakeshore homes, it made additional areas available for northern pike spawning.

Even though northern pike are not considered abundant in Bad Medicine, net catches have increased since water levels have risen. Pike not only grow relatively fast but also have the potential to grow large in the cool, well-oxygenated waters of this lake. The presence of nutritious forage fishes like cisco and rainbow trout add to that potential. Young pike (age two) dominated the population in 2012. This accounts for the mean pike length of 21.6 inches.

Rainbow trout are stocked annually as yearlings. Trout angling has become extremely popular on this lake since they were introduced. A study in the 1980's showed that, due to heavy angling pressure, very few trout survived to a second year in the lake and that stocked fish less than eight inches long were particularly vulnerable to natural mortality (probably pike predation). Consequently, trout stocking size was increased to larger yearlings. Also in 1998, in attempt to provide some larger trout to anglers, one fourth of the annual trout stocking complement of 16,000 rainbow trout was switched from spring stocked Madison strain yearlings to late fall stocked Kamloops strain yearlings. With the closed winter season, fall stocked fish have time to grow before the angling season opens. No creel survey has been done since 1998, but, several anglers have reported catching more trout weighing over two pounds since the change. However, trout sampled in June 2012 were all yearlings averaging 13.4 inches in length.

Walleyes are also a popular angling target in Bad Medicine. There is little natural reproduction of walleyes in the lake and the population is generally maintained by stocking. Bad Medicine's fingerling stocking rate was increased to approximately 1.6 pounds per littoral acre in 2000 and to 2.0 pounds in 2006. Fingerling stocking occurs biennially. Walleye fry have not been stocked since the mid 1970's. No evaluation of fry stocking success was made at that time. Good survival of walleye fingerlings stocked in 2002, 2003, and 2004 resulted in the historic high test net catches in 2006. Due to the large proportion of young fish, the average walleye length in 2006 was 13.5 inches. Walleyes sampled in 2012 averaged 15.3 inches and 1.2 pounds, but were less abundant at 3.8 fish per net. Walleyes are known to grow large in this lake. A 17 lb. 3 oz. fish was caught during the summer of 1993.

The yellow perch forage base has declined markedly since 2001. Perch catches in Bad Medicine dropped to a new historic low of 0.7 per net in 2012. Walleye growth rates appear to have slowed as a result. The increasing smallmouth bass population may be impacting perch numbers and possibly walleye numbers and growth, as well. There is a chance that smallmouth bass may be impacting crayfish abundance, too, as crayfish catch rates were down about 65% in 2012 compared to 2006.

DNR scuba divers reported seeing all sizes of smallmouth bass in 2005 and in 2006 smallmouth bass were caught in test nets for the first time since 1961. Gill net catches increased from 0.7 smallmouth bass per set in 2006 to 1.89 per set in 2012. An additional 17 smallmouth bass were sampled by spring electrofishing. The average overall length of those sampled in 2012 was 13.4 inches.

This scenic lake is still going through a major transitional period. The loss of vegetation, large swings in the abundances of various fishes, initiation of trout stocking, expansion of walleye stocking, increasing smallmouth bass population, increased shoreline development, and fluctuating water levels will continue to affect the evolution of the lake and its fish community for some time to come. Following shoreline best management practices is particularly important in groundwater controlled lakes like Bad Medicine. Nutrients that enter the lake essentially stay in the lake, adding to the lake's fertility and the aging process. Buffer zones of natural vegetation, well maintained septic systems, and other good stewarship methods can help to sustain the lake's water quality, fish populations, and property values. The Bad Medicine Lake Association and Bad Medicine Lake Foundation have proposed research grants via the MPCA to study various relationships of water quality indicators and subsequent protection of water quality in this land-locked, oligotrophic lake.
NOTICE: Lake-Link Inc assumes no responsibility or liability for any errors or omissions of the information for Bad Medicine. Although we strive to provide the most accurate information as we can the information contained in this page is provided on an "as is" basis with no guarantees of completeness, accuracy, usefulness or timeliness.