Cedar
Aitkin County, MN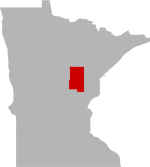 SHARE THIS PAGE
Cedar is located in
Aitkin County, Minnesota
. This lake is 1,745 acres in size. It is approximately 105 feet deep at its deepest point. When fishing, anglers can expect to catch a variety of fish including Black Bullhead, Bluegill, Brown Bullhead, Green Sunfish, Largemouth Bass, Muskie, Northern Pike, Rock Bass, Walleye, Yellow Bullhead, Yellow Perch, Pumpkinseed,.
Boat Ramp
Black Bullhead
Black Crappie
Bluegill
Brown Bullhead
Green Sunfish
Largemouth Bass
Muskie
Northern Pike
Rock Bass
Walleye
Yellow Bullhead
Yellow Perch
Banded Killifish
Bigmouth Buffalo
Blackchin Shiner
Blacknose Shiner
Bluntnose Minnow
Bowfin
Brook Silverside
Burbot
Central Mudminnow
Cisco (Tullibee)
Creek Chub
Emerald Shiner
Fathead Minnow
Golden Shiner
Hybrid Sunfish
Johnny Darter
Mottled Sculpin
Pumpkinseed
Shorthead Redhorse
Spottail Shiner
Tadpole Madtom
White Sucker
NOTE: This list may not be all inclusive of all speices present in Cedar.
HISTORY AND STATUS OF FISHERY
Cedar Lake is a large and popular lake located three miles west of the City of Aitkin. There is a state owned public access with a concrete log ramp located on the south side of the lake. The shoreline is complex with several distinct basins, which provides a variety of habitats ranging from shallow vegetated bays to cool and deep open water areas. The fish community reflects the diverse habitat, and besides gamefish includes several species of shiners, darters, and minnows present.

Walleye and muskellunge are the primary management species and both species are currently stocked annually as fingerlings to maintain their populations, although some natural reproduction of walleye likely occurs. The 2014 walleye catch was similar to previous assessments and generally on the lower end of the expected range for this type of lake. While walleye may not be overly abundant their population has a quality size component with fish over 30" sampled.

Muskellunge are not captured well in standard survey gear and only one fish was sampled in 2014. Special sampling targeting muskellunge is conducted every other survey and was completed last in 2011. A total of 22 muskellunge were sampled in that assessment, with fish ranging from 34.6 to 48.6" and an average length of 42.2". Despite not being sampled in high numbers in fisheries gear, angler reports suggest a healthy fishable population.

Largemouth bass are another popular species targeted by anglers that are not sampled well with standard survey gear. Bass captured in 2014 ranged from 5 to 14". Age analysis revealed fish from age 1 to age 5, with each year class represented in the sample.

The northern pike population provides anglers yet another opportunity to catch a top predator. While not able to attain the same maximum size as muskellunge, northern pike in Cedar Lake have a decent size structure with fish averaging 21.6" and 2.1 pounds.

Black crappie have historically been the preferred species for panfish anglers because they tend to reach an acceptable harvest size more regularly than the lake's bluegill. The crappie fishery can be highly variable and generally fluctuates based on spawning success. The 2009 year class, which was a large percentage of the catch in the previous survey, was no longer a significant portion of the catch in 2014. This suggests that anglers likely harvested these fish as they should have been of a size that was captured well in survey nets. The 2011 year class, which made up 40% of the catch, averaged 7.8" at the time of capture and will likely drive the fishery in the near future. While bluegill in Cedar Lake have historically been relatively small sized in our trap net assessments, some fish of preferred sizes were observed for the first time since 1959. Selective harvest of smaller individuals is recommended for bluegill fisheries since excessive angling can readily alter the size structure of their populations.

NOTICE: Lake-Link Inc assumes no responsibility or liability for any errors or omissions of the information for Cedar. Although we strive to provide the most accurate information as we can the information contained in this page is provided on an "as is" basis with no guarantees of completeness, accuracy, usefulness or timeliness.