Big Sandy
Aitkin County, MN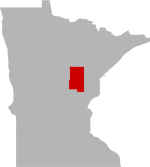 SHARE THIS PAGE
Big Sandy is located in
Aitkin County, Minnesota
. This lake is 6,088 acres in size. It is approximately 84 feet deep at its deepest point. When fishing, anglers can expect to catch a variety of fish including Black Bullhead, Bluegill, Brown Bullhead, Largemouth Bass, Muskie, Northern Pike, Rock Bass, Smallmouth Bass, Walleye, Yellow Bullhead, Yellow Perch, Pumpkinseed,.
Boat Ramp
Black Bullhead
Black Crappie
Bluegill
Brown Bullhead
Largemouth Bass
Logperch
Muskie
Northern Pike
Rock Bass
Smallmouth Bass
Trout-Perch
Walleye
Yellow Bullhead
Yellow Perch
Bigmouth Buffalo
Blackchin Shiner
Bowfin
Burbot
Cisco (Tullibee)
Common Shiner
Fathead Minnow
Hybrid Sunfish
Johnny Darter
Lake Whitefish
Pumpkinseed
Shorthead Redhorse
Silver Redhorse
Spottail Shiner
Tadpole Madtom
White Sucker
NOTE: This list may not be all inclusive of all speices present in Big Sandy.
HISTORY AND STATUS OF FISHERY
Big Sandy Lake is located about nine miles north of McGregor in northeastern Aitkin County. It is a hard water walleye lake with 71 miles of shoreline, and a surface area of 6,526 acres, of which 47 percent is less than 15 feet in depth. The lake has dark brown water with low water clarity (secchi depth about 4.5 feet). The dark, coffee colored water is the result of tannins entering the lake through its two main inlets (Sandy and Prairie Rivers) that flow out of extensive wetland areas on their way to the lake. Big Sandy is a popular lake for angling as well as a variety of water oriented recreation. The lake is heavily developed with permanent and seasonal homes and cabins. There are several public accesses, a few private resorts, and the Army Corps of Engineers also operates a recreation area with a campground and access facilities. Big Sandy Lake has a large watershed, which is covered primarily by forests and wetlands. The lake is subject to dramatic water level fluctuations under certain climatological conditions. There are special harvest regulations for walleye (14-18" harvest slot, with one over 26" allowed) and sunfish (bag limit of 5), which began in 2011. In addition to this standard population assessment, targeted surveys were conducted in the spring and fall, and a creel survey was conducted in the open water season to further evaluate the walleye fishery.

The walleye catch rate of 8.8 per gill net is the highest observed since 1999, and is the 3rd highest observed since 1947. The average size was still relatively small at 11.2 inches and 0.5 pounds, although the number of fish within the harvest slot has also been continually increasing from the low observed in 2005, to now the third highest observed in all surveys. Walleye ranged from age 1 to 9, with 8 year classes identified in the sample. The 2013 and 2015 year classes each appear to be very strong. The 2013 year class should recruit into the harvestable stock starting by the fall of 2017, when they begin to grow past 14 inches. Fall night electrofishing was also conducted in October to monitor juvenile walleye abundance, and has been since 2009. Young-of-the-year (YOY) catches were slightly lower than has been observed in recent years (27/hour), however catch rates of age 1 walleye (2015 year class) were very high (60/hour). Overall, natural reproduction appears to be higher in the years since the regulations were implemented (median YOY catch rate of 11/hour pre-regulation vs 41/hour post-regulation), suggesting a possible benefit of the regulation is an improved spawning stock.

Northern pike abundance decreased to 2 per gill net, which was similar to what was observed in 2010 (2.3 per gill net), and below the range expected for similar lakes. Size was similar to the last survey and averaged 19.8 inches and 1.9 pounds, with fish observed up to 26.4 inches. Anecdotal observations during the spring targeted survey indicated pike up to 43 inches were present, and anglers reported catching pike up to 36 inches in the creel survey conducted in 2016. A trend to lower northern pike numbers will likely be beneficial for managing for walleye in Big Sandy Lake.

Black crappie catches were lower than in 2013, yet median for all past trap net surveys, and above expected ranges for similar lakes. Sizes in trap nets ranged from 3.7 to 13.5 inches, and averaged 9.6 inches. Growth and size structure are among the best in the area. Age analyses indicated fish up to age 9 were present, and continued to reveal variable recruitment. The 2012 and 2015 year classes were among the strongest previously observed. While the 2012 year class averaged over 10 inches, and is now available for anglers, the 2015 year class will need a few more years to grow into preferred sizes.

Bluegill abundance was also lower than the previous three surveys at 1.1 per trap net, although still above levels observed between 1956 and 1995 (average of 0.15 per trap net). Size and growth rates of bluegill are also among the best in the area with memorable sized fish present in the population. In 2016, fish up to 10 inches were observed. Age analysis revealed inconsistent recruitment with just the 2011 and 2014 year classes accounting for most of the catch. The harvest regulation for bluegill (bag limit of 5) is intended to preserve the quality size structure found in this fishery.

Tullibee abundance appeared to have rebounded from the summer kill observed in 2012, and were once again available for angling or sport netting, as well as for forage for large walleye, northern pike and muskellunge (observed in previous survey). Tullibee up to 18 inches long were observed, with the bulk of fish between 11 and 14 inches. Each year class since 2012 was observed in the sample, indicating good reproduction and survival in recent years. Evaluation of the oxy-thermal conditions in Bell Horn Bay indicated habitat was adequate for tullibee from 10 to about 61 feet deep, and poor in deeper and shallower water. This provided ample habitat for tullibee survival in mid-summer. Temperature-oxygen profiles collected in other basins had poor habitat for tullibee due to warm water and low oxygen concentrations, which is why tullibee were only observed in Bell Horn Bay in mid-summer. Observations in the spring and fall targeted surveys indicated tullibee were making use of the remainder of the lake in the cooler conditions.

The yellow perch gill net catch rate decreased to a level within the interquartile range for class 22 lakes at 11.9 per net. This is in the lower range of what has been observed at Big Sandy. In addition to being an important forage species, yellow perch also provide an angling opportunity unique for the area. Sizes ranged from 5.7 to 12 inches, and averaged 8.3 inches long.

Channel catfish were sampled for the first time in our standard assessment nets at 0.4 fish per gill net. Sizes ranged from 18 to 23 inches long. Anecdotal reports of catfish in Big Sandy were heard since 2013, which is just after the major flood event in 2012 that allowed movement of fish from the Mississippi River into the lake. They were also observed in the spring and fall targeted surveys, the creel survey on Big Sandy, as well as the standard survey on Aitkin Lake, each in 2016. It is likely that catfish will eventually become naturalized in Big Sandy, as well as connected waters, and should provide a new recreational experience for the area.


Recreational activities such as recreational boating, angling, waterfowl hunting, and diving may spread aquatic invasive species. Some aquatic invasive species can attach to boats, while others can become tangled on propellers, anchor lines, or boat trailers. Many species can survive in bilge water, ballast tanks, and motors or may hide in dirt or sand that clings to nets, buckets, anchors, and waders. Fortunately, completing simple steps can prevent the transport of aquatic invasive species.
LEARN MORE
NOTICE: Lake-Link Inc assumes no responsibility or liability for any errors or omissions of the information for Big Sandy. Although we strive to provide the most accurate information as we can the information contained in this page is provided on an "as is" basis with no guarantees of completeness, accuracy, usefulness or timeliness.