Big Pine
Aitkin County, MN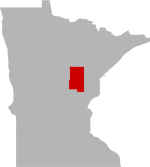 SHARE THIS PAGE
Big Pine is located in
Aitkin County, Minnesota
. This lake is 635 acres in size. It is approximately 78 feet deep at its deepest point. When fishing, anglers can expect to catch a variety of fish including Black Bullhead, Bluegill, Brown Bullhead, Green Sunfish, Largemouth Bass, Northern Pike, Rock Bass, Smallmouth Bass, Walleye, Yellow Bullhead, Yellow Perch, Pumpkinseed,.
Boat Ramp
Black Bullhead
Black Crappie
Bluegill
Brown Bullhead
Green Sunfish
Largemouth Bass
Northern Pike
Rock Bass
Smallmouth Bass
Walleye
Yellow Bullhead
Yellow Perch
Banded Killifish
Blackchin Shiner
Blacknose Shiner
Bluntnose Minnow
Bowfin
Brook Stickleback
Carp
Central Mudminnow
Golden Shiner
Hybrid Sunfish
Iowa Darter
Johnny Darter
Pumpkinseed
Spottail Shiner
Tadpole Madtom
White Sucker
NOTE: This list may not be all inclusive of all speices present in Big Pine.
HISTORY AND STATUS OF FISHERY
Big Pine Lake is a moderately clear water lake located in southwestern Aitkin County and is part of the Mille Lacs watershed. There is a state owned public access located on the south side of the lake. Big Pine Lake has a variety of habitats available to the angler from open, wind-swept gravel and rock, to areas of heavy vegetation. Shorelines vary from areas with gentle slopes and shallow depths to areas with sharp drop-offs and deep water. Mid-water areas consist primarily of deep water, but there are several gravel bars with steep sides that rise to within a few feet of the surface.

Gamefish species available to anglers include walleye, northern pike, black crappie, bluegill and both largemouth and smallmouth bass. Though there are some favorable spawning areas and minimal natural reproduction does occur, historically the better year classes have been those supplemented by stocking. Walleye have been stocked with varying success in Big Pine Lake since the early 1900's. Due to poor returns from stocked fry in the late 1990's and early 2000's, fingerling stocking resumed and were stocked annually from 2004-2007. Big Pine Lake then became part of a statewide research project to evaluate to effectiveness of stocking walleye frylings, which are an intermediate size between fry and fingerlings, and were stocked in 2008 and 2010. Test nets in 2011 and 2103 suggested fryling stocking at Big Pine Lake were less successful than fingerlings. Current management has reverted to annual fingerling stocking. Overall the walleye gill net CPUE has been stable and has averaged about 4-5/net the last three surveys. The walleye catch rate decreased slightly in 2016 (4/net), dropping slightly below the management goal of 5 per net, but still above the median value for lake class 23. The mean length was 14 inches, and fish up to 20.5 inches were sampled, which is smaller than recent surveys. Five year classes were present, meeting management objectives. Walleye fingerling survival will continue to be evaluated in upcoming surveys.

The gillnet CPUE for northern pike has not varied much in survey history and at 3.2/net in 2016, and is again near the long term average of 3.3/net spanning 13 surveys back to 1946. This is normal for this lake type and meets the current management goal of 1.5 -5/gill net. Though lower than last survey, the size structure is typically favorable with 20% of pike being longer than 24 inches and individuals up to 32 inches present in 2016. Mean length of pike was 20.9 inches, which is the below the management goal of 24 inches. The best way to maximize the benefits of this quality pike fishery is for anglers to recycle these fish. That way, more than one individual can experience the catching of a quality pike.

Largemouth bass catches have been stable at around 2/gill net for the last 20 years and were as high as 4/gill net in 2011. In 2016, the largemouth bass catch rate was 2.3/gill net. In recent years, an increase in largemouth bass has been common in many lakes throughout the state. The mean length of largemouth bass was 10 inches with individuals up to 14.5 inches. Smallmouth bass are known to be present in small numbers in Big Pine Lake, however few have been observed in traditional sampling gear, and none were observed in 2016.

The bluegill trap net catches were low again at 10.9/net when compared to the long term average of 30/net, however abundance of larger bluegills (>8") improved for the second survey in a row. Catch rates for hybrid sunfish have mirrored bluegill and have been increasing over the last few surveys. Hybrids had a slight edge on the bluegills in terms of size structure with a mean size of 6.3 inches with individuals measuring out to 8.9 inches. Although spawning habitat and escape cover is not limited, bluegills appear to be increasing the frequency with which they spawn with other species, which might partly explain the decrease in abundance. The decline appears to be independent to the walleye stocking regime since the decline continued during the period of fry stocking when walleye survival (and potential predation) was very low. If bluegill densities continue to remain at this low level, we may see an improvement in growth rates, and a continued improvement in size structure.

Nice sized black crappies are also present in the fishery, but their abundance is very low.

Due to its proximity to Mille Lacs, and now Round Lake, invasive species are of great concern. Boaters and lake shore equipment owners are encouraged to take extra precautions to help stop the spread aquatic invasive species.

NOTICE: Lake-Link Inc assumes no responsibility or liability for any errors or omissions of the information for Big Pine. Although we strive to provide the most accurate information as we can the information contained in this page is provided on an "as is" basis with no guarantees of completeness, accuracy, usefulness or timeliness.