West Rush Lake, Chisago County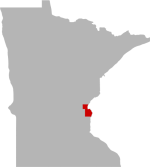 SHARE THIS PAGE
DISPLAYING 1 TO 10 OF 40 POSTS
FILTER OPTIONS
12/25/18 @ 10:10 AM
FISHING REPORT
MOON PHASE (87%)
Waning Gibbous
I was out to Rush yesterday as well. Yep Perch were hitting in their normal spots on both Waxies and small crappie minnows.
12/4/18 @ 1:23 AM
FISHING REPORT
MOON PHASE (7%)
Waning Crescent
Got out for the first time this year on Rush. Perch are right where I left them last year. Tons of fun. Probably caught 30-40 total in 3 hrs of those 15-20 were nice keepers like the photo. I also got into some really nice crappies no walleye though. Ice was a soild 6" but the middle of the lake looked like it wasn't completely frozen across yet so be careful. All in all an awesome day.
5/22/18 @ 12:47 PM
FISHING REPORT
MOON PHASE (56%)
Waxing Gibbous
Fished Rush, both East and West on Saturday. Talk about tough conditions, all I could get to bite were Northerns and Bass. Caugt one little 10" Walleye. Might have to do a re-do and go there again.
12/17/17 @ 10:00 PM
FISHING REPORT
MOON PHASE (0%)
Waning Crescent
First time on rush for the 2017 ice season and what a great day! I caught over 70 perch of which 50 would of been keepers and probably 20 jumbos. Also caught 6 nice Walleye and lost a big walleye! Tons of fun it was non stop action from about noon when I arrived till 6pm. Today was a catch and release day for me so they are all back swimming. But what a blast!
6/2/17 @ 10:58 PM
FISHING REPORT
MOON PHASE (62%)
Waxing Gibbous
Tried again for walleye no luck today. Had a monster Muskie follow up on my bottom bouncer! Around noon I switched to pike and the fun began caught one 40 incher and about five between 34 and 38 inches. Tons of fun to catch. Had a monster strike by the boat however stupid me forgot to check my new bait for those rubber tube hook guards. Live and learn I guess. Still yet another awesome day on rush. Can't wait for Muskie season to open.
DISPLAYING 1 TO 10 OF 40 POSTS