Vermilion Lake, St. Louis County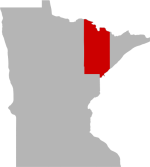 SHARE THIS PAGE
DISPLAYING 1 TO 10 OF 245 POSTS
FILTER OPTIONS
FISHING REPORT
Just got back from vermilion there since 5/23 I have seen all the seasons since my stay smallmouth bite was really on walleye really had to work for them northern and musky 6/5 46 and a 49 stuntz bay perch and crappie at Duffy island walleye bite was good at comet island sand bar found the most big walleyes in the river nobody's fishing them Armstrong / and east and West rivers casting 1/8 oz jig in 2ft work it to edge 6ft in weeds Leach and crate colored twister tail 1 inch it was crazy when it snowed and 31 degrees at 530 am walleyes were a lot of slot fish largest was 29 And some small ones 17 to 20 inch can't wait for next year!! Ps northern and musky area by the boat dock to the hazard a lot of cabbage Now to un pack reset everything leech lake end of month tight lines
FISHING REPORT
Water temp was 69.5 dropped to 60. In some bays it snowed Wednesday crappies in the reeds small minnows smallmouth on rocks 1/8 jig with twister tail walleye bite was better 7pm to 10pm slip bobbers with leech's 4 to 6 ft you should have better weather and stable have fun be safe
Afternoon All
Heading to Vermilion a week from Saturday. Just curious about water temps and weed growth. If you happened to know if crappies spawned would be helpful too.
My buddy and I's first go on Vermilion and pretty fired up about seeing it for the first time. We are staying in upper west corner at HeadOlake. If anyone could and wanted to be more specific that'd be great but either way really curious about water temps
Thanks
TIght lines
Terwalleye
FISHING REPORT
Captn I go every year to piles bay in mid September with fish club. We use suckers most of the time or troll with leadcore. Indian point, dog island and raspberry island all have nice humps that hold smallies and eyes. Bays on the northwest have northerns. Hope you have a good time this is my favorite trip every year.
Captn, I've been going to Big V for 10 yrs. it's an awesome lake but took me a few yrs. to figure out the west end and I've never fished the east. Best advice I can give is hire a guide for day one. They'll put you on fish and when you're done you guys will know when, where and how, which will make the rest of your trip way more productive. Enjoy!
Group of us are coming up August 29-September 5th. 1st time at the lake as Canada was cancelled all summer. Is that time of year typically worms or leeches for walleye? Typical depths? Also will target pike and muskie assuming, big assumption, we catch enough walleye for meals. Where are they typically hanging out? We are staying on East end of lake. Any information would be greatly appreciated!
DISPLAYING 1 TO 10 OF 245 POSTS