Vermilion Lake, St. Louis County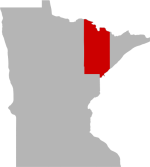 SHARE THIS PAGE
DISPLAYING 1 TO 10 OF 252 POSTS
FILTER OPTIONS
7/22/19 @ 10:00 AM
FISHING REPORT
MOON PHASE (72%)
Waning Gibbous
Jabberwalker,
I am a fellow Wisconsin fisherman. I do not fish Lake Vermillion, but fish other lakes in the area every year. I always stop at the Bait Box in Superior for a pound of leeches. It is right on Hwy 53, on the right side of the road on your way up, directly across the street from Subway. They have always been helpful, at a reasonable price.
Good Luck!

8/13/18 @ 10:42 PM
FISHING REPORT
MOON PHASE (8%)
Waxing Crescent
Been on the lake for a couple of weeks, the bass have been really active in cover situations. Fishing the west end, hitting every dock with a wacky worm or drop shot worm getting either multiple bass or no bass from a dock. Bluegill have been typically in the shallow weeds (4-6 feet) sorting thru the smaller ones to keep eaters but lots of activity. Crappie have been spotty but have has some luck in current areas with down trees and shallow (5-6 feet). Walleyes and Northerns have been active at the outside weedlines, this year the weeds are running down to 16'. Been a great two weeks. Colors have changed much in years; white, chartreuse, yellow for spinner baits and clacker baits. Fro crappie small road runners and beetle spins in white, pink, or red. Bass worms in green w/red flake are best.
4/19/17 @ 4:32 PM
Looking to come up mid-June with two friends. Probably stay somewhere around the casino area. Any decent spots around the middle part of the lake for walleye and perch? Not sure if the fish will be in there "summer spots" yet or if they are still in transition then. I.e. Don't want to bring boards and all that if jigging structure or the dam will be the ticket. Message if you prefer. Thanks!
DISPLAYING 1 TO 10 OF 252 POSTS