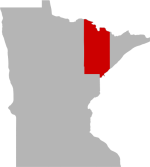 SHARE THIS PAGE
DISPLAYING 1 TO 10 OF 13 POSTS
FILTER OPTIONS
7/31/17 @ 12:46 PM
FISHING REPORT
MOON PHASE (60%)
Waxing Gibbous
A buddy and I spent 2 hours fishing the head of Spirit Lake yesterday. We pulled slow death in 16-20 feet of water. We caught maybe a dozen walleyes and twice as many little cats. Two of the walleyes were over 20" with one going 21 and the other 26. It was fun to get out for a couple hours.

6/15/16 @ 9:02 AM
Fishing has been decent with a mix of hours drowning baits and a mix of snatching a few fish. The unstable weather is what we can thank for that. However, we are finding quality fish in a number of areas. Off shallow mud flats slow trolling meat rigs and shallow running cranks has been good. Not having to use a board has been even better! Not to mention amount of line out the reel is about 15-25 feet, so that is awesome too! Over the weekend we boated several mid 20's and even a 27 and 29". ALL FISH RELEASED!
-Good luck,
JH

6/8/16 @ 9:25 AM
FISHING REPORT
MOON PHASE (16%)
Waxing Crescent
Greetings,
I live here and am an avid river rat and would like to chime in on the reports! The river is a great system with very diverse substrates and structure. Like any river system we have non stop current, but one thing about this river as oppose to others around the country is the effect Lake Superior has on it. We have what we call a sieche (tide) and it fully effects the levels and turbulance of the river system. Walleyes live both native to the river (actually we should call it by the technical term "estruary"). We also have walleyes that come from the Gitch (L Superior). depending on seiche we can often have fresh influx of lake fish into river and vice versa. Again this is a very diverse fishery. The size of the body of water can often make it look intimidating. But in all reality it is pretty shallow on a huge percentage of the water body. Spirit lake was mentioned and yes that can a good bite as well as a very popular spot, but there are so many other areas that can hold fish. From the power house to alloueez bay to the entries. As we climb further into summer, we will be fishing the Superior harbor areas through the entriies to the south shore of WI. But make no mistake there can be fish everywhere and anywhere. To be successful at this fishery, you need to break it down into sections on trolls. Once you find active fish, you can even (depending on fish attitude) jig successfully. shallow running cranks and trolling meat rigs is the best way to search out fish. Another tip if you dont how to run the estruary, be very very cautious! Feel free to PM me with any questions. Good luck and tight lines,
JH

6/6/16 @ 9:33 AM
FISHING REPORT
MOON PHASE (4%)
Waxing Crescent
Hey Mbelino, sorry having just gotten home from the tournament, had wet things to dry out, sleep to catch up on, things to put away, and a honey do list to take care of.
This was my first time fishing the St. Louis River system, spent a week up there fishing including the tournament. I was up and down the river system many times. Pre-fishing, I concentrated on the river from Spirit Lake Marina to up river to a few miles past Boy Scout Landing. My partner worked from the Marina all the way to and including Lake Superior.
The two day tournament we spent the majority of Day 1 fishing the clam beds around what is called Buoy 61. We fished 4' - 6' of water. We pulled spinners and Slow Death on 1 ounce bottom bouncers. We didn't fair so well. By mid day we went up river and pulled lead core, we were able to upgrade a couple fish, but not by much. By my account we stunk, and weighed in 7.5 LBS. About 1/2 the field was fishing this same general area, and others did better than us.
Day 2 we went back and fished the same area again. We cou ldn't do no wrong on day two. We started out pulling 2 spinners and ended the day pulling 4 Slow Deaths. We caught tons of fish, and got the right sized bites, we upgraded 10 fish, and ended the day with 19.09 LBS. Guys that slammed em in the same area the day before were hurting like we had on day 1.
We ended up in 20th place, not good enough.
Bottom line if I was going back today or tomorrow, I would fish the Buoy 61 / Spirit Lake area. Like I said we were fishign 4' - 6' of water with 1 ounce bouncers out. We were only letting out 10' of line, if you set the hook, the fish is there right now!
As an FYI this was the AIM National Championship tournament which is a Catch Photo Release tournament, that is how we were able to upgrade fish. Pictures can be seen on the AIM Fishing website.

DISPLAYING 1 TO 10 OF 13 POSTS