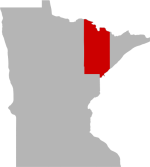 SHARE THIS PAGE
DISPLAYING 1 TO 10 OF 17 POSTS
FILTER OPTIONS
FISHING REPORT
https://www.bing.com/videos/search?q=jarrdi+houston+lund+boats+show&&view=detail&mid=3AD00E307E8A23C17EDD3AD00E307E8A23C17EDD&&FORM=VRDGAR&ru=%2Fvideos%2Fsearch%3Fq%3Djarrdi%2Bhouston%2Blund%2Bboats%2Bshow%26FORM%3DHDRSC4
FISHING REPORT
MOON PHASE (83%)
Waxing Gibbous
Jared, thinking about running over to the River this weekend, you don't by chance have any updated reports do you?
FISHING REPORT
MOON PHASE (69%)
Waning Gibbous
FISHING THE RIVER HAS BEEN GREAT! Definitely one of the better openers in the last few years. caught fish casting, trolling and jigging. Just about everything we did worked. They are post spawn stage and most walleyes are still depositing bottom of the tank fluids if you know what I mean. Did find that the best bite was with bigger sized chubs and shiners as opposed to regular or smaller sizes. Same goes for stick baits, the 7 and 9's were better that 6" or less stickbaits. Cant wait to get our customers on the water...…..
With all the shuffling/rescheduling/cancellations of Covid19 nightmares,
Here is what we have available:
May 21,29,30, June 14,26, July 17,18,19,31, Aug 1,2,7,8,9, Sept 4,5,6,11,12,13,20, plenty of October as well, can also do some weeknights
Cost for a 1/2 day is $250 and $350 for full for 2 anglers. A 3rd angler add $50.
Message us and we will get you set up!
FISHING REPORT
Here we go. The river opens this weekend and I fully expect to see lots of traffic in the forms of bumper boats depending on river location. Fish are in post spawn and the bigger females have or are making there way back to the lower sections toward and into Lake Superior. Further meaning all sections of the river have opportunity for catches. Avoiding people is a huge key to success and finding water that is rough, choppy and turbid is key. Trolling to cover ground until finding successful pods can give way to spot lock action and fan casting. Best bait can always be a challenge, but given the fact that most will be slow trolling worm harnesses I always choose to go different and sometimes its slower, but sometimes its magical. It has been a less rainy spring as of recent so I anticipate normal river flow (thank goodness). Good luck to everyone and be kind to each other out there! Capt. Jarrid
FISHING REPORT
MOON PHASE (60%)
Waxing Gibbous
A buddy and I spent 2 hours fishing the head of Spirit Lake yesterday. We pulled slow death in 16-20 feet of water. We caught maybe a dozen walleyes and twice as many little cats. Two of the walleyes were over 20" with one going 21 and the other 26. It was fun to get out for a couple hours.

Fishing has been decent with a mix of hours drowning baits and a mix of snatching a few fish. The unstable weather is what we can thank for that. However, we are finding quality fish in a number of areas. Off shallow mud flats slow trolling meat rigs and shallow running cranks has been good. Not having to use a board has been even better! Not to mention amount of line out the reel is about 15-25 feet, so that is awesome too! Over the weekend we boated several mid 20's and even a 27 and 29". ALL FISH RELEASED!
-Good luck,
JH

DISPLAYING 1 TO 10 OF 17 POSTS