Mille Lacs Lake, Mille Lacs County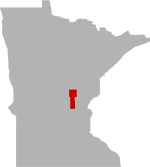 SHARE THIS PAGE
DISPLAYING 1 TO 10 OF 477 POSTS
FILTER OPTIONS
8/5/19 @ 9:48 PM
FISHING REPORT
MOON PHASE (28%)
Waxing Crescent
Got out on Sunday. Weather was hot and calm. Still trying to get that crank bait bite going with no luck. Switches to crawlers for a bit more success. The lake is littered with midge flys, the fishes bellys must be full. Caught a handful of Walleyes pulling crawler rigs., nothing big, just nice eaters on another lake.
7/19/19 @ 12:11 PM
FISHING REPORT
MOON PHASE (93%)
Waning Gibbous
Got out last Saturday, still trying the crankbait bite, but it just isn't happening yet. We pulled crankbaits for 2 hours and caught two fish. Time to switch tactics. We started pulling crawlers on Slow Death rigs, this was the ticket. We caught 40 plus fish, the biggest being 27 1/2". All the fish came on top of the flats.
6/24/19 @ 12:17 PM
FISHING REPORT
MOON PHASE (57%)
Waning Gibbous
Got out Saturday, we made the decision to pull crankbaits all day reguardless. We were testing some new baits. We caught maybe 15 fish and missed a few as well. Lost a big one may have gone 26"-28", just at the net. I heard reports of guys doing well using crawlers, but we were testing baits. Everything we caught came on top of the mud flats.
5/15/19 @ 4:14 PM
FISHING REPORT
MOON PHASE (87%)
Waxing Gibbous
It was a magnificent opener, the best I can remember in decades. Four of us fished May 11-12 in 12-16 fow along the north shore between Doc's Harbor and the Red Door. We used slip bobbers with shiners and leeches. Both seemed to work equally well.

We caught 14 walleyes total -- 7 each day. One was small. Otherwise, they all were over 16 inches, including 21, 23, and 25 inchers. One was in the slot, but we released all fish anyway.
If I were an unmarried man of means and leisure, I would park a boat on the rock line and catch walleyes until running out of bait or beer.

2/21/19 @ 4:42 PM
FISHING REPORT
MOON PHASE (93%)
Waning Gibbous
Three guys this past weekend out of Castaways (NW end of lake) in 24 foot water. Managed 2 legal fish (both 22.75 inch), a few just shy of the 21 inch, and a total of 14 fish caught in two days. No day bite at all. Saw perch on camera, couldn't get to even look at the bait. All bites low light or night. Was fun to get them jigging. Did have overnight action on rattle wheels too.
2/18/19 @ 10:17 AM
FISHING REPORT
MOON PHASE (99%)
Waxing Gibbous
Nobody fishing Mille Lacs lately, or no one wants to tell us about it. With all the snow lately, if you have the right equipment, its easy to get out away from people. Saturaday got wya out away from people using a Ranger with tracks. Fish out on the deep side of a mud flat. Did well, many fish in the 12-14 inch range which was nice to see, a few perch and even a Tullibe. Caught 4 or 5 fish over 23". nothing in the slot to keep, but it was good day on the ice.
2/11/19 @ 2:40 PM
FISHING REPORT
MOON PHASE (38%)
Waxing Crescent
Mille Lacs was hit and miss this weekend. 3 house within a stones throw to each other had 3 different results. On caught a few really nice perch on minnow heads. One house caught several 16" to "19" fish on rattle reels and fatheads, while the other house caught 3 fish, a 22, 25, and 29, nice going guys
1/29/19 @ 11:09 AM
FISHING REPORT
MOON PHASE (31%)
Waning Crescent
Spent a day and a half with my buddy on Mille Lacs this past weekend. Can you say COLD!!! Fishing was tough. We moved his house from the 20' rocks to 28' transition. W e caught a few fish, but nothing to brag about, I think 4 of us caught 6 fish. It was to cold to get out in portables.
DISPLAYING 1 TO 10 OF 477 POSTS