Kabetogama Lake, St. Louis County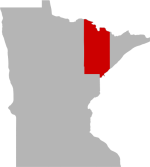 SHARE THIS PAGE
DISPLAYING 1 TO 10 OF 330 POSTS
FILTER OPTIONS
8/13/19 @ 11:17 AM
Heading up to Kabetogama Lake this Saturday Aug 17th staying at the Driftwood Lodge resort. Anyone willing to share any tips? Appears to be a huge lake, quite bigger than we expected.
I bid on 5 day trip at a my local (NE IL/SE WI) Rocky Mountain Elk Foundation banquet and would be nice to head up there with a starting point and catch some fish as the drive is a haul.
Not looking for you favorite hotspots/waypoints but any help would be appreciated. Feel free to DM me.
Thanks in advance.
6/26/18 @ 9:39 AM
MinnDan,
Probably looks similar to some of the narrower areas over that way, but we stayed at Voyageur Park Lodge and fished primarily that end only making one long run South and East on a calm day and that was primarily just boat riding, not much fishing. On the really windy day that kept us in the cabin, I contemplated trailering the boat over to the Ash River, but I couldn't garner any support for that idea from the rest of the fam. I do want to explore that end in the future, however.
DISPLAYING 1 TO 10 OF 330 POSTS