Kabetogama Lake, St. Louis County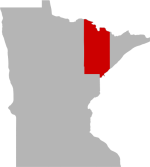 SHARE THIS PAGE
DISPLAYING 1 TO 10 OF 339 POSTS
FILTER OPTIONS
6/29/20 @ 2:37 PM
FISHING REPORT
MOON PHASE (66%)
Waxing Gibbous
Our group had an excellent trip to Kab last week once again. Walleyes were plentiful as we caught many slot fish up shallow and had plenty to eat during our stay. We don't take fish home.
Slots were in 4 to 8 fow on wind blown points and shorelines during mid day. Shadow raps in foil finishes did best. Keepers were morning and evening in 20 to 30 fow on lindy rigs with leeches.
SMB were tough to come by for us with mostly small fish on the secondary breaks. We didn't focus much on them after the first couple days.
Mayflies were hatching daily once the weather warmed up a bit but it didn't seem to slow the bite.
See you next year!
DISPLAYING 1 TO 10 OF 339 POSTS