Grindstone Lake, Pine County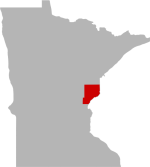 SHARE THIS PAGE
| | |
| --- | --- |
| | @ the lake |
DISPLAYING 1 TO 4 OF 4 POSTS
FILTER OPTIONS
2/9/13 @ 7:13 PM
FISHING REPORT
Guestimating the ice was 24" thick..may have been more as the hand auger's screw was completely underneath the ice surface before we even got through.
Tried in 11 feet had one nibble lost, tried in 28 feet and had a rainbow trout come bug the spoon I was jigging at < 10 feet, turned and hit my buddy's waxworm/jig...lost at the hole. Another random take or two, all missed.
A tough day out, but worthy of a revisit perhaps. Would love any advice folks are willing to offer.
2/8/10 @ 7:22 PM
FISHING REPORT
hit the stone on sunday with little luck. this is my first trip of the year up there. the ice was in great condition. we set in 10ft for the morning bite. all we got were a lot of small perch and sunnys. thats a first on this lake for me. we didn't even see a trout. so we moved out to 23ft for a few. we got one 12"laker. so we went out deep to 80 and nothin but smelt. long story short we fished from 10'-80ft with nothing at all. It was really weird out there usally there is old holes everywhere, this year nothing at all out there. i hope to lake is ok.
DISPLAYING 1 TO 4 OF 4 POSTS