Foster-arend Lake, Olmsted County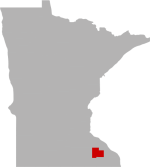 SHARE THIS PAGE
DISPLAYING 1 TO 3 OF 3 POSTS
FILTER OPTIONS
FISHING REPORT
Tried again. Went out-far right corner, about 30 ft of depth, fish marked around 22 down. Caught a few crappie (small) and gills (smaller yet) and no trout again. Waste of another 2 hours on this lake. Anyone ever do well?
Fished pm til dark-I hear the am bite is better. Can't be worse.
FISHING REPORT
Was out here from 2-4 pm without a bite from a trout. Many small (3-4 inch) gills. Saw two trout caught and about 15 or more guys out there when we set up. Was fishing 15 foot of water. Nice body of water, just can't figure it out-third time skunked for trout here.
Mike
DISPLAYING 1 TO 3 OF 3 POSTS