Big Marine Lake, Washington County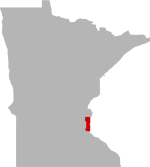 SHARE THIS PAGE
DISPLAYING 1 TO 10 OF 25 POSTS
FILTER OPTIONS
Wish I could help you but I myself struggle to catch walleyes in that lake. As busy and clear as it is I can tell you for certain that low light periods during the weekdays are going to be more productive. Locals know where to go, might have to try and make some friends at the bait shop or local taverns.
I've heard they are some nice ones in there tho so good luck.

FISHING REPORT
MOON PHASE (3%)
Waxing Crescent
Fished Saturday evening caught nine of the smallest Pike known to man. I also picked up four bass and some nice Blue gills on a number 5 Mepps spinner. Cool lake but I cannot find big Pike or the Walleyes yet. Just moved here so it may take some time to figure Minnesota fishing out.
FISHING REPORT
MOON PHASE (16%)
Waning Crescent
Just moved to Minnesota tried Big Marine this morning. I caught six Northern Pike all really small 15 to 22 inches. I also caught 3 LM bass and one Crappie that went 11 inches. I tried trolling flicker shads for Walleyes but the Pike and Crappie liked them more than the Walleyes.
good luck and stay safe.
Tom
FISHING REPORT
MOON PHASE (15%)
Waning Crescent
"Aug.7-8, 2015: Good, Clean Lake. Fished the afternoon on Friday and early morning on Saturday. Launched from the Vets Camp. Fished South side by the mouth and fished at the point with tight contour lines. Tons of action with small pikes trolling and plenty of Large Mouth Bass jigging. The action was there. Biggest LMB was a little over 3 pounds. Most of the boaters were jigging for crappies and sunnies. Tried Muskie fishing but nothing on the muskie lures. Lots of people skiing and tubing. Big lake and didn't have a chance to cover the whole lake."
FISHING REPORT
Just had a local club tourney out of Big Marine today and did well, the fish were very active out deep early morning till about nine o'clock. After the slowed down we stayed out deep to try and get a few bigger fish that we needed. We saw a lot of guys moving all day left and right, guys were just running and gunning all day long. The shallow bite picked up around 11:30 am to noon, is when the docks started to pick and and the thicker reeds with more cover. Out deep I was in about 10 to 20 feet casting up into 16 to 18 and just letting my drop shot soak. you would lift it up to twitch it and just feel dead weight, they didn't really crush just started to swim with it. Great day to be on the water little warm but couldn't complain with the out come of the tournament.
FISHING REPORT
me and my dad went out on the 14th and the fishing was great. We drifted by the island a couple times and caught nothing. Then we went into the east bay. Went to a weed flat. If your heading in from the main body of the lake this weed flat is located in the second bay with houses on it. In this bay we caught about 15 fish 11 pike and 4 bass although I will make it clear we released the bass because they were out of season. We keep only one pike the rest were all hammerheads. We used rapalas that went down about 3-6 feet of water. Spinnerbaits didn't work however I did use a mepz black fury #3 and a spoon and both worked. After the bite slowed we drifted out of the bay until the shoreline of the main east bay. Were I we put an anchor out and fished for panfish. Using a crappie jig or a dry fly with a spilt shot and bobber. We caught about 20 fish in about 30 mins. All were what I would call potato chippers no keepers. Hopefully that helps all future anglers. Good Luck
DISPLAYING 1 TO 10 OF 25 POSTS