Bald Eagle Lake, Ramsey County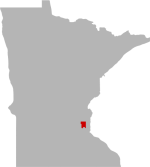 SHARE THIS PAGE
| | |
| --- | --- |
| | @ the lake |
DISPLAYING 1 TO 10 OF 10 POSTS
FILTER OPTIONS
6/7/19 @ 7:26 AM
Lakes in tough shape at the moment. All the warm weather caused an algae explosion with floating mats of slime everywhere. Coupled with all the cottonwood the lakes a mess. Haven't seen much for muskies the last time out. I am gonna be hitting other lakes for the next few weeks until this clears up.

6/5/19 @ 7:53 AM
FISHING REPORT
MOON PHASE (7%)
Waxing Crescent
Got out on Bald Eagle for the opener and it sure was a packed launch. Looked like some sort of group was having some kind of tournament so they weren't all muskie guys. Really wish those groups would find a better place than the boat launch to weigh their fish. Big pain to launch your boat when everybody else is parked at the dock weighing fish.
Anyways I was out for muskie and did manage to see a few in real shallow but couldn't get them to bite. My spent my entire morning on the north end due to the wind. All the fish I saw were extremely shallow getting warm in the weeds and emerging lily pads. Had several fish come to the boat hot but they wouldn't even follow into a figure 8 as they would turn as soon as they saw the boat. All in all a good start to the year. Looking to get back and land some of these fish next time.

6/27/15 @ 11:54 AM
FISHING REPORT
MOON PHASE (79%)
Waxing Gibbous
We decided to fish a point to the east of cigar island around the booie area and jigged a 1/4 dark blue jig around the area and caught a 20 inch walleye and a 14 inch walleye. I decided to jig a little spoon in about 20 feet of water in the same area and I was catching jumbo perch, good size crappie and medium sized bluegill. The color of the spoon was silver and was about 1 inch long. We caught all the walleye of fatheads in about 16-20 feet of water.
1/26/15 @ 12:40 PM
FISHING REPORT
For the amount of people that fish this lake, it is amazing how few reports there are... Was out yesterday afternoon from 2-6pm in the deep hole off the NE end of cigar island. 34 FOW with fish being suspended up to 12' off the bottom. The bite was fast and consistent, but all of the fish (crappies) were in the 5-6 inch range. We threw everything at them from grubs on jigs, to live minnows, to small spoons rigged with minnow heads; all with success.
Rip Some Lips!
7/17/14 @ 12:43 PM
FISHING REPORT
Tried to beat the traffic yesterday, and got on the lake at 1600. Casted along weed edges on the NW of cigar island with no luck. I threw a cowgirls over the shallow stuff, and tried bulldogs and deep raiders on the deeper edges. I caught one small aggressive largemouth on the raider.
I left before sun down, but will attempt again tonight, and plan to stay until nightfall.
9/9/13 @ 12:39 PM
FISHING REPORT
Struggling to find a metro lake to fish due to Millacs limitations. I discovered a pleasant surprise on Bald Eagle. Never fishing the lake prior, I decided to fish around the north west part of Cigar Island on the weedlines and breaks... Must have been there on one of those days, because the walleyes decided it was dinner time...catching many 10-12" fish but also boxing a few eaters. had to get close to the breaks, they where definitely weed walleyes...As Al linder once said "changing tactics from traditional methods to non-traditional can make a big differnce.. Hint, I said "weed" walleyes.
8/3/13 @ 9:27 AM
FISHING REPORT
Got out on Bald Eagle Lake yesterday. A bunch of boats were out pre-fishing for a bass tournament today. I put the old 1960 Hiawatha boat in the water. All of a sudden, black smoke started blowing up all around me. I turned around and the trolling motor was on fire! I grabbed a soda cup and threw about a dozen cups of water on it to put the fire out. It stopped burning when I disconnected the motor from the battery. A couple of months ago, the reverse stopped working and only two forward speeds worked. It was only a 30 pound thrust so I'm going to get a 45 next. Anyway, I rely on my trolling motor a lot while fishing. Without it, I did a lot of drifting. I used a Carolina rigged plastic worm. Lost a decent bass that jumped. Landed a decent sized bass by keeping the rod tip in the water to keep him from jumping. Got a crappie on the plastic worm too.
6/13/12 @ 6:43 PM
Had a chance today to get out on a lake that I have not been on in some time, Bald Eagle Lake in white Bear Lake MN, With the wind I had to fish around the Islands and mid lake weed beds, Using a 3/4 oz spinner bait I had two smaller Muskie fallow to the boat, but no takers, I did start working with Jungle jigs with Beaver tails on them, blue/Black seem to be the hot color for the Large Mouth Bass and northern Pike, lots of small pike, and did find 15- nice bass to bring to the boat, I did try Jig Worming, but the larger jigs seem to be the way to go today, and not a lot of Traffic on the water early this morning,
DISPLAYING 1 TO 10 OF 10 POSTS