Engman Lake Reviews
Marquette County, MI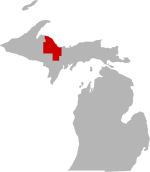 SHARE THIS PAGE
There are currently 1 reviews for Engman Lake.
Tell others what you think of this lake by writing your own personal reveiw:
SUBMIT YOUR LAKE REVIEW
September 5, 2018
"This lake was an excellent LM bass a few years ago. Recently most of the submerged weeds have died off and the number of fish I've caught have steadily over the last few years. The boat ramp is good and you can get a 21 ft. boat in w/out problem. There is not a loading dock."