Donnell Lake Reviews
Cass County, MI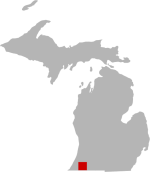 SHARE THIS PAGE
There are currently 1 reviews for Donnell Lake.
Tell others what you think of this lake by writing your own personal reveiw:
SUBMIT YOUR LAKE REVIEW
March 10, 2008
"Fun lake to fish. You never quite know what you are going to get. There are some large pike and some very nice bass. Lake gets VERY busy in the summer, so fish early and late."