St. Joseph River, Berrien County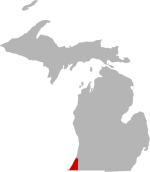 SHARE THIS PAGE
DISPLAYING 1 TO 10 OF 92 POSTS
FILTER OPTIONS
4/2/18 @ 3:27 PM
Was up over the Easter weekend. The river is still high but has come down several feet. Didn't see anyone fishing and I didn't fish since we are doing recovery from the flooded house that I stay at. I have likely posted my last fishing report since the house is up for sale. All that is left is to do is salvage what is still good.
3/6/18 @ 4:24 PM
Was there last weekend. No fishing due to the flooding. Very sad to see the damage done to many of the homes along the river including the one that I stay at. This may be the end of my fishing on the St. Joe. If you get on the river with the high water, please respect the property of those flooded by not making a wake. If the house is flooded, the wake makes a wake inside the house also due to the water pressure. Those that were jet skiing likely did damage to many houses along the river.
Tight lines!
1/3/18 @ 4:26 PM
FISHING REPORT
MOON PHASE (96%)
Waning Gibbous
Was there 12/27-29. Heavy flow of water, the water was high, and lots of ice flows. Saw no charter boats this time and too difficult to fish between the ice flows. If we have enough cold weather maybe the river will freeze over. Nothing caught. Tight lines!
11/30/17 @ 1:20 PM
FISHING REPORT
MOON PHASE (88%)
Waxing Gibbous
Fished a few times from shore over the Thanksgiving weekend. Not much happening for me but I did see one charter boat land a few fish across from the concrete wall. I wasn't really expecting to catch anything and I was right. Until next time on that side of the lake... tight lines!
DISPLAYING 1 TO 10 OF 92 POSTS