Michigamme Reservoir, Iron County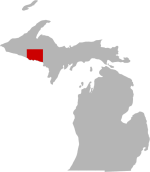 SHARE THIS PAGE
DISPLAYING 1 TO 10 OF 267 POSTS
FILTER OPTIONS
musky do exist..though fewer than the feeder body(lake michigamme to the north and peavy pond to the south(paint river aids the supply here)..i would say targeting them here would be tough..best options..where michigamme river enters the reservoir and the neck down area in the bay at the southwest boat launch area...possibly where the fence river enters on north shore..in all many better options for skis than this reservoir..the michigamme river from m-69 south to peavy pond often has many catchable fish..hell i have hit them when casting to the shore..they like sunning in quiet areas
FISHING REPORT
So the Peavy pond is connected to the Michigamme Reservoir. Peavy pond has a good population of musky, yet I can find NOTHING online about the Michigamme Reservoir having musky in it nor anything about anyone catching one there. I'd love to take a day and try it out but I dont know if it's worth it or not. Any help on this topic? Has anyone caught musky in this reservoir?
Any help is appreciated!!!
FISHING REPORT
Fishing was great this afternoon, fished from 1pm to 6pm. Between the 2 of us we had 50 flags, lots of small walleyes but managed to get 9 keepers, 15"-19". Was actually surprised that we only got 3 notherns, although I had a nice one on and caught a tooth half way up the hole. We had 8 doubles and 1 triple, made for a pretty exciting afternoon of fishing.
DISPLAYING 1 TO 10 OF 267 POSTS