Mille Lacs
Mille Lacs County, MN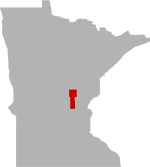 SHARE THIS PAGE
Mille Lacs is located in
Mille Lacs County, Minnesota
. This lake is 128,226 acres in size. It is approximately 42 feet deep at its deepest point. When fishing, anglers can expect to catch a variety of fish including Black Bullhead, Bluegill, Brown Bullhead, Green Sunfish, Largemouth Bass, Muskie, Northern Pike, Rock Bass, Smallmouth Bass, Walleye, Yellow Bullhead, Yellow Perch, Pumpkinseed,.
Boat Ramp
Black Bullhead
Black Crappie
Bluegill
Brown Bullhead
Green Sunfish
Largemouth Bass
Logperch
Muskie
Northern Pike
Rock Bass
Smallmouth Bass
Trout-Perch
Walleye
Yellow Bullhead
Yellow Perch
Bluntnose Minnow
Bowfin
Brook Silverside
Burbot
Carp
Cisco (Tullibee)
Golden Shiner
Hybrid Sunfish
Iowa Darter
Johnny Darter
Longnose Dace
Mimic Shiner
Mottled Sculpin
Pumpkinseed
Shorthead Redhorse
Spottail Shiner
Tadpole Madtom
White Sucker
NOTE: This list may not be all inclusive of all speices present in Mille Lacs.
No Live Bait: Only artificial baits and lures allowed in possession from 12:01 a.m. on July 7 through 11:59 p.m. on August 10 and from 12:01 a.m. on September 5 through 11:59 p.m. on November 30. An exception is made for suckers greater than 8" in length for anglers targeting northern pike and muskellunge.
Night Closure: From 10 p.m. on May 15 through 11:59 p.m. on November 30. May 15 - June 2, from 10 p.m. to 6 a.m., no one may fish for any species or possess any fishing tackle on the lake. June 3 - November 30, from 10 p.m. to 6 a.m., fishing tackle may be possessed but not used except: a) muskellunge and northern pike may be targeted with artificial lures and suckers longer than 8". No other lures or baits may be in possession if night fishing for northern pike or muskellunge. No possession or targeting of species other than muskellunge or northern pike.; and b) bowfishing for rough fish is allowed, but no possession of angling equipment, and only rough fish may be in possession.
No culling or live-well sorting: Fish taken into possession are considered part of an angler's bag limit and cannot be exchanged with another fish. However smallmouth bass and largemouth bass may be culled following statewide culling rules.
HISTORY AND STATUS OF FISHERY
The Mille Lacs Lake game fish community is primarily composed of Walleye, Yellow Perch, Northern Pike, Muskellunge, Tullibee, and Smallmouth Bass. Other game fish include Largemouth Bass, Bluegill, Pumpkinseed and Black Crappie. Common minnow species include Spottail Shiner and Mimic Shiner. Invasive animal species include Common Carp, Zebra Mussel, Chinese Mystery-snail, Banded Mystery-snail, and Spiny Water Flea. Curlyleaf Pondweed and Eurasian Watermilfoil are well established in the lake.

Creel Survey
Fishing effort for the 2014-2015 winter season was 1,486,500 angler-hours (ang-hrs), about 13% below average. An additional 42,00 angler-hours were observed once Walleye season closed in late February. Ice fishing pressure improved from the previous year due to ice conditions that allowed anglers to begin accessing the lake in late November, a relatively strong Walleye bite, and new regulations that liberalized Northern Pike bag limits and allowed spearers to legally pursue their sport for the first time since 1983.
Open water 2015 fishing effort was 464,000 ang-hrs, which was approximately 66% below average and the lowest observed. Open water night effort was the lowest observed, mainly due to an extended night closure that was in place through the open water season. Open water day pressure was low throughout all periods of the summer; most likely due to restrictive walleye regulations and an early August Walleye closure due to exceeding the 2015 allocation of 26,800 pounds.
Walleye harvest, for the entire season, was the second lowest observed at around 12,000 lbs. Total kill, which includes hooking mortality, was 32,500 lbs. Anglers released an additional 218,350 lb of Walleye.
Anglers harvested 38,000 lb of Northern Pike, the highest observed since 1990. The increase in Northern Pike harvest was mainly due to liberalized regulations that allowed for winter spearing. An additional 46,000 lb of Northern Pike were released. Total kill for Pike was 39,950 lbs.
Yellow Perch harvest was extremely low at 9,200 lb, and Tullibee harvest was similarly low at 10,550 lb. Anglers caught 87,400 Smallmouth Bass in 2015, which was the highest ever observed for Mille Lacs Lake. Approximately 5,175 Smallmouth were harvested.

Fall Assessment
Walleye catch per effort (CPE) in the inshore gillnets was 8.7 fish/net and 15.6 lb/net. In offshore nets, Walleye CPE was 10.1 fish/net and 19.9 lb/net. Catch per effort in the inshore nets remained low and was similar to the previous year. Numbers and biomass in the offshore nets decreased to the second lowest observed. The bulk of the Walleye catch came from the 2013 year class with only age 2 Walleye being observed at above median levels in the gill nets. The CPE of Walleye longer than 20 inches increased to 2.0/net in the inshore nets but were still below median levels, while the catch rate in the offshore nets, which have a much shorter history, remained near the lowest observed at 2.8/net. The CPE of mature males remains near the lowest observed in both the inshore and offshore nets and current numbers are a continuation of a decreasing trend that appears to have begun in the early to mid-1990s. Likewise, mature female CPE was the third lowest observed in the inshore and the lowest observed in the offshore nets and continues to exhibit a decreasing trend that began sometime after 2007. Walleye condition was the lowest observed for fish less than 20 inches but was the second highest observed for Walleye greater than 20 inches, suggesting that forage for small fish may be in low abundance.
Northern Pike CPE in the inshore nets at 1.6 fish/net remained above the median despite a 40% decrease from the historical high of 2.75 fish/net observed the previous two years. Over 60% of the fish were from the 2012 and 2013 year classes, which made up the majority of fish less than 28 inches. Fish greater than 28 inches have remained relatively consistent the last three years at near average levels. The Northern Pike catch in the 16 specialized Northern Pike gill nets decreased by 8% to a CPE of 8.3 fish/net and 37.3 lb/net, which are both just below median.
Yellow Perch CPE increased to median levels in the inshore nets to 43.9/net and 8.4 lb/net. Gill net CPE of Perch larger than 9 inches increased to 3.5 fish/net, but is still well below the median of 11.5 fish/net. Yellow Perch CPE in the offshore nets increased to near median levels at 35.3/net and 9.5 lb/net. The majority of Yellow Perch observed in both the inshore and offshore nets were from the 2013 year class.
Tullibee CPE increased to 10.9 fish/net and 3.5 lb/net in the inshore nets, both over the 75% quartile for Mille Lacs Lake. CPE also increased in the offshore nets to 83.8 fish/net and 38.2 lb/net, which was the highest observed. Tullibee catch tended toward younger fish with over 75% of the fish observed in the inshore nets coming from the 2014 year class and 20% from the 2013 year class. The offshore nets were slightly more age-diverse with 58% of the Tullibee coming from the 2014 year class and 30% from the 2013 year class. The difference in magnitude between the inshore and offshore catches over the last several years may reflect a diminished lake-wide population that is no longer over-flowing into the less desirable habitat of the near shore region, or it may represent a behavioral shift into offshore regions due to other environmental factors.
Burbot continued to exhibit a declining trend in number, and are now only occasionally observed in the assessment nets. Rock Bass increased to 1.4/net, which is over twice the median level. Smallmouth Bass increased to the highest observed at 2.3/net in the inshore nets. Similarly, Smallmouth Bass continued to incrementally increase in the offshore nets and are also at the highest observed at 0.45/net. Trends over the last decade continue to suggest an increasing Smallmouth Bass population in the lake.
The major prey species of piscivorous predators in Mille Lacs is generally small Yellow Perch. Annual fall sampling using small-mesh forage gill nets indicated that moderate numbers and biomass of young-of-the-year (YOY) Yellow Perch were available in 2015 when compared to the nine year history of this sampling gear. Age 1 Yellow Perch were at the lowest level observed, which remained consistent for this year class as they were also observed at the lowest level the previous year as age 0 fish. Conversely, age 2 Yellow Perch remained strong in both numbers and biomass at the highest observed over the relatively short history of the forage net sampling. Age 0 Tullibee were observed at moderate numbers and biomass, while age 1 Tullibee were at the highest observed. Moderate numbers of Spottail Shiners were also observed.
Age 0 and age 1 Walleye were observed at relatively low numbers and biomass, while 2013 Walleye continue to be caught at the highest observed. Overall, the forage nets would suggest reasonable forage availability for all sizes of Walleye. However, the low condition observed in Walleye less than 20 inches that were captured in the fall gill nets suggests that smaller and mid-size Walleye are not readily utilizing the available small forage. Larger Walleye, on the other hand, appear to be taking full advantage of the larger prey items available to them as suggested by the high condition factor (plumpness) that was observed in the fall sampling.
Age 0 Walleye CPE in the six electrofishing transects was below median levels for the second consecutive year at 96.0/hr and 56.4/mile. However, this level of abundance has previously been sufficient to produce a decent year class, as long as survival is above average. Average length for age 0 Walleye was about a half inch below average at 5.04 inches. Age 1 Walleye CPE was slightly below the median at 11.7/hr and 8.4/mile. The average length of age 1 Walleye was also about a half inch below average at 8.6 inches. Forage electrofishing runs of two minutes duration showed low to moderate numbers of age 0 Yellow Perch and moderate to high numbers of age 1 Yellow Perch. Catches of other species were relatively unremarkable in the five year history of forage sampling, although we did observe the highest catch of age 0 Black Crappie and Mottled Sculpin.
Trawling was expanded in 2014 to cover more areas throughout the lake and to sample additional habitat types. Of the twenty-three locations sampled, age 0 Yellow Perch were the most plentiful species observed at 414.9 fish/hr, however, 85% were captured at a single site and were observed along only four separate trawl transects. Average length of the YOY Yellow Perch was 2.57 inches. The second most observed fish was Spottail Shiner with a CPE of 6.9 fish/hr. Spottails also were collected at only four different trawl sites. Two YOY Walleye were caught while trawling and their average length was 4.02 inches. One 2013 year class Walleye was observed and its length was 12.2 inches.

Invasive Species
Zebra Mussel density peaked in 2012 at 1,270/ft2 and has been decreasing the last three years to a density of about 790/ft2 in 2015. These types of oscillations are not uncommon with recently colonized invasive species as they tend to overshoot carrying capacity before settling in to a more stable population density. Veliger (larval Zebra Mussels) densities were relatively low to moderate through much of the open water season, but the highest veliger counts observed since Zebra Mussels were first discovered in Mille Lacs, occurred in early July of 2015.
Spiny Water Flea (Bythotrephes) was observed during each sampling period from May through September. Peak density occurred in mid-June at 15.1 Bythotrephes per sample, which was the highest observed since Spiny Water Flea was first observed in the fall of 2009. Cursory spot checks of fish stomachs show that age 1+ Tullibee and age 1+ Yellow perch are consuming Spiny Water Flea.
It appears that Spiny Water Flea have taken a toll on zooplankton numbers and biomass. Native zooplankton are a vital dietary staple for many larval and juvenile fish in Mille Lacs. We have been observing severe declines in various species that belong to three broad functional groups. Currently, all three groups show a severe level of depletion, but small cladocerans and large cladocerans show the greatest decrease, where throughout the summer they are now often barely detectable in the samples.

Eurasian Watermilfoil
Spiny Waterflea
Zebra Mussel

Recreational activities such as recreational boating, angling, waterfowl hunting, and diving may spread aquatic invasive species. Some aquatic invasive species can attach to boats, while others can become tangled on propellers, anchor lines, or boat trailers. Many species can survive in bilge water, ballast tanks, and motors or may hide in dirt or sand that clings to nets, buckets, anchors, and waders. Fortunately, completing simple steps can prevent the transport of aquatic invasive species.
LEARN MORE
NOTICE: Lake-Link Inc assumes no responsibility or liability for any errors or omissions of the information for Mille Lacs. Although we strive to provide the most accurate information as we can the information contained in this page is provided on an "as is" basis with no guarantees of completeness, accuracy, usefulness or timeliness.