West Rush
Chisago County, MN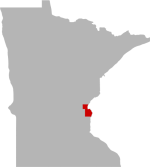 SHARE THIS PAGE
West Rush is located in
Chisago County, Minnesota
. This lake is 1,579 acres in size. It is approximately 42 feet deep at its deepest point. When fishing, anglers can expect to catch a variety of fish including Black Bullhead, Bluegill, Brown Bullhead, Green Sunfish, Largemouth Bass, Muskie, Northern Pike, Walleye, White Crappie, Yellow Bullhead, Yellow Perch, Pumpkinseed,.
No ramp
Black Bullhead
Black Crappie
Bluegill
Brown Bullhead
Green Sunfish
Largemouth Bass
Muskie
Northern Pike
Walleye
White Crappie
Yellow Bullhead
Yellow Perch
Bigmouth Buffalo
Bowfin
Carp
Common Shiner
Emerald Shiner
Freshwater Drum
Golden Shiner
Hybrid Sunfish
Johnny Darter
Pumpkinseed
Shorthead Redhorse
Tadpole Madtom
White Sucker
NOTE: This list may not be all inclusive of all speices present in West Rush.
HISTORY AND STATUS OF FISHERY
West Rush Lake is a 1,464 acre lake assigned to lake class 25. West Rush's fertility results in low water clarity with a Secchi depth reading of 2.9 feet. The primary management species in the lake are Walleye, Northern Pike, and Muskellunge. The Walleye and Muskellunge populations are currently maintained through annual stockings. The previous survey was conducted in 2012. Muskellunge are assessed in a separate survey during the spring.

The Northern Pike catch rate was 0.4 fish per gillnet. Pike catch rates have historically been low in West Rush, but this rate was significantly lower than the historic mean. With only five fish in the total sample, it is difficult to draw any definite conclusions. All pike sampled were larger fish averaging 30.3 inches long. They also appear to exhibit good growth. There is a slot limit in place on the Rush Lakes protecting Northern Pike between 26 and 40 inches.

Walleye catch rates were also low at 0.5 fish per net, similar to the previous two surveys and well below the normal range for similar lakes. Prior to the 2007 survey, catch rates were consistently much closer to lake class norms. Similar to pike, it is difficult to develop any conclusions from analysis of a six fish sample. Walleye ranged in size from 9.8 to 25.8 inches in length, averaging 15.8 inches. Age analysis suggests that Walleye growth is relatively unremarkable. Anecdotal reports from anglers have indicated some success fishing for Walleye, which is not reflected by our netting.

A catch rate of 74.8 fish per gill net for Yellow Perch was high, well above the normal range for similar lakes. Catch rates have historically exceeded the normal range and this year's catch was at the upper end of the historic range. West Rush's Yellow Perch also have a better size structure than many similar lakes, averaging 0.2 lbs. Perch ranged from 4.8 to 10.7 inches in length and averaged 7.3. Numbers of fish drop dramatically after 8.5 inches, a size where the fish tend to become susceptible to angler harvest.

The trap net catch rate for Black Crappies of 5.6 fish per net was the highest it has been in the last couple of decades, following an increasing trend and well above the normal range for similar lakes. The gill net catch was also very high at 11.8 fish per net, but not as high as the previous several surveys. Trap nets sampled a range of sizes from 4.7 to 10.2 inches long and averaged 7.9. Twenty-two percent of crappies were longer than 9 inches.

Trap net catch of Bluegill was the highest in history with 24.9 fish per net. Bluegill catch has varied widely in historical sampling and this year's catch rate is within the normal range for similar lakes. Bluegills were well-distributed between 2.8 and 8.3 inches in length and averaged 6.2. Similar to the other panfish species in the lake, numbers of Bluegill dropped after reaching a size where they become desirable to anglers.

Electrofishing sampled 11.3 Largemouth Bass per hour which was the lowest rate since electrofishing efforts began in 1997. Bass ranged from 6.6 to 16.2 inches in length and averaged 11.3. This low catch rate is not reflected in anecdotal reports from anglers. This is an observation that took place on other nearby lakes as well. A number of variables could be negatively affecting electrofishing catch rates such as aquatic vegetation density and variability in seasonal changes.

While Muskellunge are assessed during in independent spring survey, one 46.1 inch fish was sampled during summer trap netting. Other species sampled included Freshwater Drum, Golden Shiner, White Sucker, and Yellow Bullhead, Bowfin (Dogfish), Common Carp, Pumpkinseed, and Green Sunfish.


Recreational activities such as recreational boating, angling, waterfowl hunting, and diving may spread aquatic invasive species. Some aquatic invasive species can attach to boats, while others can become tangled on propellers, anchor lines, or boat trailers. Many species can survive in bilge water, ballast tanks, and motors or may hide in dirt or sand that clings to nets, buckets, anchors, and waders. Fortunately, completing simple steps can prevent the transport of aquatic invasive species.
LEARN MORE
NOTICE: Lake-Link Inc assumes no responsibility or liability for any errors or omissions of the information for West Rush. Although we strive to provide the most accurate information as we can the information contained in this page is provided on an "as is" basis with no guarantees of completeness, accuracy, usefulness or timeliness.