East Lake (Quarry Lake) Reviews
Black Hawk County, IA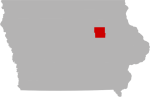 SHARE THIS PAGE
There are currently 1 reviews for East Lake (Quarry Lake).
Tell others what you think of this lake by writing your own personal reveiw:
SUBMIT YOUR LAKE REVIEW
September 30, 2004
"Good lake to fish if you have the patience to wait out all the jet skiers and recreational boats. Does get very congested in the day. Best bet is for Bass large and smallmouth I did pull a nice 8-10 lb. northern out of the lake a few years ago. There is a sign that says The local walleye club stocked it with walleye not sure what size they are but in the years to come I bet it will be a great lake to fish."