Lake Macbride, Johnson County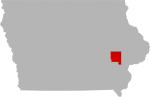 SHARE THIS PAGE
| | |
| --- | --- |
| | @ the lake |
DISPLAYING 1 TO 10 OF 15 POSTS
FILTER OPTIONS
12/18/16 @ 6:16 PM
FISHING REPORT
MOON PHASE (73%)
Waning Gibbous
Late report for 12/17/2016. Went out for a couple of hours for my first Iowa ice attempt in the afternoon. Fished the south fork and spudded my way out from the launch. 3" of solid ice out to the reefs but there was a football field size of open water the geese were keeping open. Just stayed far to the east and its ok.
fishing was slow one jig rod and two tipdowns with fats with lots of lookers and no takers. Threw the kitchen sink at em' with two small 11" walleyes returned to the drink to grow for another day. Two other shacks out toward the causeway.
Remember ice safety. Take your spud bar, ice picks, and fish with a partner. Stay dry
4/27/16 @ 11:48 AM
FISHING REPORT
MOON PHASE (74%)
Waning Gibbous
Late report 4/22....Decided to take a comp day from work and go fishing, left the house at 0200hrs on Friday morning to see what this lake had to offer at night, just me and the dog.
Started trolling with a three-way and a rogue floating crank flat-line behind the boat from the launch on the north fork. Hit all the rock pile structures on my way to the south fork, was expecting walleyes but was surprised to catch 10 14" black crappies. Bonus! Of course this wasn't on a contiguous route, but as soon as I would catch one I would mark a waypoint and made several passes.
Then on to the walleye...trolled shallow along rocky shoreline and picked up multiple 13-14" dinks. managed to get two decent 17". Kept the two better ones and three other 14.5" to round out my limit.
Then made my way over to the road crossing on the south fork and had a bit of fun hammering the wipers, must have caught 30-40 ranging from 12-18" all on a jigging rapala.
Never understood why there were so many launches on this lake until today. From 1000hrs on there must have been 15-20 truck/trailers at each launch and the lake was packed. Left at 1500 I had my fun for the day, and plenty of fish for the pan.
My delay in the report is because a couple buddies and I have started a company called STUK NATION and can be found at STUKNATION.com and it is a free PODCAST covering just about anything that can be done in the outdoors, new podcasts weekly released on every Wednesday, new topic every week. Check it out www.facebook.com/STUK-1683888768533610/ and give us a like.
Remember to take a kid fishing
4/25/16 @ 10:03 AM
FISHING REPORT
MOON PHASE (89%)
Waning Gibbous
Back on the lake again with my Girls, Found the crappie in the normal spring locations. found most the crappie in brush piles on 6 ft of water. Key to catching fish was to down size my presentation, 4 lb test and a 32 oz jig. bigger females are still holding deep, the smaller male crappies are swallow.
Thanks for reading my reports!
Kory T
4/23/16 @ 8:54 AM
FISHING REPORT
MOON PHASE (98%)
Waning Gibbous
Started the day in the mid lake area, The male black crappies where on main lake brush piles and lay downs. The key to catching the bigger fish was keeping your jig in the 5 to 6 feet zone. Main bait was a custom tied 1/16 jig. As far as Keeper we had a total of 22 crappie from 10 to 14 inches. Also five bonus Walleye!! Lots of boats out Friday, One key to our presentation is using good sunglasses. so you can see the deeper brush.
4/11/16 @ 8:25 AM
FISHING REPORT
MOON PHASE (24%)
Waxing Crescent
Spent Saturday on the south end of the lake. found the crappies in 15 feet of water holding of brush piles. brought 12 home from 9 1/2 to 11 inches. Also has one Walleye that taped out at 18 inches. I think with the weather warming this week we could see a bunch of fish go shallow.
DISPLAYING 1 TO 10 OF 15 POSTS