Mississippi River, Harpers Ferry, Allamakee County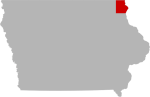 SHARE THIS PAGE
| | |
| --- | --- |
| | @ the lake |
DISPLAYING 1 TO 10 OF 18 POSTS
FILTER OPTIONS
10/1/18 @ 6:58 PM
FISHING REPORT
MOON PHASE (58%)
Waning Gibbous
Xtra Mile Outdoors
(608) 518-5375
6/4/12 @ 8:58 PM
FISHING REPORT
Went out on Saturday and water just to high caught 4 bass total in 6 hrs. Used a spinner on weed lines and just wasn't workin. Seen plenty of pike tho. Wait for water to go down then go for sure!!!! P.s watch the wing dams
7/2/09 @ 3:00 PM
FISHING REPORT
We went out by Harpers Ferry. This Morning was cool,about 60 when we got there and the water temp was between 67 and 70 deg. The water is running abut 7.5'. Harpers slew was about 67 deg. The back waters were about 69 deg. I caught a 17" walleye right away in the back waters. Then it slowed down. There were a few mayflies comming out. I don't know if they're just starting or just ending. The parking lot was clean but a few trees had mayflies hanging from them. After 10:00 am, I found some warmer slack water around 70 deg and caught a few fish. We were trolling and picked up a couple northern around 28" and a sauger about 15". We did catch a few small bass in the area too. I don't think it was even 70 deg when we left around noon. Hopefully the water will warm a little and may try again in a couple days. Anything firetiger was the ticket today.
Steve
3/26/08 @ 12:37 PM
FISHING REPORT
Ok so I'm just over a week late.Was out there March 14-16. The river was mostly open. I'm sure by now it will be completely. Walked out to spillway. Nothing happening, was there for approx 3-4 hours. Took out the boat in Harper's slough and drifted from the sandbar back past the marinas. Nothing happening. Nice days to have a cold one. The flowing ice sheets that weighed thousands of pounds were a little spooky in a 16' boat. Will get back out soon. Hopefully I'll remember to take the water temperature. Please join in the fun and type here about any fishing you do in Harper's Ferry, Iowa. I like to have a great base of knowledge for us all to enjoy fishing while we are there.
7/1/07 @ 8:35 AM
FISHING REPORT
Went out Sat. 6-30. Water level was at 7.0 ft and water temp was 77-78 deg. We did fairly well.I think it was the end of a mayfly hatch. We saw alot of mayflies early in the morning in one spot, but very few by afternoon. Picked up a big (16in) sauger right away in the morning. The trick was speed. We started trolling 2.0 to 2.5 mph/gps and caught a few fish. I picked it up to 2.8/3.4mph/gps to get thru a shallow sand flat and the northern started hitting. Found a little hot spot in 5-6 fow. As long as we trolled fast, we picked up a northern every pass. Ended up taking 4 northern (22-25in), an 18in walleye and the sauger home. The boat traffic was terrible so we called it a day by noon.
Steve
5/14/07 @ 6:29 AM
FISHING REPORT
We went out Saturday morning 05-12. A little cool in the morning, 50 deg. Water temps were at 67-68 deg. Water level was at 8.75 feet. The fishing was a little slow in the morning. I caught a small northern and a few bass early. Around 11:00 it picked up when the sun came out and started to warm up. We caught a handful of walleye and a few sauger. The white bass started hitting also. I had both boys with me, it made it quite the adventure. I spent most of the day untangling lines, hooks, and lures in nets. All and all it was well worth it.
9/2/06 @ 8:13 AM
A little slow Friday 09-01. Water temp at 72-74 deg. The river was at 6.75'. The water was fairly clear. We fished the backwaters down from Harpers Ferry. A little slow Friday 09-01. Water temp at 72-74 deg. The river was at 6.75'. The water was fairly clear. We fished the backwaters down from Harpers Ferry. Baby bass were popping at the surface like popcorn. We did catch a couple nice bass in the morning. We also caught a couple keeper sauger and a few small walleye. It looks like the river dropped a foot in little more than a day. That may have slowed the walleye bite down. The abundance of small fish everywhere could also be the reason. I caught a couple of the baby bass on a crappie jig. They were about 4"-5" long. I was able to use my new lure retriever a couple of times. At least I never lost a lure all day. Fishing was slow but the nice weather made up for it.
steve
8/13/06 @ 9:03 AM
Perfect day on the water(Saturday 8-12). It was in the low 60's in the morning and low 70's when we left. We were in the back waters south of Harpers Ferry. The water was 78 deg and running 6.75 ft. It was more like May not August. The weeds weren't too bad and the water was fairly clear. We trolled for walleye but caught 5 nice bass right away in the morning all off the same point. We caught about 10 in total but threw them all back. We did catch a few nice walleye. They hit hard and fought hard too. The biggest (22") made a couple runs. I thought for sure it was a sheep head for how hard it ran. With the water low, I did loose a few lures. I guess that's why I always buy extra. I saw a guy setting hoop nets right where we usually troll. He didn't mark any of them. I think I lost a few lures to him. Next time I need to bring a grappler hook so I can retrieve my lures back. I thought hoop nets needed to be marked when put in the water so you know where they are.
steve
DISPLAYING 1 TO 10 OF 18 POSTS