Mississippi River around Dubuque, Iowa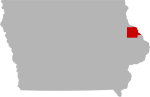 SHARE THIS PAGE
| | |
| --- | --- |
| | @ the lake |
DISPLAYING 1 TO 6 OF 6 POSTS
FILTER OPTIONS
7/17/19 @ 12:45 PM
John, email me at: [email protected] I am new to the area as well and am on the learning curve of the Mississippi River! Tracy

6/2/19 @ 9:10 AM
Hello. New to Dubuque area. Doesn't seem to be any local lakes to fish, just a pond here or there. So I went down to the Mississippi river on the Wisconsin side over the bridge. Water was fast and muddy. Bugs were out of control. Had no head net, so I just suffered through it. I cast for 2 hours. I threw top water plastics, crankbaits, swimming jigs, etc. Nothing.
Oh well, will try again. If anyone wants to go out to explore or show me a few local things, let me know.
Thanks and tight lines.
John
5/31/16 @ 1:19 PM
FISHING REPORT
MOON PHASE (26%)
Waning Crescent
Only had about an hour but I went out on Friday, hoping to get some walleyes. I mainly targeted the wing damns, caught a couple walleyes nothing of size though. I was using crank baits but have heard others have had better luck with minnows.
5/29/16 @ 10:45 PM
I am from Cedar Rapids area and looking to do more fishing on the Miss. I love walleye, pan, cats, and bass and northern (from time to time.) It all comes down to knowing where, when and how to fish it. Please let me know any suggestions and tips that anyone has for me please. I am happy to give reports when I find fish.
5/23/16 @ 9:27 AM
FISHING REPORT
MOON PHASE (97%)
Waning Gibbous
Going to try and get a thread started on here for local area (Dubuque, Platteville, and Kieler area) for fishing. I see how Pool 9 thread is and I am kind of jealous. We can talk fishing, local fishing leagues (1st and 3rd Tuesday of each month from sunfish boat launch at O'Learys), and other general questions.
So I was out this past Sunday, it was warm and water was low. Fish are still on beds and some have moved to points off the main channel. I did pick some off on frog!! I am super excited about that. Nothing beats top water blow ups. Did happen to see some blue gill beds in the shallows, they should be starting or about to start their spawn. Also, lots of carp rolling on the mud flats.
Hoping this thread takes off, thanks for reading and tight lines everyone.
DISPLAYING 1 TO 6 OF 6 POSTS