Mississippi Pool 9 -New Albin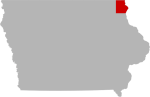 SHARE THIS PAGE
DISPLAYING 1 TO 10 OF 52 POSTS
FILTER OPTIONS
12/13/18 @ 8:00 AM
FISHING REPORT
MOON PHASE (34%)
Waxing Crescent
12/6/18 @ 3:06 PM
FISHING REPORT
MOON PHASE (0%)
Waning Crescent
Book a trip today with Xtra Mile Outdoors!
Here are some pictures from a recent trip that we pursued back water crappies, what a riot!
4/18/16 @ 11:35 AM
FISHING REPORT
MOON PHASE (89%)
Waxing Gibbous
Late report 4/16/2016.
Decided to hit the ol' Miss this weekend with a good friend and my young fishing partner. There was still plenty of flow event though the lock and dam gates have been open for nearly 10 days and the water temp was hovering between 47-50 degrees surface temp depending on where we went.
Started by the dam floats and all the usual spots with moderate success. Used standard river rigs, jig/meat combo. Caught a couple of short walleyes in the 12-25FOW range. Was tired of playing bumper boats so we decided to get creative and explore.
Two major things changed our success 1)exploring new territory and 2)fishing more aggressively.
We used the electronics to find 12-18FOW with sandy bottom with less snags and changed to blade baits and #7 jigging rapalas. Color is my last concern and should be yours as well. The key is bottom structure, depth, temp, seasonal movements patterns, and using your electronics. Once we marked them and went to aggressive baits we were having a ball. Between the three of us, we must have caught 40 walleyes but they were all shorts 13 1/2"- 14- 3/4" males still milting and of course they all went back.
Moved some more and found some larger fish in the 20+" range some with eggs but most have already dropped. Anything above 22" in my boat goes back to keep the system healthy but the boy upgraded his largest walleye to 20" what a smile on his face! Made the whole trip worth it. We also found some saugers and a couple perch for the pan. All and all another great day on the river. Peak activity for us were bankers hours 1030-1500.
Remember to introduce someone new to our sport, and try to take a kid fishing. The "boy" I often refer to is the son of a friend and now a great fishing partner. I get great fulfillment on passing on my knowledge of the sport and respect for nature, and seeing his progression as an outdoorsman.
I am not a professional and contribute not for profit, but share my knowledge freely, if you would like more information a couple buddies and I started a podcast covering everything about the outdoors from fishing and hunting of all species all around the country to camping and anything else you can imagine, again all free. This will be a weekly podcast covering a new topic talking to industry insiders exploring both all the outdoor industry and the outdoors has to offer. Give us a listen at STUKNATION.com
DISPLAYING 1 TO 10 OF 52 POSTS