Patoka Lake, Dubois County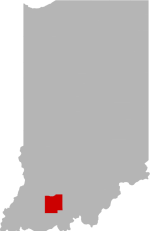 SHARE THIS PAGE
DISPLAYING 1 TO 6 OF 6 POSTS
FILTER OPTIONS
3/30/10 @ 3:09 PM
Not sure who told you Patoka was a great bass lake but its not. Actually - it can be but it gets tons of pressure and is a hard place to find and catch quality fish. The lake looks great - lots of laydowns - lots of standing timber in the water. I have had good luck in the past fishing rattle traps and senkos. I don't fish it much. Fished a Indiana Bass Fed tournament with 150 boats and over half the field didn't catch a fish. I was lucky and caught one. Anyway - good luck.
2/12/10 @ 6:00 AM
FISHING REPORT
Patoka Lake - February 4th, 2010 Thursday, February 04,2010
Water temperature was 33 degrees with most of the lake coated with a thin layer of ice 1/2" thick. Crappie are being caught on Nothead jigs and Blakemore Slabdaddies, The crappie were in 25 to 27 feet of water.
DISPLAYING 1 TO 6 OF 6 POSTS