South Spring Lake
Tazewell County, IL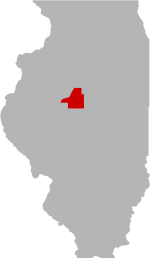 SHARE THIS PAGE
South Spring Lake is a 610 acre body of water located 6 miles north and west of Manito, Illinois, adjacent to the Illinois River.
South Spring Lake is an elongated backwater lateral marsh of the Illinois River. It was separated by a high levee from the Illinois River in 1916. The South Lake was separated from the North Lake in 1978 by a stop log structure and a spillway for discharge water. South Spring Lake receives 103 acre feet of recharge daily from springs and seeps. Spring Lake currently has a 25 horsepower limit for outboard motors. The main access is via the Spring Lake blacktop road. A single lane boat ramp is located south of the causeway which crosses Spring Lake. South Spring Lake is a shallow, very fertile backwater. It has a 60% coverage of aquatic vegetation after April and until November of each year.
The lake is closed to boat fishing one week prior to regular waterfowl season, and until the end of waterfowl season each year. Horsepower limit: 25hp. Rental boats available. Tournaments must register at the site office no later than 30 days before the tournament.

New Site Regulation Effective April 2018:
Largemouth bass: protected slot length from 12 to 18 inches, with the harvest of 3 fish either over or under this protected slot.

Crappie: harvest limit of 25 fish per day with only 10 fish over 10 inches allowed.
25hp
Boat Landing
Camping
Swimming
Boat Rentals
Picnicking
Skiing
Black Crappie
Bluegill
Channel Catfish
Largemouth Bass
Northern Pike
White Crappie
Yellow Bullhead
NOTE: This list may not be all inclusive of all speices present in South Spring Lake.
CHANNEL CATFISH
EXCELLENT
The channel catfish population indices showed that 71.9 percent of the population was over 18 inches with an average body condition value of 91.4. The annual stocking of channel catfish provides a population that many Spring Lake anglers target from the shoreline.
CRAPPIE
VERY GOOD
In 2018 a new harvest regulation started for crappie. This regulation is a harvest limit of 25 fish per day with only 10 fish over 10 inches allowed. The intent of this regulation is to focus harvest pressure on the large percentage of crappie that are under 9 inches in length. The 2019 surveys showed an increase across all indices with the percent of fish over 9 inches increasing from 11 to 31.8 percent and fish over 10 inches increasing from 2.7 to 6.1 percent. The average body condition was 90.8.
LARGEMOUTH BASS
VERY GOOD
There has been much concern on the part of bass fishermen that the largemouth bass population structure was declining on South Spring Lake. In 2014 and 2015 we noted in the fall sample that some of our quality indices were improving for largemouth bass. However, in 2016 and 2017 indices were again in decline. In 2018 a new harvest regulation started for largemouth bass. The regulation is a protected slot from 12 to 18 inches with 3 fish per day harvest. The 2018 fall electrofishing survey showed that quality indices had improved as did the 2019 survey. The percentage of bass over 14 and 15 inches has risen from 12% and 8% in 2017 to 24% and 19.4% in 2018 to 31.9% and 29.8% in 2019 respectively. The percentage of fish over 18 inches at 8.5. The body condition has also increased to an average value of 92.2. The bass population structure should continue to improve as the new protected slot limit remains.
NORTHERN PIKE
EXCELLENT
The northern pike population indices showed that the majority of the population is from 20 to 28.7 inches in length and in poor body condition with a value of 82. Currently the northern pike stocking program has ended in Illinois and South Spring Lake has not received a stocking since 2015.
HISTORY AND STATUS OF FISHERY
South Spring Lake was rehabilitated in 1986 to remove an undesirable carp-gizzard shad fish population. As a result of the rehabilitation, an excellent fish population resulted. Water clarity improved and aquatic weeds flourished. Good fishing for largemouth bass, crappie, sunfish and catfish soon resulted. Because of its shallow water and clarity, South Spring Lake has a tremendous coverage of aquatic vegetation. As part of an effort to reduce coverage of Eurasian milfoil (an exotic invasive plant), South Spring Lake is treated with DMA4-2, 4D each year.
CONTACT / CONTROLLING AUTHORITY
Spring Lake State Fish and Wildlife Area
Site Superintendent
7982 South Park Rd.
309-968-7135
IDNR Fisheries Biologist, Blake Bushman
309-435-1010
NOTICE: Lake-Link Inc assumes no responsibility or liability for any errors or omissions of the information for South Spring Lake. Although we strive to provide the most accurate information as we can the information contained in this page is provided on an "as is" basis with no guarantees of completeness, accuracy, usefulness or timeliness.